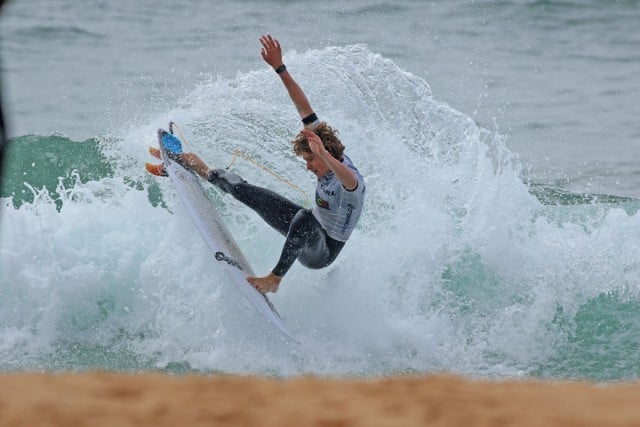 The Rip Curl GromSearch presented by POSCA National Final saw six new national champions crowned today after a variety of hotly contested finals in punchy two-foot waves at North Narrabeen Beach.
Liam O'Brien's (Benowa) lightening fast turns proved to be a lethal weapon in the 16-and-Under Boys final. The natural-footer threw down a solid combination of turns to net himself a 16.50 heat total (out of a possible 20 points), which propelled him ahead of Mikey McDonagh (Lennox Head) who finished in the runner-up spot.
McDonagh fought tooth-and-nail until the final seconds of the heat – even posting a near-perfect 9.33 scoring wave – but was unable to find an elusive 7.18 wave score to steal O'Brien's lead.
Sophia Fulton (Cabarita) continued to build on her earlier performances when she took on Kirra-Belle Olsson (Avoca) in the 16-and-under Girls final.
Fulton managed to hunt down a handful of punchy righthanders, which allowed her to perform a variety of forehand turns and take the top place on the dais with a healthy 12.83 heat total. 
Both O'Brien and Fulton have won themselves an entry into the International Rip Curl GromSearch final, which will take place in Hawaii later in 2016.
Finn Hill (Avoca) and Taj Watson (Coffs Harbour) went neck-and-neck for the 14-and-under Boys title, with both surfers locking in a handful of respectable scores.
Both surfers traded blows in the playful peaks with Hill holding down the lead from the opening moments of the heat. In the final minutes, Watson jagged two waves, which gave him the scores required to remain in contention for the title, but ultimately fell short by a 0.59 point margin, handing the title to Hill.
Piper Harrison (Coolangatta) claimed her second National Rip Curl GromSearch title in as many years, taking out the 14-and-under Girls final. In the all Queensland affair, Harrison was able to put Pacha Light (Tugan) on the ropes with Light requiring a 7.68 wave score, which never came to fruition.
Lennox Chell (Avoca) capped off his Rip Curl GromSearch campaign in fine form, claiming the 12-and-under Boys, and ensuring a second title returned to Avoca. The Central Coast goofy-footer mustered up a solid 16.17 heat total for a barrage of giant backhand turns. Ethan Huxtable (Jan Juc) put up a valiant fight, but fell short by a 2.10 margin.
Nyxie Ryan (Lennox Head) won a tight battle in the 12-and-under Girls final, taking the win ahead of Cedar Leigh-Jones (Avalon), Ellie Harrison (Barwon Heads) and Summa Longbottom (Canggu, Bali). Ryan posted a respectable 10.87 heat total to claim the win.   
Since its inception as a three-day event in Victoria in 1999, the GromSearch series has developed into the strongest international series of events for 16 year and under surfers around the world. With parallel Rip Curl GromSearch series in over 10 countries, it has become a crucial stepping stone in the development of junior surfers.
The five-event series will also head to Jan Juc (VIC), Trigg Point (WA), Yorkes Peninsula (SA) and the Sunshine Coast (QLD). Leaders on the National Ratings will then qualify for the Rip Curl GromSearch National Final, to be held at North Narrabeen in Sydney from January 11-13, 2016.
The Australian series allows surfers from around the country to compete against their contemporaries in a fun and engaging environment. Each result in the 5 event series is awarded points which count towards a surfer's GromSearch National rating, providing participants across the country the opportunity to compare their performance against peers. After the last event in Queensland, the top ten ranked surfers qualify for the Rip Curl GromSearch National final, contested at the famous North Narrabeen beach.
The list of previous GromSearch winners illustrates the prestigious history of the series, with current ASP World Tour competitors Gabriel Medina (Brazil), Kolohe Andino (USA), Felipe Toledo (Brazil), Owen Wright (Australia), Jordy Smith (South Africa), Matt Wilkinson (Australia), Tyler Wright (Australia), Stephanie Gilmore (Australia), Malia Manuel (USA), Sally Fitzgibbons (Australia), Laura Enever (Australia) and Nikki Van Dijk (Australia) all coming through the GromSearch series.
Working in conjunction with Surfing Australia, the Rip Curl GromSearch includes boys' and girls' divisions in 16 and under, 14 and under, and 12 and under. The series includes a National Ratings system, which will be used to qualify surfers for the National Final at North Narrabeen.
RESULTS:
(All heat totals out of a possible 20 points).
16-and-under Boys
1 – Liam O'Brien (Benowa) – 16.50 heat total
2 – Mikey McDonagh (Lennox Head) – 16.00 heat total
16-and-under Girls
1 – Sophia Fulton (Cabarita) – 12.83 heat total
2 – Kirra-Belle Olsson (Avoca) – 10.63 heat total
14-and-under Boys
1 – Finn Hill (Avoca) – 13.76 heat total
2 – Taj Watson (Coffs Harbour) – 13.17 heat total
14-and-under Girls
1 – Piper Harrison (Coolangatta) – 12.50 heat total
2 – Pacha Light (Tugan) – 8.70 heat total
12-and-under Boys
1 – Lennox Chell (Avoca) – 16.17 heat total
2 – Ethan Huxtable (Jan Juc) – 14.07 heat total
12-and-under Girls
1 – Nyxie Ryan (Lennox Head) – 10.87 heat total
2 – Cedar Leigh-Jones (Avalon) – 9.67 heat total
3 – Ellie Harrison (Barwon Heads) – 6.74 heat total
4 – Summa Longbottom (Canggu, Bali) – 5.87 heat total