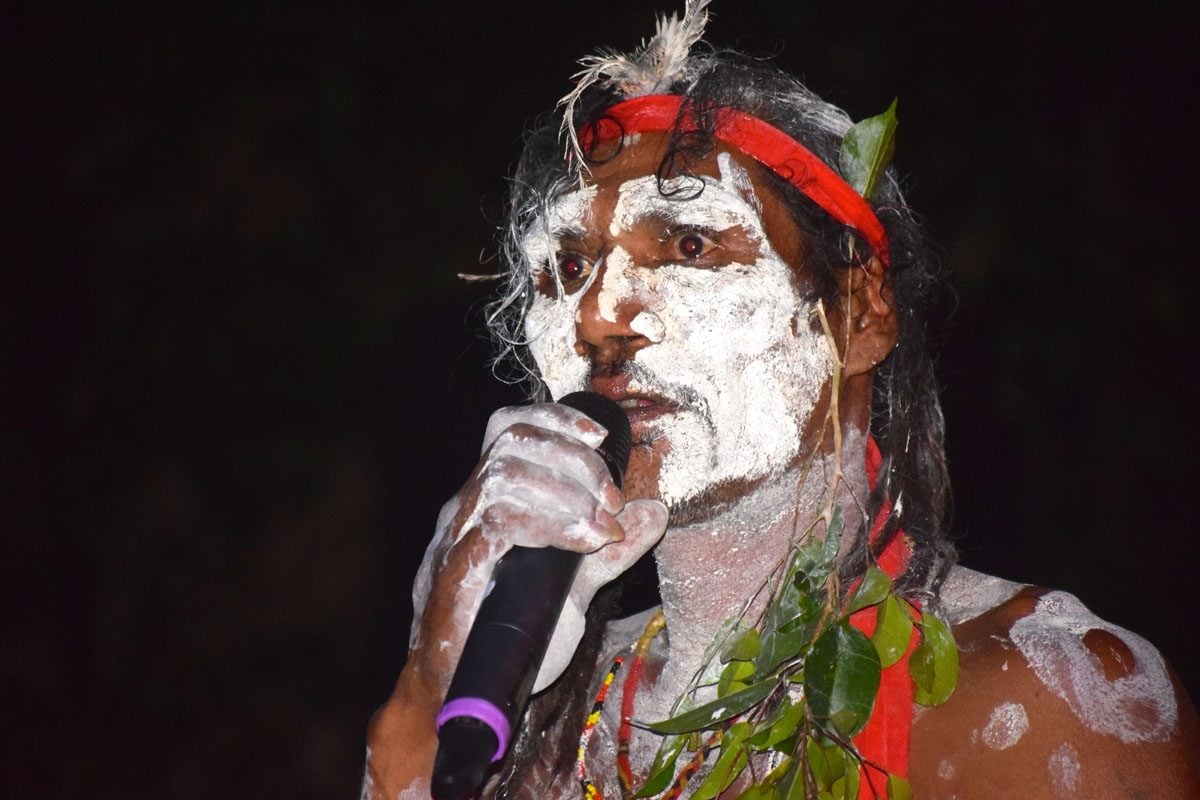 By Darren Coyne
Respected Bundjalung elder Lewis Walker was meant to deliver the Welcome to Country at a dance festival on Aboriginal land near Tabulam on Friday evening.
Instead he spent four  hours in police custody after being arrested for  outstanding warrants. The problem was, the police got the wrong man.
Mr Walker told the Echonetdaily that he was arrested after approaching police around 12.30pm. The police were at his property trying to stop the Omega festival, which is expected to attract thousands of people for the Queens Birthday long weekend.
Mr Walker identified himself and was told that he was under arrest for an outstanding warrant. He was taken to the Lismore police station, and spent hours in custody before being brought before the court registar around 4.15pm.
It was quickly established that the warrants that Mr Walker had been arrested for related to another person who may have used the name 'Lewis Walker' as one of up to 20 aliases.
The real Lewis Walker was immediately released unconditionally.
Aboriginal Legal Service solicitor Binnie O'Dwyer represented Mr Walker in court.
She said further action for unlawful arrest and detention was being considered.
Meanwhile, Mr Walker expressed disappointment that up to 15 police remained at his property attempting to stop the weekend gathering taking place.
Police have used social media and issued media releases saying it was not going ahead, but did not respond to repeated requests for details about the arrest. Meanwhile, Tenterfield Shire Council made a last minute application to the NSW Land and Environment Court to stop the party.
Mr Walker denied a police claim that the gathering was going ahead without the knowledge of the Jubullum Local Aboriginal Land Council.
He said the gathering had been organised for many months.
"I've been speaking with the mayor of Tenterfield early part and rung Cedric Walker, deputy chairman of the land council (about the gathering).
'So he is now going to ring Superintendent Doug O'Connor (of Richmond LAC) to tell him that we've got everything organised properly.'
Mr Walker, who has hosted numerous gatherings on his land during the past nine years, including the twice yearly Rainbow Corroboree, said he was disappointed with the police attention.
'It took a long time for people to come to our community, to help and support our community, and they are trying to stop us.
'We have 60 people coming from my community, including my elders and their grandchildren, to support this gathering and we've got 15 police at the gate.
Mr Walker was confident, however, that the Omega Festival would proceed.
'The people are there for a good time and to enjoy culture. People come from all over the world.'
Meanwhile, Tenterfield Shire Council was successful in an application to the NSW Land and Environment Court  – lodged on the opening day of the gathering (June 10)  – in having an order prohibiting the Omega festival taking place.