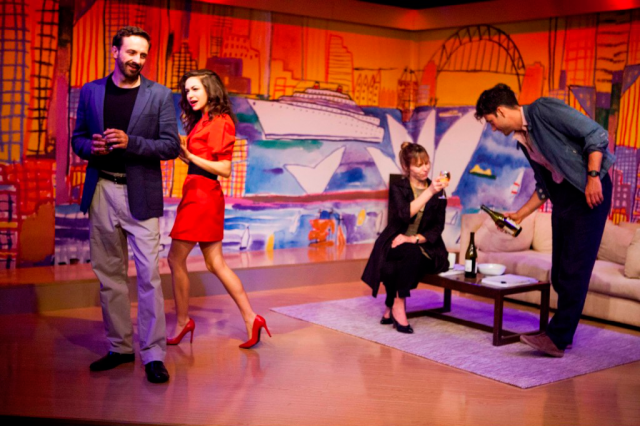 Australian National Theatre Live!
Enjoy a special screening of David Williamson's Emerald City at the Byron Bay Theatre and Community Centre on Sunday.
This is the launch of the new Australian company, Australian National Theatre, Live. ANTLive co-founder Grant Dodwell (A Country Practice) will be doing a special Q&A at the event.
For more information go to antlive.com.au.
Medium at large!
The first series winner of Seven Network's show The One, Charmaine has travelled around Australia for ten successful years reaching out to those in need, and is back on the tour bus with her husband and two dogs to continue her mission of assisting to heal the hearts of those searching for a way out of their darkness.
Charmaine understands by taking her gift on the road to places where people may normally not travel large distances to see a medium, gives them the opportunity to see if a medium could be the help they need in overcoming the intense emotion of grief after losing a loved one.
'After all the family I have lost, including my daughter, brother, mother and father, I know how painful it is when the unthinkable happens. I understand how easy it is to be stuck in their moment of death and to become frozen in grief,' Charmaine says
'Since becoming a medium I have made it my mission to not only give evidence of the afterlife at my shows, but to help direct people in a positive direction with the guidance I myself have received from the spirit world. Every single show is a chance to change lives for the better and plant seeds so that one day the audience members may understand that their loved ones have not only survived in the afterlife, but want them to have a happy and fruitful life until they all meet again.'
With her third book of guidance out this year, Charmaine is as down to earth as they come and connects on a very real level with her loyal audiences. Having travelled all over Australia and meeting many different characters both this side and the other side of the veil really has earned Charmaine the title of The Australian Medium.
This is your chance to see Charmaine again helping to transform lives.
If you're already a fan, you know the impact she has, and if you're new or sceptical, you will certainly get an insight into how accurate Charmaine is.
Friday at the Ballina RSL at 8pm. Tickets $40. Spinnakers A taste of Asia $23.50pp
Dinner from 6pm, first floor Ballina RSL Club.
Talking with Masters
The Masters of Wisdom will be presenting a talk on crop circles, UFOs, environmental solutions, aliens, spiritual hierarchy and peace.
Benjamin Creme is the principal source of information about the Masters of Wisdom and is well studied in esoteric philosophy. He's been contacted by the Master of Masters who, according to the media release, is called Maitreya, and informed he will have a role to play in educating the public toward a more hopeful future.
I guess you could say that in the scheme of things, this is pretty out there. But then, apparently the truth is out there too. Go figure.
If you're up for some mind blasting – Sunday 13 September at Casuarina Library in Casuarina.
Contact 0428 592 209 for more information. 7.15–9.30pm.
The Athena Project
Northern rivers-based Screenworks was thrilled to be named as one of the thirteen Gender Matters: Brilliant Careers recipients, and is excited about its new project – The Athena Project – that will focus on tangibly growing careers and creating work opportunities for female screen makers across regional Australia. 'We have spent many months researching, consulting and developing The Athena Project and with this funding Screenworks will now be able to support regional woman across Australia in their filmmaking careers,' explained The Athena Project manager, Lisa O'Meara.
The Athena Project will provide writers and directors from regional areas across Australia with the opportunity to participate in a career-development forum in Byron Bay designed to impart strategies and information about building a successful career in the screen industries. There will also be ongoing support opportunities for participants that will build networks and create viable and strategic career pathways and plans following the forum. More information about
The Athena Project is available at www.screenworks.com.au/theathenaproject.