Eve Jeffery
At just 18 years-of-age, this election is the first time Kudra Falla-Ricketts has been eligible to vote. Like many first timers, Kudra was very happy to have a chance to have her say about how this country is run.
'It was awesome,' said Falla-Ricketts late on Saturday in Lismore at the St Paul's Memorial Hall polling booth on Keen Street.
Falla-Ricketts is the Greens federal candidate for Page, something she has been waiting on for a long time.
'I was excited because I have been wanting to vote for ages. I have been campaigning for the Greens since I was a kid and really actively since I was 15, so it's awesome to finally get to vote, and, I get to vote for myself – someone who I know agrees with me on all the issues!'
Falla-Ricketts feels it's really important that all Australians have the opportunity to vote but feels that there could be more decorum on the campaign trail – many suggested that she was too young to run but Kudra feels a lot of the older candidates behaved in a very immature manner.
'I think it would be even better if we didn't have corporate donations meaning that the two major parties could spend heaps on all of these huge billboards and all of the posters attacking each other.
'This morning I got up at 5.30 and I started setting up the booth at Richmond River High and I noticed that Labor and the Nats both had put up way more posters attacking each other that they actually had promoting themselves. It just seems kind of stupid to me.
'If we could all just be really honest, I think we could have a better democracy. I think the major parties kind of trick people a lot. I think it would be good if people really understood what they were voting for.'
'I think the Greens have done a good job of putting up our positive policies on to corflutes, rather than attacking others. I think it's just stupid and it's political games and everyone should just cooperate to create good policy.'
Kudra has had a busy weeks in the lead-up to the big day and says the experience has been very positive. Now the biggest part of the job is over, she plans on taking it easy for a few days.
'It's been very tiring but it's been really good day. I think I am a little bit sunburnt but it was really good to go around to lots of different booths and get to shake the hands of the people who are volunteering for me and say thank-you.
'People have been quite positive, maybe a little less positive away from my face, but generally people have been saying to me, "Oh I thought you were really young, but I heard you speak and you're inspiring", things like that.
'Some people had some doubts, but I feel like the people who have met me, or heard me speak or spoken to me, have changed their mind. A lot of people have told me that they were voting for the first time or voting Greens for the first time because of me, and that was really lovely.'
Kudra, who has pretty much put teenager-hood on hold for the campaign as she focussed her energy on the election, plans to spend today chilling out and catching up with her friends. 'I think they have missed me.'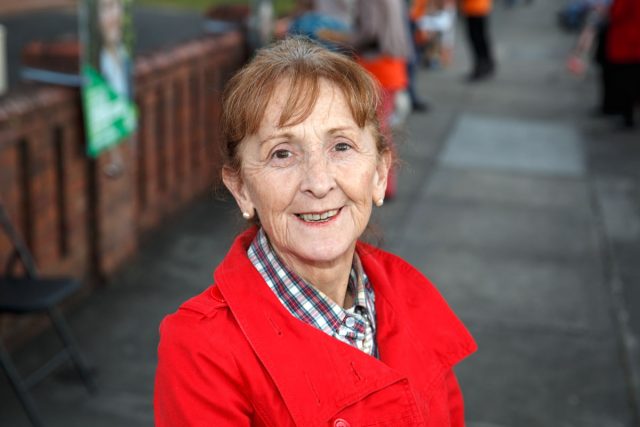 Janelle Saffin also had an early start to the day and headed south in the morning.
'I started pretty early in Casino then back to Lismore. I've just been saying thank-you to the workers, the people out-and-about for me and giving out how-to-votes,' she said.
'The last week we have been on pre-poll, a pretty full-on week. I have had a really good response from the community. It's been very encouraging, people saying "Go Janelle!" and "We want you back", and things like that, so I am confident about my campaign.
'It's been a good campaign, a credible campaign with huge team of volunteers and supporters. I owe a lot to them.
Janelle says she has wanted to give a clear choice to people, not only in the national arena but locally.
As did Kudra her Green counterpart in the seat of Page, Janelle also felt there was a lot of mud-slinging this time around on the quest for election votes.
'It seemed to be a bit more this time, particularly in this electorate and in a lot of the ads.
'There were a lot of ads about me on TV, saying that I was responsible or things with Bob Carr that we didn't even know about, and photos that were used, I just thought it was a bit silly, and like signs out here [on Keen street].
'They have accused me of lying about medicare and saying "mediscare" and I thought, the only thing scary about medicare is the Liberals and the Nationals and what they do to it.'
Janelle said she wasn't necessarily confident of a win but was happy with the day. 'I can't predict until the count comes in. I feel positive, but I'm a positive person.'
Janelle said that the candidates for Page were a group who got on quite well with each other. 'We are together a lot of the time that's the funny part of it. On pre-poll we're together – all day. We're together, so we get on.'
Janelle says the work is not over for her once the booths are closed and there is still a lot to be done.
'This campaign has been like The Chasers desk. Really long like it goes on forever,' Janelle laughed.
'The Sunday after an election is always a clean up – no matter what the result, you still have to clean up. There is the campaign office and you get around to thank people, you make sure you start that process.
'You want to give a big thank-you to everybody who has been encouraging and supportive.'