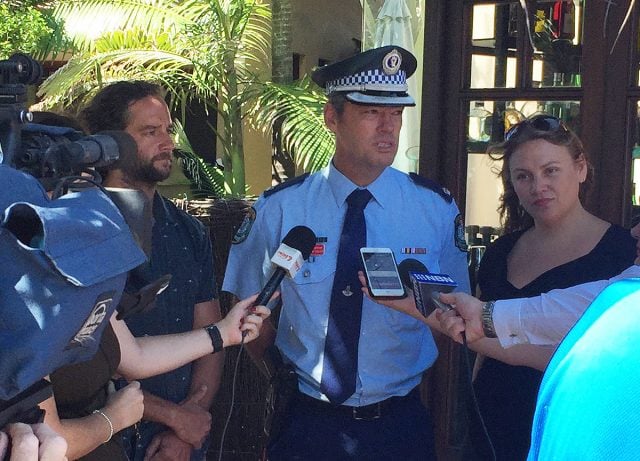 Aslan Shand
The Byron Liquor Accord (BLA) has welcomed a 60 per cent drop in alcohol-related incidents (ARIs) since 2012. 
Figures from the NSW Bureau of Crime Statistics and Research (BOSCAR) show alcohol-related incidents (ARIs) have dropped from 4,277 in 2012 – above the NSW average – to 1,342 incidents in 2016.
'Everyone has stepped up and had a very positive impact,' said BLA president, Hannah Spalding.
Along with BLA vice-president Loren Nowland, Mrs Spalding joined detective inspector Brendon Cullen (Tweed/Byron LAC) on Wednesday to announce the improved statistics.
It comes after a unified effort on reducing the impact of alcohol-related violence and antisocial behaviour, which peaked in the town around  2011.
Community effort
The BLA formalised its structure in 2012 and worked with the Byron Shire Council, NSW Police, the town's chamber of commerce, the Byron Youth Service and the Office of Liquor Gaming and Racing to come up with a range of strategies to tackle the issue.
Called the Bay Alcohol Action Plan, it introduced a range of measures that included 'a 1.30am lockout, a four-drink limit per person per serve after midnight, no double shots/shooters/jugs of alcohol, no energy drinks with alcohol after 2am, ceasing alcohol service 15 minutes before late close, refusing entry to any person wearing the name of an outlawed motorcycle gang and not sell/supply cask wine greater than two litres.'
Mrs Spalding said, 'There were a lot of new owners and licensees had come here by 2012. It took time explaining why they couldn't do things like double shots in Byron Bay.
'People such as Loren Nowland stepped up and came on board [to the accord] and have had a really positive impact.'
BLA members have also supported the Byron Schoolies Hub and the NYE Soul Street, as well as supplying the 'Slow Down Chill-Out' posters for hostels and branded bags to bottleshops to assist in educating the public.
'It is not the [supply] industry alone that can make the difference,' continued Mrs Spalding. 'It has to come from all the community combined with the police, Council and the Liquor and Gaming office as well as people realising they are responsible for themselves.'