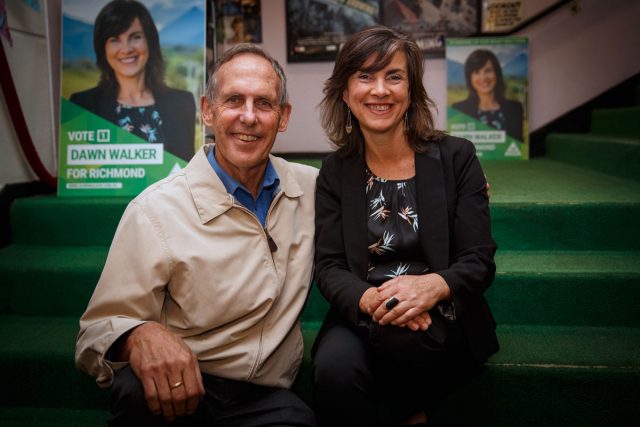 North coast based Greens MLC Dawn Walker gave her inaugural speech on International Women's Day last week and became the fifty-fourth woman inducted into Australia's oldest parliament.
In the gallery to support her was Greens founder, former senator Bob Brown.
Ms Walker has big shoes to fill – her predecessor, Jan Barham, is a former mayor of Byron Shire and left the job with high praise and respect from both sides of politics.
Ms Walker started her speech by acknowledging country, elders past and present, and thanked her supporters.
She then called for Aboriginal representation in parliament.
'New Zealand has had dedicated Maori seats since 1867,' she said, 'They have a treaty, yet in this country we are still dealing with the consequences of terra nullius.
'We should consider establishing dedicated seats in this chamber for Aboriginal people elected by Aboriginal people.'
She then acknowledged 'the enormous achievements' of women, both in political and public life.
'I see women acting on their concerns about the effects of climate change, the growing inequality in society and the frustrations of our young people. It is women who are saying enough is enough. The Knitting Nanas are a wonderful example of straight-talking women who will not let big corporations come into our communities to industrialise our land and water.'
Ms Walker's speech also paid tribute to her predecessor, Jan Barham, whose 'close connection with the local Arakwal people has been an inspiration to me, as is her untiring work for the north coast community.'
Christmas layoffs
A profound influence on her early career was working with the Commonwealth Employment Service [CES].
Based in a heavy-manufacturing area, Walker said she 'saw firsthand the human tragedy of Christmas layoffs and ten per cent unemployment – poverty, inequality and human desperation as jobs became scarce.'
'This had a huge effect on me. It was during my time at the CES that I witnessed the increased privatisation of government services with the eventual wholesale transfer of job placement and training to the private sector.'
Later she became policy adviser in the state office of the department and later the Department of Innovation, Industry and Regional Development.
TAFE policy
'During this time I was responsible for developing and funding TAFE programs to encourage women into non-traditional trades…
'This gave me a passion for our TAFE system…
'My other passion is the environment, which is shared by my father, who loved nothing better after a long walk together in the bush than to kneel with me and drink from a freshwater river with cupped hands.
'He would look up at me and say, "Isn't that the sweetest thing you've ever tasted?"
'This simple act together has been with me in the determination to protect our land and water – to ensure that all of us can kneel by a free-flowing river with our children and taste that clean water without having to worry about a coal seam gas [CSG] well or a coalmine upstream; to speak up for the community's right to clean air, clean water, a safe climate and a fair society.'
She also spoke of the regional forest agreements (RFAs), that have been the framework for public forest management in NSW for 20 years. She said they are set to expire in 2019.
'I will be joining the experts by calling on the government to end logging in our public native forests once and for all following the expiry of the RFAs from 2019.
'When threatened species legislation was enacted in NSW in 1995 there were approximately 700 plant and animal species listed.
'Two decades later, we are now just one species away from 1,000 listed as threatened.'
Activism roots
'I never planned to enter parliament,' she said, and explained that she chose the quiet life with her family in a small coastal village, operating their small business in the surfing industry.
'But unbeknown to me, this little village was built on an extraordinary story of community resilience and sense of place. I had moved into Mr Healy's little old fibro post office that had been at the centre of this village's survival from a development proposal of massive proportions.
'In the late 1980s developer Ocean Blue had secured a Crown land lease and had plans to build an international hotel on top of a critically endangered littoral rainforest, a luxury marina on a protected wetland area, and 400 townhouses to replace the existing historic village.
'A tent embassy was set up, the community rallied and, after two years of defiance, the community won.
'The Crown land lease was cancelled and the land awarded to the Tweed Byron Local Aboriginal Land Council under the Aboriginal Land Rights Act 1983, being one of the first successful claims under this Act.'
The full Hansard transcript available here.