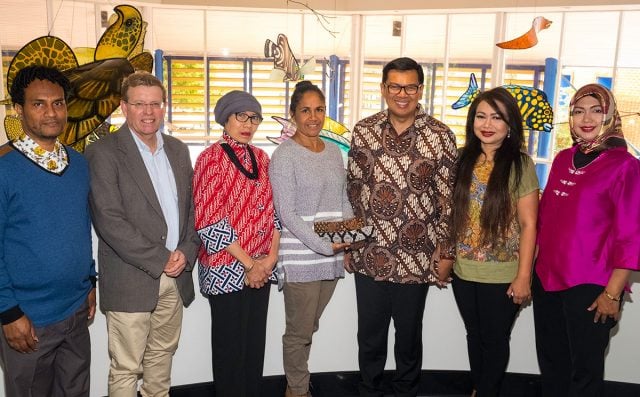 The floods may have curtailed the full agenda but the Australian Indonesian Arts Alliance (AIAA) wasn't to be stopped.
The full day of events scheduled for Mullumbimby on Friday 31 March was turned into a round table discussion at Elements Resort in Byron Bay with the Consul General of the Republic of Indonesia, Yayan Gh Mulyana.
Presentations were given by Mark White from the Eco warriors project, Dr Mary Gardner on coastal management among others focusing on ways that Australia and Indonesia can work together.
'The forum was excellent,' said the Indonesian Consul General Mr Mulyana.
'It involved artists, marine biologists, environmentalists, ecologists and language teachers.
'In Indonesia local government has more autonomy in managing local resources. If we can make this an annual event then we could consider bringing mayors from Indonesia to have first hand observations regarding how you strike the right balance between development and the environment.
'Listening to Jeremy Holmes talk about green resort development there is a lot of potential.'
Daytime Harmony Day Festival events on Saturday were cancelled due to the weather but the evening show went on.
'The Byron Harmony evening concert went ahead as planned at the Byron Bay High School,' said Dee Tipping the AIAA assistant coordinator.
The new Japanese Wagaki Group presented by Yumiko Suzuki and the Byron Japanese community was followed by three world class Indonesian cultural performances sponsored entirely by the Indonesian Consulate Sydney and the Jogjakarta Provincial Government. 
'The next time we hope the theme for the annual forum will be agriculture and small and medium enterprises,' said Mr Mulyana.
West Papua
Responding to a question regarding the free West Papua movement Mr Mulyana said:
'One of the most important things is for us to build more progress. Not only physical progress but social and economic where everyone lives with the fulfilment of fundamental rights and freedoms.
'Special autonomy has been implemented for West Papua and everyone has been working very hard for social, cultural health, educaton and political both here and in the eastern parts of Indonesia.
'We need to pick up on our efforts to bring progress and participation and involve local people to achieve collective progress. No one should be left behind.'