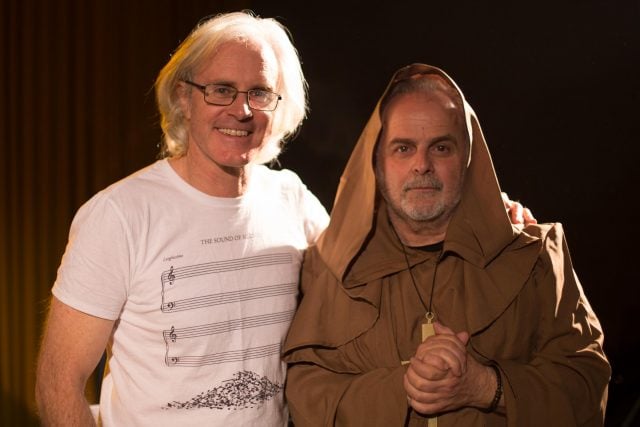 Eve Jeffery
On Saturday A Devilish Tale unfolded in Murwillumbah as Fra Alfonso, a.k.a Alf Demasi, and the Murwillumbah Philharmonic Choir told the story of the history of western harmony.
Multi award winning Matt Ottley who is the creator of the comical and educational piece, brought the show east from Perth for a special performance to raise awareness and funds for the Uki Refugee Project.
Matt says he wants to support the cause of refugees – being open to those in need, no matter where they are from is paramount. 'I've always wondered why we don't use the word "and" instead of "but" in the conversation around charity.
'For example, a statement I often hear is: "but shouldn't we use the available funds for charity in our own back yard, to help fellow Australians in need first." How about a statement like: "We're a first world nation, let's do our best to care compassionately for our own, and also extend our compassion and support to our brothers and sisters in need wherever they are in the world at the same time."
Saturday's show was performed in three acts, part one saw Alf Demasi a renowned keyboard player from WA step out from behind his YAMAHA and make his debut as an actor playing Fra Alfonso a slightly scattered but devilishly funny monk who takes the audience step-by-step along a path of modern harmony with live instrumental and video imaging at his fingertips.
The second section was an improvisation by eight musicians based on the principle and concept of synaesthesia. It was like a reverse engineered version of a synaesthetic experience. One of the musicians was asked to run his hands over a sculpture with his eyes shut, then drew a line on a whiteboard representing his sense of the sculpture.
Ottley then placed his line on a music stave and derived pitches from that line, which the musicians then improvised on under his direction. The result was a mesmerising cacophony – a very moving experience.
The final act was a lush performance by the ever awesome Murwillumbah Philharmonic Choir a fitting finale to the musical journey.
Over 150 patrons filled the Regent Cinema in Murwillumbah and around $2,500 was raised for the refugee project,
Will local audiences get a chance to see the good Fra Alfonso on the future? 'Nothing is planned yet,' says Ottley. 'Though my partner Tina and I plan a benefit show every year for the Uki Refugee Project.
'Next year we'll be a joint show with Zulu musician and story teller Valanga Khoza.'
Matthew hopes that the issue of refugees stays in our minds and hearts and that we can learn to be more compassionate towards others. 'If I could coin a term, it would be "quantum kindness". I think we really can afford, in this country, to be kind – kindness in an attitude, not a form of politics.
'Unfortunately politicians have all too often promoted religious intolerance as a tool for blunting the kindness of people.'
If you would like to know more about the Uki Refugee Project, visit their Facebook page.
For more information about Matt Ottley visit his website.