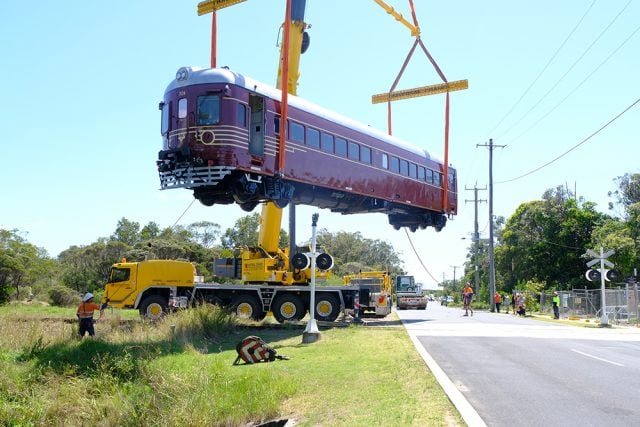 Two restored 1949 rail motor heritage carriages were delivered to Byron Bay on Friday, marking the final stages of a six year project to run a train along three kilometres of track from Belongil to the CBD. 
Touted as the 'world's first solar train', the project is headed by not-for-profit Byron Bay Railroad Company (BBRC), an offshoot of the Elements of Byron resort.  
According to BBRC, 'One of the two diesel engines has been removed and the other remains on board for weight and balance and also to provide an emergency back up in case of electrical fault. The remaining diesel engine is not required for normal operation, even in cases of prolonged lack of sunshine.'
The cost will be $3 for adults with some concessions provided for children.
Project manager Jeremy Holmes said his team were looking forward to running the passenger service and sharing the experience with residents and visitors soon. 
The train, which has been fully refurbished in its heritage colours, seats 100 passengers with additional room for standing passengers and luggage including prams and bicycles.
Holmes says, 'While there are some trains throughout the world with technology that allows them to run parts of the train like lights and air conditioning on solar power, this is the first real train to run fully on power from the sun.'
Chief Executive of the Australian Solar Council John Grimes said, 'This is an exciting world first, powering a train with solar power, day, night and in every type of weather. It shows Australia's fantastic sunshine can be harnessed in smart ways not just to power our homes and businesses, but to address another pressing problem – cutting emissions in the transportation sector.'
Byron Bay Railroad Company is hopeful that passenger services will commence before Christmas. In the meantime, they say they will be training the nineteen new local staff, undertaking test runs and commissioning the new solar equipment. For more information visit www.byronbaytrain.com.au.