By Darren Coyne
My vote goes to the bloke who recited a poem dedicated to Banjo Paterson, only because I think there should be more bush poetry in the 'Bear Pit' of NSW's Parliament.
Tenterfield mayor Peter Petty was one of three candidates at last night's NSW Nationals 'meet the candidates forum' at SCU, and by far the most entertaining.
His rivals, former cop turned Lismore real-estate mogul Andrew Gordon, and young – 'I'm a farmer, really' – Austin Curtin, were vaguely disappointing in comparison.
The trio are vying for the honour of representing the NSW Nationals at the next state election.
At least Mr Petty thought having a look at what train campaigners described as a dodgy feasibility report was worth some time, and he also spoke about building things, which is always promising … bridges, roads, infrastructure.
Mr Gordon on the other hand, thought that while his grandfather, father and he had enjoyed the train, it was not worth bringing it back for the kiddies because things had changed and a rail trail was now a more viable option.
Mr Curtin, also a rail trail supporter, did promise to sit up at night and think about it because that's the type of guy he is.
The evening had started well enough. There was coffee and biscuits, and pleasant catch-ups.
Nathan Quigley, NSW Nationals' state director, finally called the forum to order and urged the 40-odd people – many of them members of the local Labor party – assembled to keep it nice and on point.
Peter Petty the poet
Mr Petty, fresh from a mayoral forum in Western Australia, spoke glowingly about new roads, bridges, highways, and the view from the plane he had recently landed in at Ballina.
Like Banjo, he come across as a man of vision, a 'proud Australian', a believer in all levels of government working together to promote tourism … and build things.
'The Roads to Recovery program is the best thing that ever happened to this country,' he enthused, before mentioning the $4.8 billion upgrade of the Pacific Highway, the second crossing across the Clarence at Tabulam, and the bypass work at Tenterfield.
He said nice things about outgoing MP Thomas George, and sincerely wondered how anyone could possibly turn away from the Nats when the state election rolled around in 2019.
He spoke about 'how lucky we are' for our free speech, our right to protest, and our bloodless elections, free of persecution and the fear of being shot.
Then he recited a poem.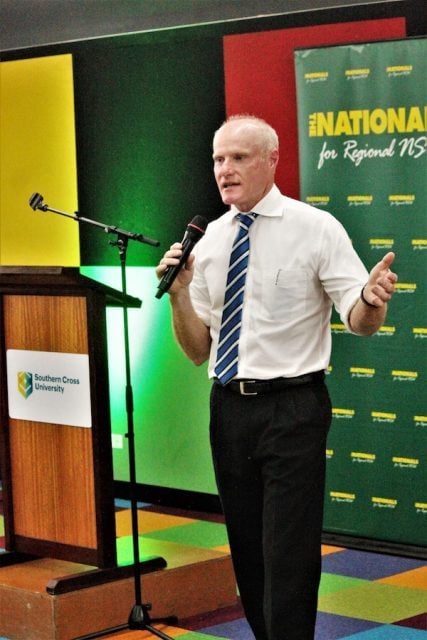 Andrew Gordon, third generation
Mr Gordon, a proud office-bearer with the Sporting Shooters Association, was the next to face the audience.
Struggling with the microphone, he began by saying his campaign 'started three generations ago', as his family became embroiled in the local community.
He praised the Nationals for representing the 'conservative, traditional values' that had been drummed into him and his siblings yet lamented that the opportunities enjoyed by his grandfather and father were no longer available.
Apparently one of his six children lost a job when the Telstra call centre closed.
Nevertheless, being involved in the community was the key, Mr Gordon said, adding 'I don't think there are too many committees I'm not involved in'.
And while 'infrastructure is important' … 'hope and opportunity are far more important in my mind,' he intoned.
Describing outgoing MP Thomas George as a 'political giant' who had 'big shoes to fill', Mr Gordon then questioned why Tenterfield wasn't properly resourced, recounting a tale of his son being run over by a pig and having to travel to Tamworth for treatment.
He also spoke of overhearing a conversation about people moving to Kyogle from Lismore for cheaper rentals, noting that his business managed 1500 houses and had up to 71 applications whenever something become available.
He finished with a subtle dig to the next contender, pointing out that he and Peter Petty were now 'empty nesters' and had the time on their hands to represent the interests of the electorate.
Austin Curtin, young blood
Mr Curtin was up next, recounting tales of being a child paddling through Lismore flood waters where his father worked as a surgeon, and being swooped by magpies as spring set in.
Throughout his 20s he studied economics and communications, and worked in sales and human resources before moving to Perth in his 30s to further his wife's career. There he became a carpenter, had a couple of kids, and joined the Young Nationals in 2003 because the 'party fights for country people'.
When an opportunity for a small macadamia farm at Tregeagle presented itself, he and his wife returned to the area because they knew they 'wanted to raise the kids in a safe, country environment'.
Now, at 38, he was ready to front up as the new breed of National, pointing out that Lismore's growth was slow when compared with other places such as Wagga Wagga and Tamworth.
He promised to be a politician for the people, whether they be 'business people, farmers, families, conservationists, the disadvantaged and artists … those that believe in God and those that don't.'
He then rattled off a list of priorities: providing jobs, improving the university and TAFE, the services at Lismore Base Hospital, more frontline police and better roads and bridges.
'We need someone to fight for it. We need to offer a genuine country voice.'
Question and Answer
Formalities over, the question and answer session began and it was straight to the trains.
Mr Gordon remembered as a kid going to Byron bay at 9am and returning at 3pm but now the 'bills are too big' and 'tourism is the key.
He pondered why the state government had not got a rail trail ready for the Commonwealth Games in Brisbane before apologising to the questioner, saying 'I'm sorry but they're not coming back. Move on. Build a rail trail'.
Peter Petty said a business plan was needed to justify the cost of bringing back the train, and took a shot at previous state governments 'back in the 80s' for abandoning rail.
Austin Curtin said he supported the rail trail because 'I can't see the economics stacking up to bring the trains back'.
"I just wish we had got on with it (the rail trail).'
The second question was also about public transport, pointing out that people in the area were reliant on school buses to get around, despite being required to 'work for the dole', or get to their job.
Mr Curtin noted that a significant amount of money was allocated for buses in the last state election 'but not in this region'.
'We need to go to Sydney to fight for a bus network that will work for this region,' he said.
Mr Petty suggested coming up with a business plan to support such a venture while Mr Gordon agreed that more buses was a great idea.
The third question was also about trains, with Northern Rivers Railway Action Group's Beth Shelly pointing out that the Byron rail had been revitalised at a cost of $330,00 per kilometre, while the feasibility report for the Lismore train quoted $7.2 million per kilometre.
Mr Petty said 'if you're saying the reports are dodgy I'd be concerned about that and it needs to be looked at'.
Mr Curtin promised he would stay up late getting his head around the issue.
Mr Gordon said 'for me it's a pass' after saying the train obviously didn't work 'because it disappeared'.
Environment
Finally someone in the audience asked a question unrelated to trains.
Ms Liz Rummery, former Chair of the Northern Rivers Area Health Service Board and deputy chancellor at Southern Cross University, noted that she had heard very little about environmental policies from any of the candidates.
'Clean air, water and soil … I think my generation hasn't done enough to protect these things. I'd like to hear what you'll do for your children and grandchildren'.
Mr Gordon countered that biodiversity in the region was flourishing, noting that he often saw bush turkeys and wallabies on the lawn where they never used to be.
"We have different biodiversity today and we got it through good stewardship,' he said.
'I don't think we need any more legislation to to lock up parcels of lands. The legislation we have right now is fine and we're doing a reasonable job.'
On this subject, Mr Curtin outshone his opponents, saying he believed the area could lead the country in renewables, while cautioning 'we've still got to keep the lights on at the hospital at night'.
Mr Petty opined that 'environment is everything', saying there were so many regulations in place that anyone doing something wrong is quickly found out'. He said the government had been very supportive of recycling, and said it was important to work with the Environment Protection Authority 'but it does cost a lot of money' to do so.
Subdivisions
A further question from a farmer wanting to subdivide his 100 acre block resulted in each candidate agreeing that more subdivisions, within reason, would bring further prosperity to the region.
Mr Curtin said such subdivisions could result in bringing more people to the land, resulting in jobs and apprenticeships, and he promised to work with councils to achieve that goal.
Mr Gordon said 'I truly believe that rural land should be protected' but there should be opportunity to 'speculate and fund your retirement' by selling off a few blocks.
Mr Petty noted that it was all to do with council's Local Environment Plans, adding he had no problem with subdividing 100 acre blocks into smaller parcels.
Health
On the issue of health and hospitals, the candidates all agreed that while the state government had done a good job providing facilities, there were shortcomings.
Mr Gordon again told the story of his son being gored by a pig in Tenterfield and said that 'we have to recognise and acknowledge that ongoing funding is needed,'
'Lismore's hospitals are great and we are so damn lucky to have them but I wouldn't want to be in Tenterfield and. be run over by a car,' he said.
Mr Curtin said it was a matter of listening to the people using the facilities and bringing the experts up from Sydney to listen to the people using them.
Mr Petty said he would sit down with the North Coast Area Health Service, acknowledge the issues, and address them ASAP.
Experience
The evening ended with a question about the candidates experience with the community, local government and the Nationals Party.
Both Peter Petty and Andrew Gordon were able to recount their long experience with the party, community involvement in various committees, especially their local show societies. Mr Petty described being involved in campdrafting and sporting groups, while Mr Gordon rattled off a number of groups including the Speedway, shooters groups, canoe clubs and the Northern Rivers Aero Club.
With quite a few decades on their younger opponent, Mr Curtin countered that leadership was the key to success, saying experience with committees did not necessarily translate into politics.
With that it was over, and after a short goodby from Mr Thomas George, the forum came to end.
Time to vote
Now it is up to the people to decide, and the Nationals will be holding a community vote on 18 November. To find out where you can have your say go to http://www.lismorevotes.com.au