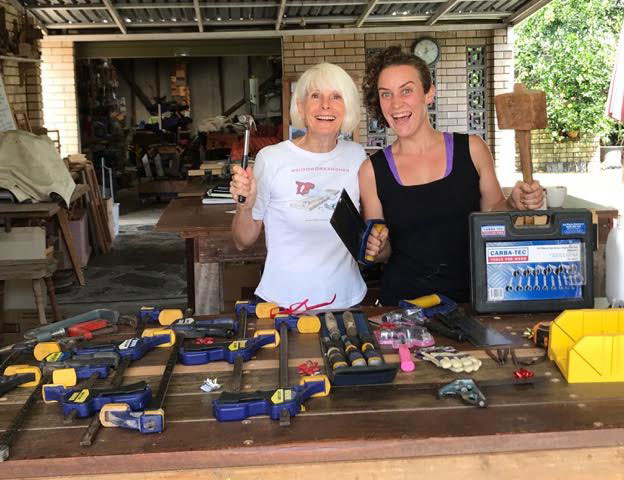 There's the Men's Shed, there's the Women's Shed and now Mullumbimby is taking that one step further and is developing the Shedding movement.
'Shedding' you ask? Yes, Shedding. Rather than a place for just one type of person this is a shed that is open to all regardless of age or gender and it is coming into existence as the brainchild of local carpenter and architect graduate Sophie Wilksch.
'For me, as a woman – I too love to tinker, but clearly the Men's Shed is not the place for me! And so, I pondered, "What about a Women's Shed?" And then, on 8 March 2018 the Mullumbimby Women's Shed kicked into action,' said Sophie.
'I spoke with these women during their initial meetings to discover that their genre of activities included painting, weaving, sewing and drawing. What a great idea! But still, not quite what I had in mind.
'For me it is about "shedding" – that is, doing "shed-stuff", regardless of age or gender. It is also about shedding our preconceived ideas as to who belongs in this space. It's for those who share a passion for carpentry and building, and everything in-between.
Finding a space
Sophie has been working hard and now has a workshop space at Mullumbimby Commons on Main Arm Road where she is gathering tools, teachers, sponsorship and students to make her idea come to life.
In fact Sophie was originally a student of Mullumbimby's own Patt Gregory of Woodwork For Women fame who recently spoke on the Makers Panel at the Woodfestival held in Federal.
'I met this young enthusiastic carpenter, Sophie Wilksch, years ago – she did my furniture making workshop and we became firm friends,' said Patt.
'Her enthusiasm is through the roof, she's organised and is passionate about making these skills available to everyone. And I'm passionate about supporting her in this.
'She has the space, the workbenches and knowhow, she just needs some tools and equipment and students!'
Looking for help
Patt has already donated a bunch of tools and they've received on-going discounts from Mitre 10 and a $200 donation from Bunnings.
'For me, to share these skills that I have learnt brings me joy,' said Sophie.
'I have worked within male-dominated building sites for years and enjoyed this experience – but now I'm so excited to see chicks on tools. It's very new for me. I'm inspired to see men and women sharing their skills and knowledge, and I'm equally excited to see children discovering their capabilities in the workshop.'
Workshops
Sophie has already started running children's workshops and is looking to provide adult workshops in the near future.
'I believe that there is a real need for Shedding. I aim to create an inclusive space, for our community to come and learn.
'Part of this sustainable vision is to be able to support our local community and support local businesses by seeking our resources locally and spending money locally.
'In the future, we are looking forward to expanding and facilitating workshops ranging from carpentry and building to permaculture, up-cycling and even tiny homes,' Sophie said with enthusiasm.
If you have donations, ideas or other support or would like to enrol in a woodwork course you can email Sophie at [email protected] or contact her through her facebook page.