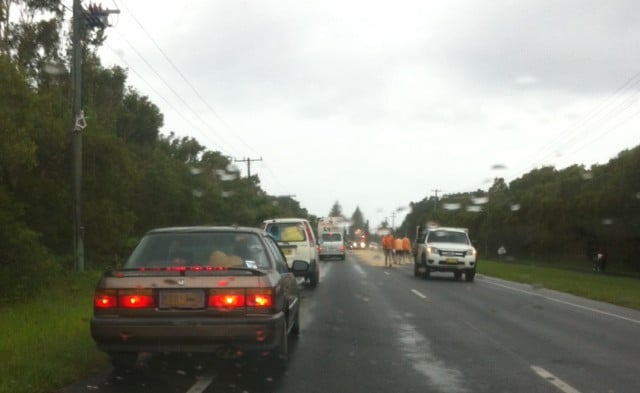 Paul Bibby
The tide of day visitors flooding into Byron is set to increase significantly over the next decade, as the population of southeast QLD explodes and more cruise-ship passengers pour in, a tourism conference has heard.
And it is predicted that the Asian middle class will also begin to discover the Shire over the next five years, creating a noticeable shift in the tourist demographic.  
In a development that brought renewed calls for more paid parking and a car toll on Ewingsdale Road, Destination Byron's annual tourism symposium heard that the Shire had 1.1 million domestic day visitors in the 12 months to June 2017 and was on track for similar numbers this year.
Jeremy Holmes, the development director at Elements of Byron, told the symposium that these numbers were likely to increase further as the population of the great south-east region – from Noosa to Tweed – grew over the next 30 years.
'It is predicted that the population of that region will increase from 3.5 million to 5.8 million by 2046,' Mr Holmes said during an address entitled Cautionary Travel Trends for Byron's Tourism Industry.
'That is one of the factors that is likely to contribute to an increase in domestic day visitors, which will in turn bring greater pressure on local infrastructure, particularly roads,' he said.
Adding to the increase in day trippers, Mr Holmes said, was the expected growth of cruise-ship passengers coming into southeast QLD.
This was driven by the expanding cruise market and the construction of a new mega cruise-ship terminal at Luggage Point in Brisbane, which is due to open in 2020.
Silver lining
While the thought of more day trippers on local roads is enough to send a shiver down local spines, business development and marketing consultant Peter Valerio told the symposium that this group contributed more than just rubbish and traffic congestion.
'Some people like to write domestic day visitors off, but they actually spend $100 per visit,' said Mr Valerio during a presentation on the latest tourism statistics.
He also said that the people who drove down from Tweed Heads or the Gold Coast for the day were likely to come back for a longer stay during their holidays.
'For them, Byron is close enough for a day trip but just far enough away to escape for a few days during the holidays,' Mr Valerio said.
It was when these visitors elected to lay their heads locally that the money really started to roll in.
'Domestic overnight visitors account for 70 per cent of total visitor expenditure in the region, while representing only 40 per cent of total visitor numbers,' Mr Valerio said.
But the push to encourage visitors to stay longer and spend more appears to have borne little fruit.
'There has been very little change in the number of nights that domestic visitors stay in Byron over quite a long period of time,' he said.
'If you're looking to increase the length of stay by domestic visitors the only thing I can say is "good luck". In 20 years of data it's barely changed.'
Asian market
One group that is likely to bring more dollars into town is the expanding Asian middle class. The symposium heard that total annual outbound trips from China will increase by 300 per cent, which equates to one billion passenger trips per year, over the next 20 years.
So far the Northern Rivers has largely missed out on this market, with Chinese nationals accounting for just one per cent of travellers to the region.
However, David Jones, the director of sales and marketing Elements of Byron, said this was set to change.
'The Asian markets are going to start visiting Byron Bay en masse in the next five to ten years owing to changing travel habits and displacement from urban centres,' Mr Jones told the symposium.
'Put simply, Sydney and Melbourne are full. Their tank is full and so the Asian market has got to disperse.'
Solutions
Having chewed over the tourism stats and trends, the symposium turned its attention to the question of how to balance the needs of the tourist economy with those of the local community.  
One idea that gained traction among attendees was the introduction of a toll for tourists travelling by car into Byron Bay on Ewingsdale Road.
The chair of Tourism Noosa, Steve McPharlin, told the symposium that his town was considering introducing this measure at a number of tourist hot spots.
'If you've got demand for something then make money from it – it's Business 101,' Mr McPharlin said.
But Byron Shire mayor Simon Richardson told the symposium he had reservations about introducing the measure in Byron.
'My worry is that if we start saying to visitors: "We're so special we're going to charge you just to come into town," that some people will turn around and say: "You know what? You're not that special, I'm going to Lennox",' Cr Richardson said.
Cr Richardson said he believed expanding paid parking was a more effective way of generating income for community benefit from the tourism tide.
Paid parking
'One of the reasons I support paid parking, whether it's in Bangalow or Bruns or elsewhere, is that it's not going to scare visitors away,' he said.
'The research is clear that it's not until you get to $12 an hour for parking that you see a change in people's behaviour in terms of where they choose to go. So why not have visitors leave behind an extra $10 for the day so that the place they've just visited can be left a little bit more beautiful?'
He also foreshadowed the creation of a 'Better Byron fund' – an investment fund derived from a levy on visitors and the visitor economy that could be used to support the local tourism industry and basic infrastructure.