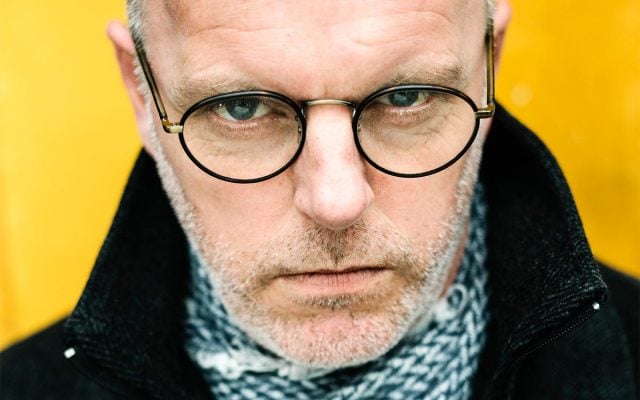 The Good,
The Bad
and The
Fleety
The Big Gig – Ballina RSL | Thursday 25 Oct | 8pm | Free
Greg Fleet in conversation with Mandy Nolan about The Good Son | The Drill Hall, Mullumbimby | Wednesday 24 Oct | 7pm | $10
Greg Fleet modestly tells me that he doesn't think he's got more stories than anyone else. But he does. He's a comedian and writer who's lived gloriously on the edge, sometimes falling, but always climbing back up with something new.
Greg's battle with heroin addiction formed the basis of his festival show that found its way to the ABC: Twelve years in a long-sleeve shirt.
His latest shows have focused on the extraordinary story of his father, Bill Fleet, who faked his death when Greg was just 10, only to turn up across town under a different name. When Fleet's mother confronted him there, he denied his identity. Cornered, Bill Fleet dumped his new family and briefly returned to his old one, until he fled for good and returned to the United States. Now that's a story!
The man who has made his living from the humble craft of crafting stories has stepped away from the safety of memoir and 'true' stories and moved into the
much more challenging world of non-fiction. The Good Son is an upbeat, funny, feelgood romance set in a nursing home. There's even a road trip to Byron Bay!
For Greg, writing a novel was a new challenge. 'I found writing a novel slightly more difficult than writing a memoir or a festival show because everything else I have written is about my life, so all you have to do is remember stuff, but writing a novel is different because you have to make stuff up, and that's not hard, but you have to time everything: if they knew each other then, but did they then. You can make it up but you have to be careful. I am absolutely positive if you read my book with a hungry mind you would probably be able to say those people didn't even know each other then. So buy the book just to ridicule me.'
Greg uses the narrator as his comedic device. It allows him to do what he does best. Chat to the audience. Or in this case audient, aka reader. (I don't think audient is a word but I'm using it because I'm the narrator in this story.)
'I love the narrator character,' says Greg. 'He's got the best name of everyone in the book.' It's true. He's called Cash Driveway. 'I wish I'd made it up but a friend of mine made it up and gave it to me!
'As a standup comedian I am comfortable talking straight at people; we know how to talk to people so when you write a book the temptation for me is to keep doing that so every now and then I like to break with the convention and talk directly to the reader.
It's almost Brechtian; you are reminding people that you are reading a book.'
The book tells a beautiful story all about human connection. It importantly tells the story of lonely older people in a nursing home, and one very extraordinary older woman who won't be defined by age. She is a great ageism disrupter. The story is unashamedly optimistic, something Greg believes we are totally ready for.
'People are ready. It's a romantic story. It's beautiful and I am proud of that. We need so much love. We need to acknowledge beauty. We need as much optimism as we can get. I don't feel any sort of shame or embarrassment writing about love. I am obsessed by love. It's the best. I am mostly made aware of that when I have destroyed it, when I destroy some relationship that I have had. Which I've always done. Which I did recently. When I get heartbroken I try to get organised; I am just a village idiot, so I try harder at things, and then someone is impressed, someone sees that you are beautiful person… you fall in love, and then you destroy it.'
And that's what happened to Greg in the middle of writing his love story. He got his heart broken.
'It should have taken me four months, but the heartbreak happened so I slacked off in the middle. So it took close to a year. I dropped the ball but balls bounce, so you can pick them back up.'
Fleety is the master of catching his bouncing ball. I ask him what lessons he wished in life he hadn't had to learn. He's very open and honest. It's one of his most endearing qualities. 'All the drug taking, all that wasted time. I think I have reached a point
where I wish it was something I hadn't done. It has had a very negative affect on my career. Not because I am a victim, but because I have treated people very badly. I am as good and smart and capable as anybody, but if you upset people they stop helping you. I am not being a whinger; I just wish now that was a lesson I hadn't had to learn. I should have been less self-obsessed and more appreciative of the good people around me.'
The Good Son is something of a fable, or a morality tale. It's something that reads very much like a film. 'I would love someone to pick this up and make a film with it. A good one,' says Greg. 'I want to learn how to harness beauty. And sadness and love and kindness and hurt and betrayal. I love exploring beauty and all its opposites.'
Greg will be at the Drill Hall in Mullumbimby on Wed 24 October discussing The Good Son in conversation with Mandy Nolan.
Tix are $10 on the door or online at mandynolan.com.au. Starts at 7pm. Food and beverages available. (Limited seating so booking recommended.)
Greg will also be headlining at the Ballina RSL Big Gig Comedy night on Thursday 25 October at 8pm.