Open Air – a film by Grayson Cooke | Byron Theatre, Community Centre | Friday 22 February | 7.30pm | $15
It is a perfect match: Revered trio The Necks, known for mesmerising, slowly unravelling musical pieces, and an hour-long art/science video project exploring the breathtaking beauty of the Australian landscape from space. Open Air is the creation by SCU Media artist Grayson Cooke, who pays homage to the forces that shape the earth over time and includes the work by artist Emma Walker. Assoc Professor Grayson Cooke spoke with The Echo.
What is it about satellite images that appeals to you from a filmic point of view?
I find satellite imaging inspiring for a whole range of reasons. Firstly, with satellites, you have these enormously powerful cameras circling the planet, and they 'see' aspects of the planet that are invisible to the human eye. They register infrared radiation for instance, which is reflected strongly by vegetation, so scientists use infrared imaging to track environmental change and vegetation health. Making visible what's normally invisible holds a huge appeal to me as an artist. Secondly, when you timelapse the planet, that's when you really start to see some amazing things. Landsat satellites have a field of view that is about 185km across, so it's a huge area they can image at any one time. When you timelapse the same site over one or two years, you get to see these incredible changes going on in the landscape – huge storm systems come and go, while lakes and rivers fill, drain, and fill again. Satellite imaging allows you to truly see the continent as a living being.
Is this work about abstraction? Is abstraction closer to our sense of 'reality' than we think?
The project is about finding new ways to creatively imagine the forces that shape the earth – so in a way it's about a kind of abstraction, but it's an abstraction that is always linked back to some real environmental phenomenon – Emma Walker's paintings, for instance, are abstract, but they're highly reminiscent of natural forms, they look like salt lakes, deserts, mangrove swamps, river systems. And the materials she uses – marine ply, ochre, graphite, charcoal, silica – are likewise drawn from the earth.
How does the music of The Necks work in with your film?
The project is visual music, so it's entirely built around the music of The Necks, the incredible 2013 album Open.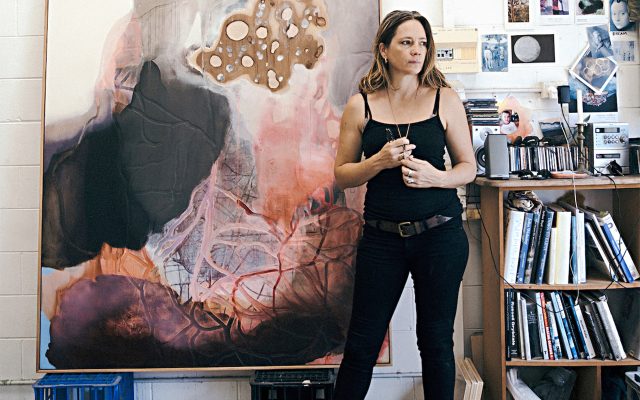 And Emma Walker's paintings? How did you work in with her?
I had been at one of Emma's exhibitions and was inspired by the very topographical nature of her paintings. Emma often carves into the marine ply, creating these troughs and channels, and I began to wonder if I could 'fly' a camera over the landscape of her work, and make it feel like an aerial camera. I work a lot with motion control, robotic cameras basically, that allow you to make the camera do these beautifully controlled and slow movements – so in the studio we would set up a painting or a raw piece of marine ply, and pour paint over it, pile it with ochre, sprinkle mica over it, then fly the camera through these emerging landscapes.
Tell me how you brought the various elements of the film together?
With hundreds of hours of studio experiments, data processing, and editing! It was very daunting at first, the idea of doing a music video for an entire album by The Necks. Art is a very organic process – you feed and nurture it, and you never quite know what it will grow into…
What experience are you wanting to give the viewer of your film?
At over an hour in length, it's best approached as a kind of meditation. The images are often beautiful and otherworldly, but also very worldly because it is our world we are seeing. And so generating a feeling for the earth is probably my other main concern, a feeling for the country that sustains us.
Screening at the Byron Theatre on Friday 22 February at 7.30pm. There will be a Q&A hosted by Peter Wood from Arts Northern Rivers to follow.
Tix are $15 at byroncentre.com.au.