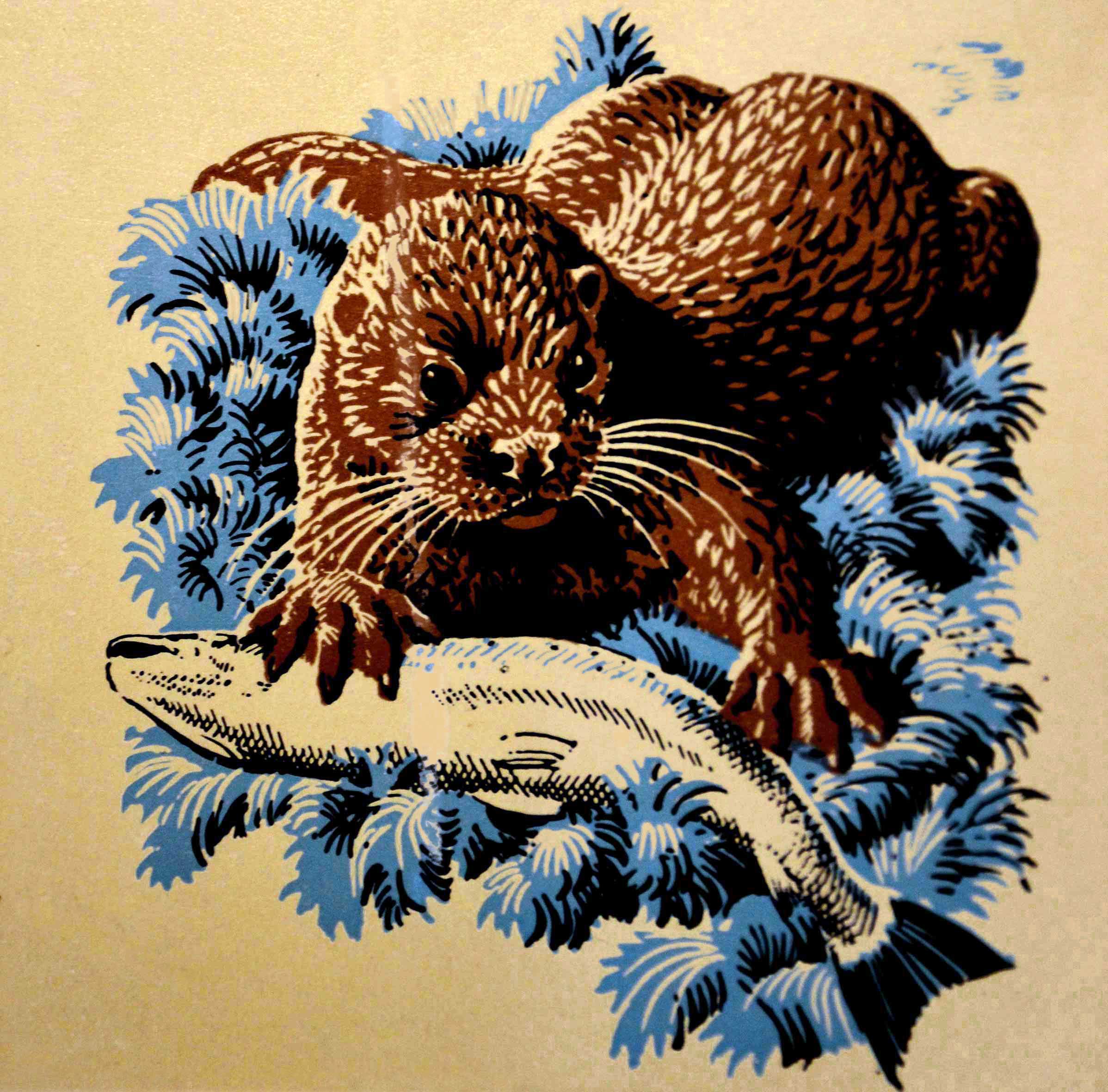 Dr Mary Gardner
The ragged Swagman's Notebook I bought in an op shop was dated 1943. The editor was Charles Barrett, a popular Australian naturalist writer (1879-1959). I was startled by one excerpt describing a waterplace on a farm in Gippsland, Victoria. There, under a waterlogged tree trunk, lived a platypus and an old 'fat…wary blackfish'. Using that log as a table, leaving behind 'shells of the river mussels', were 'shy golden water-rats'. These are also known as Hydromys chrysogaster or rakali, Australian native otters. Like Henry Williamson's famous character Tarka the Otter (Tarka means 'Wandering as Water'). Since 1927 Tarka the Otter has been in print. Generations of readers love the otter who lived a 'joyful water-life and death in the two rivers', the Taw and Torridge in North Devon, England.
A little pelting
But mustelids don't exist in Australia. Rakali are actually large mice that resemble otters in size and lifestyle. They are about 1.3 kilograms in weight and 370mm in length, with webbed feet, chisel front teeth, many whiskers and small ears. Their long thin tail has a white tip. Their fur, brown to black, with a golden belly, is waterproof and very thick. 
Like otters, rakali were widely killed without a second thought. Barrett explained that 'thousands have been trapped for the sake of their pelts'. Fur trapping intensified in the 1930s Depression when imported furs were banned. Over a decade, the price of rakali pelts went from 3 to 10 shillings. Today, Sydney's Powerhouse Museum displays a coat made of a hundred pelts.
Blame game
Rakali were also killed because they were 'pests'. Permits were issued right into the late 1960s. They were blamed for supposedly weakening the banks of waterways with their burrows. But as top aquatic predators, they would benefit waterplaces, influencing other populations from fish to shellfish to freshwater crustaceans such as marron, yabbies and lobsters.
Rakali are members of the group Murinae, the only native placental mammals in Australia. Unlike all other Murinae, they are aquatic carnivores, only partly nocturnal and live about four or five years. The females raise young from September to March. Like mustelid otters, they have only four nipples, nursing four or five young for a month. They only breed once or maybe twice a year.
In contrast, the three species of introduced mice and rats have shorter lives but breed more often. The females all have more nipples (five and six respectively) and care for larger litters. All these species are smaller than rakali, who will attack and kill them.
Little is known about rakali. Still, the International Union for Conservation of Nature (IUCN) ranks them as of 'least concern', though platypus, sharing the same habitats are now ranked 'near threatened'.
Since the 1960s, sightings of rakali have declined. Changed waterways, pollution, irrigation works, drought as well as hunting all work against them.
Drowning risk
Now 'protected', rakali, along with turtles and platypus, are often drowned in opera nets, cheap wire traps for freshwater crayfish. These nets are banned in Tasmania, Western Australia, Victoria (from 1 July) and all public waters of ACT. In Queensland and NSW, there are partial bans but in South Australia and Northern Territory there are no bans at all. New nets with escape hatches are better but still a hazard.
In 2015, Drs Geoff Barrett and Sabrina Trocini released their report Rakali Community Survey. In Western Australia live animals were found in most all of the places they were known to be before, but in markedly smaller numbers.
Those found dead were usually drowned in traps or hit by vehicles. Poisoning was another problem. Though some were found and brought to wildlife centres for care, more would die hidden from view.
Development and road construction means filled wetlands, drained waterways, ditches and channels. Vegetation is cleared from riparian zones and nearby forests. These all work against the rakali, platypus, turtle and others species dependant on these habitats.
Perhaps facts and activism aren't enough to save aquatic wildlife and waterplaces. Maybe a tale like Williamson's about our Australian Otter, 'swilled' by the river, 'eating mussels' and 'whistling with joy', might finally charm the hearts of councils and developers alike.
Please send any observations and locations of rakali to the Australian Platypus Conservancy [email protected].