Fernando de Freitas
'I've cried, I've been hugged, I've been loved, but the trauma of this is so profound and it's affecting thousands of people across our regions and we need help.'
These aren't the typical spin-doctored words many have come to expect from politicians, but State Member for Bega, Andrew Constance (Liberals) recently told ABC's Q&A audiences the memory of bushfires tearing through his south coast electorate were so vivid and raw they woke him up in the middle of the night.
Mr Constance said he feared 'extreme trauma and anxiety' would lead bushfire survivors to commit suicide as people struggled to come to terms with the catastrophic bushfire on New Year's Eve.
'It's just so incredibly overwhelming, but people need to know that it is okay to say this is wrong and we are hurting,' he added.
Bushfire crisis could lead to PTS
Byron Bay-based counsellor and therapist Graeme James says it's important people listen to the stories of those directly affected by the bushfires, like Andrew Constance.
Speaking to Bay FM's Fernando de Freitas, Mr James said the recent fires had created massive disruption and displacement for some.
'People face uncertainty and ambiguity,' he said on Bay FM's Above the Fray, 'and for the firies and first responders, they may face the potential of physical and emotional exhaustion'.
Effects from the fires could be long-lasting, Mr James said, with the potential for survivors to experience post-traumatic stress.
Mr James said many survivors would need professional help to come to terms with what they had been through, and losses incurred, both physical and emotional.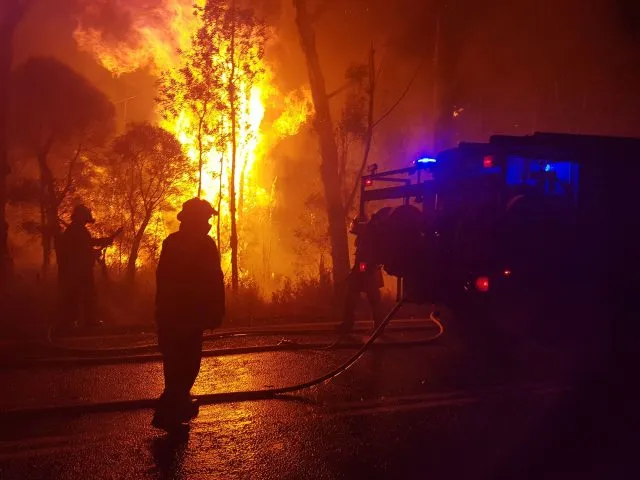 The fires weren't normal, and neither is trauma
While grief is a natural part of life, Mr James said there was no one way to grieve and everyone grieved differently.
'Grief has its own time,' he said, adding that grief doesn't necessarily mean professional help is needed.
'Loss is a normal part of life,' he said, 'many of us get through it eventually'.
But when the bushfires raged through millions of hectares of Australia's landscape, the scars left behind often included trauma, which, by definition, isn't so normal.
'Trauma can occur when a person feels their life is at risk, whether in reality, or as they perceive it,' said Mr James.
'Trauma can lead to depression, anxiety, fears, panic, flashbacks and intrusive thoughts; a wish to withdraw; or physical symptoms like headaches, loss of appetite, and a general sense of unease.'
Mr James said if a person surviving trauma had a tendency towards anxiety, or had experienced lots of losses before the fires, professional help might be necessary.
Australia's national psyche: traumatised
Australia's recent bushfires, most of which were out after heavy rain in mid-February, have been described as unprecedented and the worst on record.
The sheer scale is such that it has affected the national psyche and Australians are experiencing collective trauma as a result.
'Collective traumas have influence on groups, communities, nations and societies, and social media spreads the reach around the globe instantly,' said Mr James.
He expressed concerns about social media's ability to heighten existing anxiety.
'It finds expression in outbursts of anger and emotion, particularly in social media or through what we have seen demonstrated towards the prime minister,' he said, referring to various negative interactions between Scott Morrison and bushfire survivors videoed and shared online.
Those reactions to what has widely been accepted as a huge mistake from the PM – his initial distance from and then dismissive response to Australia's bushfire crisis – are understandable, Mr James says.
'In seeking to manage a political agenda, he disenfranchised the grief of so many Australians. He failed to acknowledge the suffering that is associated with trauma and loss.'
Hope lies in post-traumatic growth
It's often said people and communities come together in time of disasters, and the bushfire crisis is no exception.
'Our resilience lies in our connectedness, shared humanity, and selfless compassion for each other and for the planet,' said Mr James. 'There have been some truly remarkable stories of being there for each other in moments when life has truly been in the balance'.
The member for Bega, for example, highlighted the bravery and community spirit of other survivors while telling ABC viewers the fires were 'not business as usual'.
'I saw something that day which I was never, ever expecting to experience,' the conservative politician said, 'I've seen bushfires on my farm as a kid, I've seen them across our countryside – but not like this.'
A turning point
'These fires bring us to the brink of social, environmental and political crisis, and while there is very real danger of peril, there is also hope,' Mr James said. 'While trauma is a stimulus for post-traumatic stress, for some it is also a stimulus for post traumatic growth.
'How we make sense of the losses and trauma from these fires can guide and shape the kind of people and community, or world citizens, that we can be.'
Graeme James is a professional counsellor in practice in Byron, Bangalow and online. He used to manage Lifeline Sydney, has worked with Medibank Health for Beyondblue and teaches in a university counselling program.
♦ You can hear the full interview with Graeme James online via Bay FM's Community Newsroom.
♦ Fernando de Freitas is a Bay FM member.