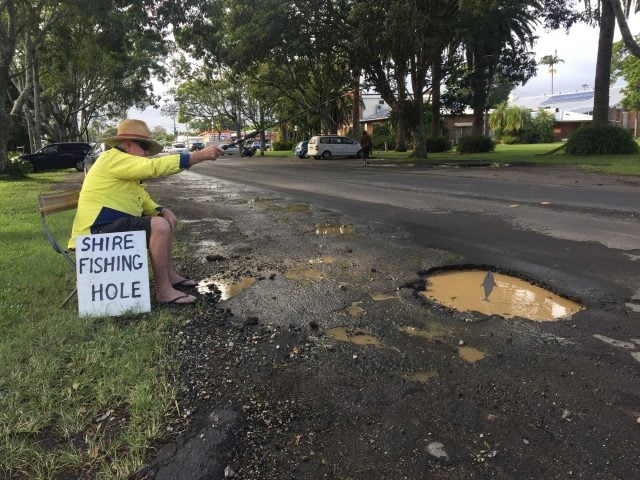 Richard Hill
A few years back, a senior UK parliamentarian attended the World Social Forum – a gathering of non-government organisations concerned with rolling back the global corporate order.
During a lull in proceedings he was approached by a very earnest young man who declared: 'We have to topple global capitalism and we have to do it now! Nothing is more pressing.' 
The parliamentarian nodded approvingly and said to the young man, 'Well, yes, I think you're probably right. But, you see, the thing is, as a local member I have all sorts of things to deal with and Mrs Jones, who tuns 75 next year, has been denied an aged care bungalow so I am rather preoccupied with that'.
Which brings me to the potholes in Mullumbimby. We laugh and joke about them, and occasionally we curse them. We talk about them over dinner and sometimes threaten to sue the Council when our car suspension systems or tyres are wrecked.
While there's no shortage of potholes across the Shire, the real pearlers are to be found in Mullum, lots of them: small, medium and whopping great big ones. Some are big enough to consume a decent sized pram, with the parent attached.
Viewed from the air, many of Mullum's cratered carriageways resemble scenes from the First World War, minus the trenches. One road skirting the Brunswick River has so many filled holes that there's barely any sign of the original surface.
Most of us, I think, have decided to put up with these aberrations, although complaints surface regularly at Council meetings and during election campaigns.
Pothole folklore
Some of Mullum's more creative denizens have tried to grow plants in the deeper depressions, and one brave soul, in a display of civil duty, painted colourful lines around the outer rims of the offending pits, only to be apprehended and fined by the police – or so I'm told.
A couple of roads in Mullum are so potholed that it's almost impossible to traverse them. Perhaps the most horrendous example of these hazardous hollows is in Stuart Street – one of the busiest thoroughfares in Mullum. It's where shoppers park their cars and cyclists navigate what are laughingly called cycle lanes.
Cyclists, including me, who have attempted to ride along the section of Stuart Street near the town centre, refer to it as the 'bone rattler'. The alleged cycle lane is so pitted that one is forced into the equally pock-marked main drag. It is, if nothing else, a life-threatening experience.
Mullum's potholes have become the stuff of folklore. But what does their enduring presence say about the place in which we live? Are there more serious issues associated with this problem?
Each week in Echonetdaily and The Echo, we read about the injustices perpetrated by nasty plutocrats and reckless governments.
We call for the upending of the capitalist system. We rage against prejudice and discrimination and the trashing of human rights. But perhaps we should take a closer look at our own town.
The fact is that we have streets without pavements, making it impossible for many older people, and those with prams, wheelie walkers and wheelchairs to get around. Some streets are so dark at night that torchlight is required to navigate them. Those with low vision walk these streets at their peril. Some elderly people, and some with disabilities have given up going into town, for fear of tripping over jagged footpaths, or falling into one of those potholes.
I know of someone in her eighties – let's call her Elizabeth – who hasn't been to town for months. The last time she did so, she nearly fell into a pothole after stepping out of a car in Stuart Street. The net effect is that people like Elizabeth have been excluded from enjoying town life. They're often confined to their homes. The potholes are not only an ugly menace, they also signify the injustices that we often fail to see. While we're busy trying to topple corporate capitalism, Elizabeth and others like her are simply ignored – or perhaps the whole pothole thing has been consigned to the too hard basket.
Whatever the reason for the continuing presence of these eyesores – and I have heard endless explanations and rationalisations – they're not a laughing matter, at least not for those whose quality of life is affected. I do wonder; if we fail to see the social problems caused by potholes, what else are we missing? Or perhaps we do see them, but shrug our shoulders, or say it's all too difficult. Would it help perhaps, to reframe the pothole debacle as a social justice issue, rather than a matter of road maintenance? I wonder what Elizabeth would say about this?