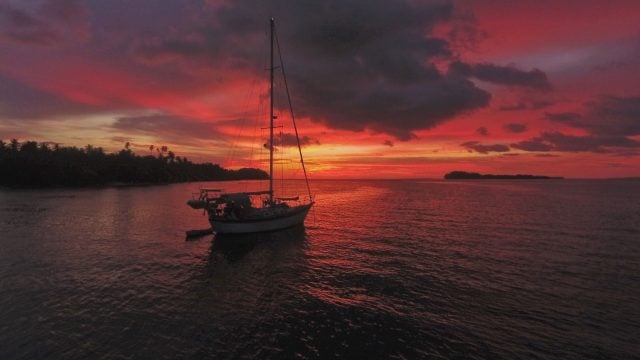 Aslan Shand
To sail or to stay? That was the decision that Craig Plummer and Claudia Schick from Bangalow had to make when the COVID-19 pandemic hit and they sailed into an Indonesian port, from Thailand.
'After clearing out of Thailand on 16 March we set sail to West Sumatra, where we intended on staying for five months surfing and exploring,' said Claudia and Craig.
'While at sea we had no knowledge that Indonesia had closed and shut down its borders, so when we arrived we were not permitted to leave the boat; and in addition the boat was not allowed to leave the harbour.'
Risk to stay, or leave
They quickly decided that they would prefer to take their chances and leave Indonesia and head back to Australia on their 42 foot sailing vessel Gallivant if they could, rather than being stuck, indefinitely, in an Indonesian port.
'After five days of negotiations we were released without paperwork on the condition we would traverse [back] to Australia.'
The Australian mainland was about 3,000 nautical miles (5,556km) away and their homeport of Yamba was too hard to reach in southeast trade wind conditions. There was no other option but to try and head east to reach safety.
'We felt like fugitives on a buccaneering mission, when all those years of piracy jokes eventually turned into reality,' says Claudia.
Their first plan was to sail down the West Sumatran coast in Indonesia, possibly stopping to refuel at Christmas Island. Then the plan was to try and head to Darwin or Broome – anywhere in Australia – where the adverse winds this time of year were blowing them.
'But the conditions were changing as fast as a sandcastle built on a low tide,' they told The Echo.
'The weather wasn't cooperating, and the winds weren't blowing the right way, so all travel plans changed from day to day, and sometimes from hour to hour.'
Instead of travelling across the Indian Ocean to get back, they had to head through the Sunday Strait into the Java Sea, Bali Sea, Flores Sea, Banda Sea and last, but not least, the Timor Sea.
Dark dealings
'Anchoring to catch up on sleep became tricky due to the increasing hostility from the locals. We always waved to the locals – if they waved back they were friendly, if they didn't, we moved on. Bad news travels fast, even in remote areas of Indonesia!
'Luckily there were a couple of safe havens along the way where people understood our plight and offered sanctuary (and diesel if needed). But we were never allowed to step off the boat – which we didn't want to do anyway for our own safety.'
In fact, many of their dealings with locals for food and diesel had to take place under the cover of darkness.
'When we had to fuel up etc, as we travelled, we had to do all our dealings after dark and in hiding. The locals could be ostracised by their local communities for helping us. So people were hiding in the bushes after dark with drums of fuel for us to bring onboard.'
They, and the people they were dealing with, all 'masked up' and were very careful when getting fuel or food, even under the cover of darkness.
'There were some days and nights we made good ground; other days the wind and tides would push us backwards,' said Claudia.
'We encountered many tropical storms, ripped sails, and were constantly fixing things that would break and restitching sails and covers by hand that were torn.'
But there were also highlights on the long road home, said Claudia and Craig. They sailed past Bali on a full moon, watched whale sharks near busy ports, and had the delight of dolphins surrounding the boat, as well as the bioluminescent plankton, at night, in their wake.
'The best part though was once we cleared East Timor,' they said.
'The persistent southeast trade winds were supposed to turn east for four days, which would give us a great weather window for making Darwin. At 10.30am just southwest of Leti Island, while battling with a strong southeast wind, it suddenly changed, as predicted. We decided to chuck a right and head for Australia. Luckily, for the next four days and nights we were close hauled, cutter rigged on a 20–25 degree lean, and just clawing onto the rhumb line that we knew would get us home.'
We're the lucky ones
It was an epic 73-day journey ducking and weaving through Indonesia on a sailing boat, but Claudia and Craig say they are the lucky ones who made it back, arriving in Darwin on 28 May.
'There are so many boats who are, or have been, in a similar situation,' explained Claudia.
'We met another couple who had sailed from the Philippines. They had sailed all the way out, far into the ocean, to avoid pirates on their way back to Australia. There are still many people and boats stuck in ports overseas. They are relying on locals to provide them with food. In Bandar Ache there is one couple we spoke to recently who were finally allowed off the boat to go shopping for food. That was the first time, after three months of being stuck in port on the boat, that they were allowed off their boat.
'There is real concern about what will happen to people who are stuck in ports in Indonesia when people's visas run out. We are not sure what will happen to them. Ports in Malaysia, Thailand, India etc are all shut. And if there are adverse wind conditions – then you can't go anywhere.'
Claudia and Craig are currently still in Darwin waiting for the weather to change. When it does, some time in September/October, they will begin their journey back down the east coast of Australia.
'We have no ill feelings for the Indonesian people and wish them all the best for whatever the future holds for them. Without the ones that hid in the bushes and came to our rescue under the cover of darkness with fresh food and fuel, who knows where we would be now! Maybe in Davy Jones' Locker…'