♦ Budgeram means story in Bundjalung language.
Ella Noah Bancroft
Did you also just wake up in a sci-fi film?
COVID-19 has taken over our screens. Articles and headlines scream news of the virus; a pandemic crisis they are predicting could last for years, accompanied by an economic crash and social meltdown. Some may find it chaotic. Some might be embracing the quietening. Perhaps this is the very collapse we needed to redirect our societal values and morals?
The most amazing thing is the powerful worldwide acknowledgment of love, of people stopping the world collectively to fight together, to stand together (albeit 1.5m apart).
Imagine if we passed laws that were about caring for the land and the people, returning the old ways, bringing back the lores from the first cultures of 'Australia'. It seems when we work together we can create extreme change for the better. If Australia can so drastically change the societal structure that had been in place for an estimated 60,000 years, and replace it – within just 220 years – surely we can change again?
It's not news that climate change is real, that our politicians are clueless and that there is a need for a serious system overhaul. How can we harness our collective power to truly make change?
As an Indigenous woman it has me questioning which direction will I walk towards;  to technologise or decolonise? I think about how this is affecting our children and how it will affect those still to come? Is this just another way to continue the genocide of disconnect?
I want to protect my culture, my spirituality, and my family. One day we will all look back at this time in history – and what will we say about our actions and choices? Did we take the man-made path of a technological future, or did we rebalance the feminine by returning to the natural cycles and rhythms of this planet?
What will we tell our grandchildren? When the world was forced to stop and really think about how they wanted to move forward, did they choose to do that in a way that protected the planet and the next generations?
I want to tell my children how I saw families playing in their front gardens, how the neighbourhood came alive as people became planters of community gardens, and those who may not have exercised before began to move their bodies. I want to be able to say that we realised how little we actually needed to be happy and how important community is.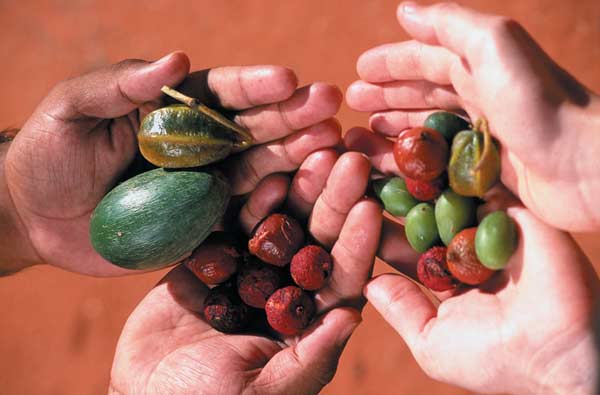 When I talk to my grandchildren I want to be able to say that we chose to return to the older ways of making medicine, I want to be able to explain how we returned to nature. I want to be able to say we regained our power through health, by having a diet that consisted of seasonal foods. That we reclaimed our food sovereignty; that we took the path of wellness as an opportunity to rediscover our magic, our deep connection and knowing of our place on this planet.
As the system breaks down and travel halts, we see a decline in pollution. This could be the way forward, to decolonise. I believe if we are stopping travel, global trade should also slow, as should mining. I feel we are at a pinnacle of life and there are two directions to go. What will you choose to tell your grandchildren?
Poem by Ella Noah Bancroft
Will we remember how we returned to older ways of making medicine, through plants?
Or did we revert to food in plastic, because of our fears?
Or how we trusted a phone that only lasted two years?
Did we bring back the voices of the grandfathers and the grandmothers?
Did we ring our parents to ask for advice, or did we just ask google?
Did we choose to spend out days lit by the sun, or by the blue light of the computer screen?
Did we scream into pillows when we felt angry?
Did we learn how to release our emotional body?
Did we move forward by acknowledging the past?
Did we listen to the answers spoken by the elders and the ones whose
Bodies and minds have lasted time?
Did we plan for a future that includes connection to culture, connection to country, connection to magic?
Did we find our magic?
Did we start to believe in each other?
Or did we let man-made technology block our own ability to access nature's magic and our own?
Did we let harsh radio-frequency radiation be exposed to our kids creating diseases?
Did we allow technology to pull the veil of illusion over us,
Did we trust a government with blood on their hands, who hails to the crown who has torn down many.
Did we continue to believe we were dominant?
Did our arrogance strip us of our power,
In an hour when we thought we were being protected?
Did we accept the world was just a post-apocalyptic future?
Did we remember nature is our closest friend?
Did we choose magic?
Did we return to gatherings, storytelling by the fire, valuing our time together more than ever?
What do you choose?
In this psychedelic meditation on magic vs technology,
Did you choose to find that answers exist outside of the internet,
Outside of the house?
Did we discover answers in the lakes, the rivers, the ocean, and the forest?
Did we remember nature is patient?
We can be patient too.
Did we learn we have no control over the trees dancing, the birds flying overhead, or the moon rising?
Did we find our magic is in our freedom, which lives within our physical and psychological wellbeing.
Did we choose to not alienate ourselves from the natural world?
Time seems to have stopped.
The days of the week seem meaningless.
Every day has become a Sunday.
How do I create practise?
Daily routine?
Seems that
Systems are halting.
During the past few weeks,
I have been reflecting.
A chance to stand together and thrive.
What skills do I need to survive?
How can I be useful to my community?
More than ever I am figuring out how to regain my sovereignty and take back my power.
Every hour.
I will not waste this potent time.
Taking back what is mine.
Life, presence, NOW.
I decided long ago to stop taking my cues from the dominant society.
I'm rethinking sustainability in a big way.
How can I make a little last a while, and how can I replace what I have taken, so it may fruit again?
Returning to the natural cycles, slowing down.
Replacing.
Not just taking.
Taking back power by localising our economy.
Supporting small business.
Planting seeds and regaining my access to a food source.
Eliminating wasteful living.
Honouring the Earth and her resources.
These are small steps I will integrate into my life and continue to deepen my awareness and understanding of my own individual impact.
Learning.
Teaching.
Integrating.
Loving.
The perfect time to fall in love.
With your self or
With another.
Nowhere to go?
Go inward.
---
Author
Ella Noah Bancroft is an Australian born Artist, storyteller, teacher, director and mentor.
Her Indigenous heritage has played a key role in her story. Her ancestral links have given her a platform for expression within the arts, a different perspective on life and a capacity to teach all races, ages and sexes.
She is passionate about re-wilding the world and the feminine force. Traveller and free spirit, Ella is mostly always on the move or looking to be, with a keen desire to promote change around her and within herself.
Ella writes from her direct experiences with the world around her, she writes in many forms and writes to inspire, evoke thought and create debate within the brains of her audience.