Last week's flood was a strange one. This time the river could not be blamed, as the most damaging part of the flood was caused by an intense shower (more like a waterfall according to witnesses), on the town side of the levee.
For locals still recovering from the emotional scars of the last flood, it was a challenging experience to say the least.
Like many other people, Maddy Braddon's mum lost her parked car in the latest deluge. Young North Lismore resident Maddy took to social media to talk to others who were affected by the intense rain, and what followed.
She told Echonetdaily, 'I've got to be honest, the heavy, persistent rain and flooding here in Lismore (on Widjabul Wybal country) was super triggering for me.
'I know I am not alone in this. We are now experiencing compound extreme weather events (flood, fire, heatwaves, drought and more floods),' said Ms Braddon.
'Our climate is changing rapidly. Rural communities are on the front lines of these impacts, which are felt first and worst by those already experiencing marginalisation and disadvantage. The work I have been involved in for the past three years confirms this.
'Despite this, our communities are resilient. We can be even stronger – the more we are networked (knowing our neighbours, our community assets, organisations talking more to each other) and know our risks, look out for each other. Especially those who are already doing it tough in one way or another.'
Apps and social media
Ms Braddon says the Red Cross has a great tool for being prepared for emergencies, called the 'Get Prepared' app. She said it was also a great idea for people to follow their local SES and RFS Facebook pages.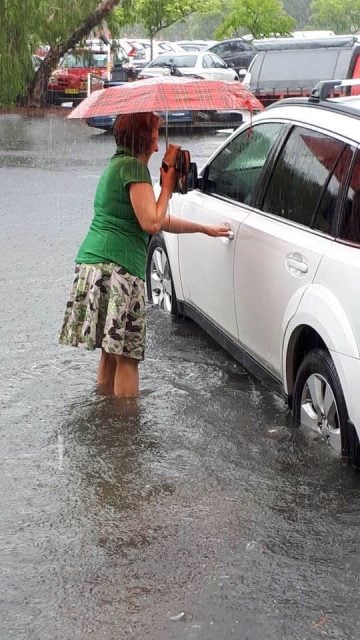 'Consider joining our Facebook group Resilient Lismore (Lismore Helping Hands – Community Resilience & Recovery),' she said. 'I know there is also a Resilient Byron group too.
'Consider joining or creating your own local community resilience group and keep the conversations going.
'Do take care of yourselves and each other, and don't be afraid to ring and check in on those close to you or that you know might need an ear and a cuppa.
'Schedule a GP appointment and book a counsellor if you need,' she said. 'This sort of stuff is going to become more and more important.'
Ms Braddon said the event last week was her first time living in a flood prone/at risk home during big rain, and followed her heavy involvement in the 2017 flood disaster recovery.
She said, 'This was a huge, life changing experience for me (and don't get me wrong, this was overwhelmingly positive due to the massive community-led volunteering we all experienced together to help one another!); one that has left marks; anxiety, probably a bit of PTSD and worry.
'This for me manifests in tightness and tension in my body, hypervigilance, and concern for others,' she said.
'This has been heightened for me while trying to find accurate and helpful information about the flood risk of my new home in Bridge Street North Lismore. All compounded by the fact that I feel like I should have all the answers as someone who has been involved in flood recovery work. It's not true, and this stuff impacts us in surprising and complex ways.
'Thankfully, and not surprisingly, I have had access to heaps of support through my personal and community networks about this risk.
'This has helped calm the worry and anxiety. We have started to build and enact our flood plan for our place and this has felt really relieving.
'I cannot even imagine how it would feel each time it rains for days like this; and each time we have minor/moderate floods for those who did lose everything in 2017. They experienced much greater exposure and hardship.
'My heart goes out to them with warmth and acknowledgement of how this feels,' said Ms Braddon.
New normal?
Maddy Braddon wants to remind the people of the Northern Rivers that disaster recovery takes years – 'it is super super normal to be triggered and anxious.'
While she emphasises that she loves her Lismore community, loves rain and loves the rivers, ' The thought of this stuff compounding and getting worse because of climate change is what is distressing.'
She says that as the climate emergency worsens we all face 'compound extreme weather events and an unpredictable climate, driven by human-induced fossil fuel burning.
'We know that events will get more frequent, intense and severe. Governments need to fund renewable energy jobs and transition away from coal and gas.
'We need more funding and effort put into local community resilience initiatives that are led by locals.'
Two events collide
Lismore Deputy Mayor Neil Marks praised the 'amazing response' from emergency services, along with council. He said the community have responded well to the latest flood, considering many are still recovering from 2017 psychologically.
Cr Marks told Echonetdaily, 'We had two separate events – the rising flood waters after days of rain and as that was receding we had an immense downpour in a short space of time over Lismore, 120mm plus in three hours.'
He said the intense rain caused flash flooding in the urban area which then flowed into the basin.
'That amount of water overwhelms the storm drain infrastructure and the pumps,' said Cr Marks.
'In the rural area it hit the already sodden ground, causing damage to road infrastructure and causing several land slips amongst other damage.'
Deputy Mayor Marks said the result was a lot of damage and community disruption.
'We now have natural disaster funding and work has started to make preliminary repairs as a full assessment is made,' he said. 'Initial damage estimates are up to $20 million.'
Lismore local Darren Bridge moved to the city in 2003, and took some great pics of the flood in the Lismore CBD last week, near where he lives (see gallery below for more).
He's seen quite a few floods in that time, but none quite like this.
'I actually enjoy the social aspect of a flood event,' he said. 'Although it's heartbreaking to witness the loss some years. I've had my own taste of it too. I rebuilt my music studio after 2017 so this was a very nervous day, and we aren't out of the woods yet.'
More rain is predicted for the Northern Rivers across the holiday season.
Photos Darren Bridge and Duncan Wilson.