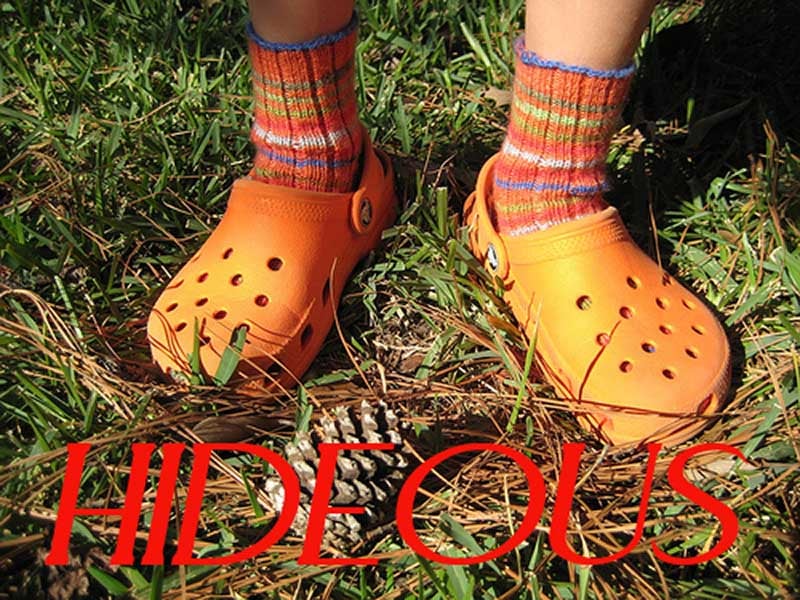 When I was 18, to rebel against the world my parents had created, I shaved a half Mohawk, encouraged my hair to stand on end, grew my armpit hair, wore torn black rags, too much eyeliner and wore 18-hole Dr. Martens boots. These days, to give their parents the shits, the kids are wearing Crocs. With socks. They're going for comfort.
It's called normcore – wearing normal stuff. Unbenownst to a good majority of the middle-of-the-road population who have been buttoning up their cardigans and tucking in their shirts, including public servants and old blokes at bowling clubs, who've been doing normcore for years – they are currently style icons.
Kids have co-opted your look. How else would 'mum jeans' make a come back? Mum jeans were named 'mum jeans' because certain mums managed to take a pair of jeans and make them as unattractive as they possibly could. The jeans yelled to your partner: 'whatever you were thinking, just stop.' Crocs and socks became the gold standard in a non-pharmaceutical based contraception. You could virtually guarantee that any bloke wearing crocs and socks hadn't had a root since the '80s.
But now it's cool. You know when Justin Bieber is rocking Crocs with socks that something has changed in the world. I saw a photo of him in a bright yellow outfit with matching Crocs – he looked like a giant toddler. I was like 'Baby Baby Baby No!' Biebs makes anything look good. Biebs loves the Crocs so much his design house has teamed up for a collaboration. That means the not rubber, not plastic, resinbased gardening shoe can now retail for as much as $468. If money's an issue, you can break into the market at around $100 or nick down to Kmart and get some $5 fake crocks: Focks.
Bieber sent a pair of his lavender fashion Crocs to Victoria Beckham. I have a new respect for the former Spice Girl who said very politely to Juzzie, 'I'd rather die than wear them'. That's pretty well my stance on Crocs as well. I guess now, it dates me.
My kids are wearing Crocs. That hurts. That's not how I brought them up. I didn't carry them in my body for nine months, tear my vagina apart in the delivery, give up 18 years to packing lunchboxes and tending their needs to end up with them trying to be normal. When I got news they'd been wearing Crocs I cried myself to sleep.
'What did I do wrong?' I screamed at the moon as I buried the ugly shoes in the back garden while they slept. Why are my kids wearing therapeutic shoes that help with footpain?
What's next? Corn pads? Arch supports?
Crocs are not only not kind on the eye, they are not good for the environment. Sensible sustainability ratings say 'Avoid'. Good call. They are not plastic, nor are they rubber. So what the fuck are they? Croslite – a weird chemical infusion that is lightweight and water and odour resistant. It also won't break down in landfill. They don't decompose on your foot, or when buried. In thousands of years, when all our fabulous footwear is gone, some future civilisation will dig up a pair of Crocs and declare that was the chosen footwear of humanity. That was the footwear, they will say, that was the harbinger of the end of the Anthropocene . There's one thing Crocs with socks scream and that's 'End of days!'.
To put a Croc on with a sock is to betray your favourite socks. This is not a victimless crime. Socks are screaming. It's a coercive relationship where socks have lost any sense of self-determinism or any hope to meet another shoe. Remember when we went out with Nike?
Gold Crocs were worn to the Oscars. It was the tipping point I tell you! We haven't reached peak Croc resurgence yet. The only way to fight back is for old people, daggy people, and really uncool people to start wearing them. Scott Morrison needs to wear them. Perhaps, like Bieber, he could do a Croc/Sco Mo collaboration. The beige, white male privilege Croc.
Crocs of Shit.
In the meantime, if it's ugly shit the kids are after, I still have a stash of Legionnaire's hats they wouldn't wear the first time round…