A tree-sitter a the Newry Native Forest Blockade has stopped NSW Forestry Corporation (FCNSW) from logging native forest an hour and a half west of Coffs Harbour in Wild Cattle Creek state forest this morning.
The forest defender is in a tree-sit immobilising four logging machines as FCNSW returns to work after a stop-work order was issued last year in the same state forest.
The group's action demands that native forests are safeguarded from the unruly behaviour of FCNSW to protect threatened wildlife, waterways and the climate. The group is concerned that this native forest is being logged after it narrowly escaped the 2019 Liberation Trail mega-blaze and should remain as an undisturbed refuge for threatened wildlife.
The person in the tree-sit, who wishes to keep their name out of the media, says that the community has suffered enough from the Black Summer Bushfires. 'It is unthinkable that native forest logging would continue as business-as-usual after such widespread habitat loss across the state. The NSW Government's koala inquiry showed that habitat loss was the biggest threat to the survival of koalas and yet logging continues.
World leader in mammal extinctions
'Australia has become a world leader in mammal extinctions. The elected NSW Berejiklian Government has a responsibility to listen to concerned community members and halt native forest logging in our public forests.'
A Newry Native Forest Blockade spokesperson says this action comes after Forestry Corporation was issued two suspensions and fines for illegal logging last year less than 10km down the road. They say that over the last year alone, the NSW environmental watchdog has begun five prosecutions against NSW Forestry Corporation for allegedly felling trees in protected areas in northern NSW. One of those sites is Wild Cattle Creek after Forestry contractors felled trees and operated snig tracks within a koala exclusion zone in 2018. The total fines could surpass more than $1 million dollars.
The tree-sitter says the group feels that Forestry Corporation will continue to breach its weak environmental protocols unless the community steps in and holds them to account. They have broken the community's trust showing a blatant disregard for threatened wildlife habitat and fines alone are not enough.'
Concerns about the lack of transparency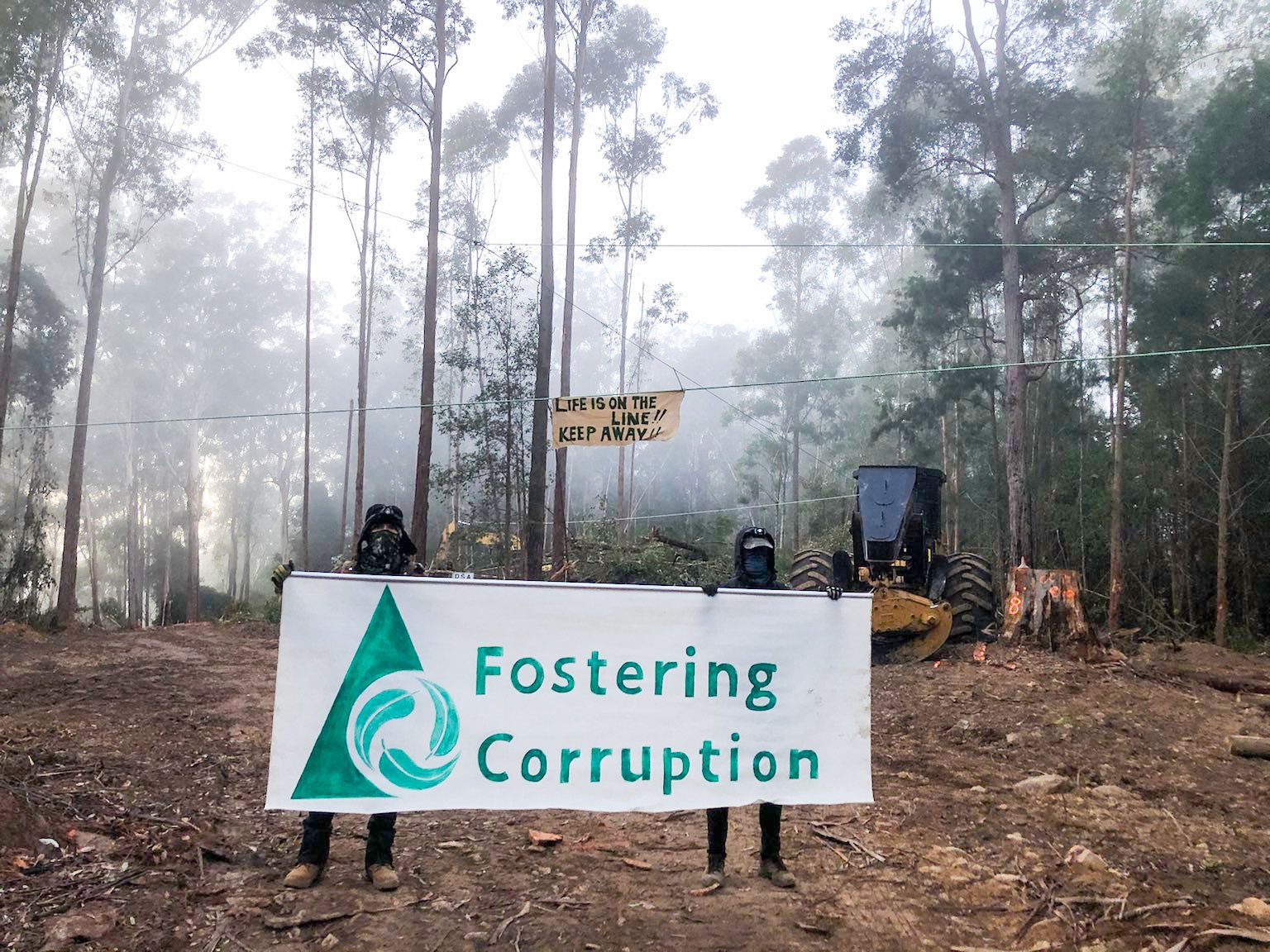 There have been concerns about the lack of transparency from FCNSW who are actively avoiding community consultation and continue to ignore questions from concerned community members.
'There has also been no proper assessment of the significant cultural sites within the Wild Cattle Creek State Forest. Gumbaynggirr custodians are concerned the logging will destroy cultural areas before they are recorded and preserved.'
'The Wild Cattle Creek state forest is within the proposed Great Koala National Park (GKNP) that surrounding communities have been passionately advocating for. Currently, the NSW Berejiklian Government is not representing the vision of local communities as they allow the continued destruction of native forests.
Decisions shaped by the community
'They could be making economic decisions that are shaped by what our community values most in life. Our public money should not subsidise an industry that is destroying nature and prime koala habitat. Instead, the Government should be supporting initiatives like the GKNP that create jobs with a future and are good for our future.'
People who value native forests, healthy waterways, wildlife, sacred land and their children's future are welcomed and urged to join a growing community of people standing up to protect native forests now.
More information on upcoming local actions and events can be found at facebook.com/newryforestblockade.