Steve Hansen
A 2016 investigation into strategies to control coastal erosion commissioned by Byron Shire Council (BSC), recommended as the most economically viable option the construction, in the most vulnerable areas, of an engineered seawall with public walkway. There was the potential addition, at a later stage, of beach nourishment with sand sourced from elsewhere and the construction of groynes.
The building of seawalls has been the subject of a controversial court case brought against BSC in recent years. These seawalls were constructed privately in the Belongil area, although with the notable absence of a public walkway.
The report also identifies the majority of these walls as not designed to contemporary engineering standards.
Armoured coastline
Seawalls constitute what are known as an 'armoured coastline' and while they are common features in coastal areas around the world, they typically result in the eventual loss of all semblance of a beach in front of them. In addition they defer erosion to adjacent areas; which in the case of the Belongil seawalls is the northern part of the Belongil Spit, already subject to the most intense erosion in the area. The seawalls themselves also undergo severe erosion and require continuous and costly maintenance.
Artificial reefs
There is an alternative strategy that does not appear to have been taken into consideration by BSC. Artificial offshore reefs have the potential not only to protect vulnerable beaches, but to actively promote beach enlargement and growth through sand accretion.
One such reef was constructed offshore off the Narrowneck Spit near Surfers Paradise in 1999, and a second reached completion off the coast of Palm Beach in October 2019.
Constructed with a variety of human-made materials such as geotextile sand containers and concrete or quarried stone, artificial reefs can protect the shoreline though the twin principles of wave refraction and wave diffraction.
Wave refraction involves changing the angle at which waves strike a beach. Because sand is removed from beaches by cross-shore currents and deposited by on-shore ones, merely changing the angle of approach of prevailing currents can drastically improve a beach's sand accretion regime.
However, the real power of artificial reefs lies in the process of wave diffraction. Underwater or emergent reefs that consist of two or more structures with gaps between them decrease the energy of waves that encounter them. These waves will then fan out in a circular pattern, and, having their energy reduced, will deposit the sand they contain.
Beaches will form to that circular wave pattern and take on a crescent shape, giving rise to salients, which are outcrops of sand growing towards the offshore reef. Over time sand will build up until it connects with the reef, and creates a sheltered lagoon, a configuration known as 'tombolo'.
Historical charts and photos of Byron Bay show the former existence of similar lagoons. Side benefits of such reefs include increased marine life habitat, and new diving and surfing opportunities.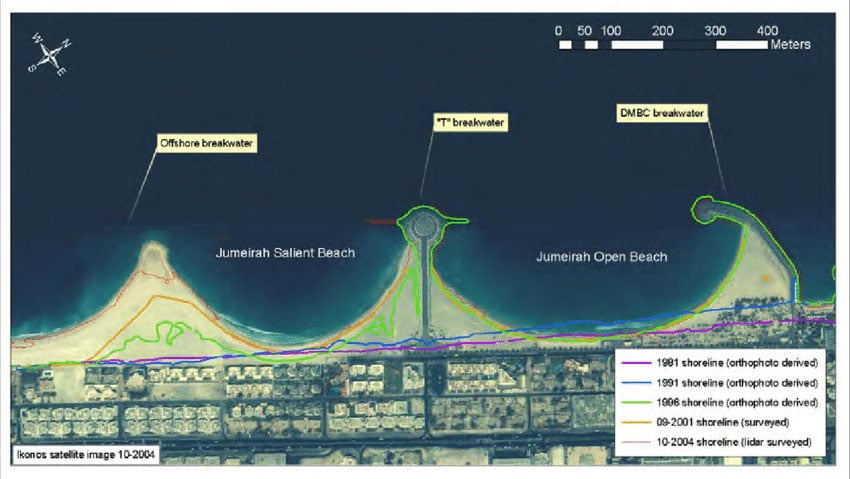 The strategic placement of such artificial reefs, eg in front of Jonson Street and in front of the Belongil Spit, has the potential to create such features, rebuilding the beach in front of the seawalls and strengthening its ability to withstand future erosion.
While artificial reefs were considered in the 2016 study, they were not deemed an economically viable, or otherwise suitable option, for Byron Bay. However, costs associated with the construction of an engineered seawall at Belongil were estimated at $15 million in 2016. The recently completed Palm Beach reef was constructed for $18.2 million. It may well be worth spending a relatively minor extra $3 million to ensure a long-term sustainable solution that would result in restoring and retaining Byron's beaches, rather than losing them.