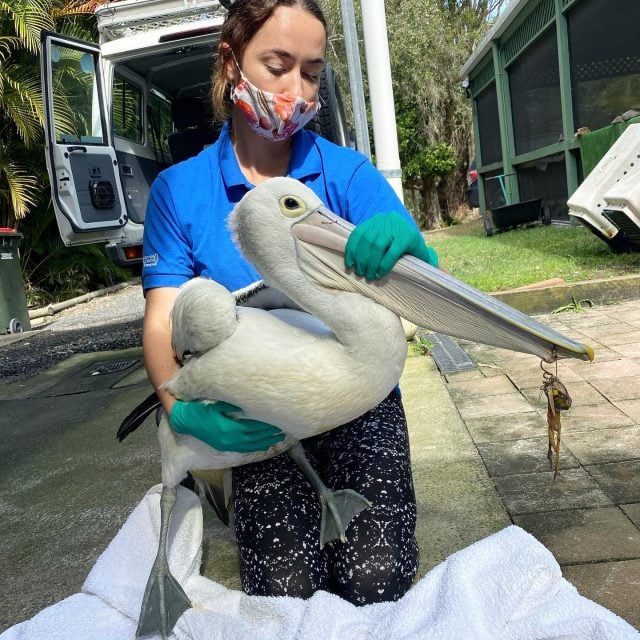 A massive influx of injured birds, turtles and sea snakes over recent weeks has pushed Ballina's Australian Seabird Rescue to the edge of capacity, and needing extra assistance from the community.
ASR has been operating since 1992. While there are always lots of rescues in the warmer months, in recent weeks the numbers have been off the charts.
Kelsey Ayo is the assistant manager at Australian Seabird Rescue Inc.
She told The Echo, 'Yeah, it's definitely busier than even last year and we haven't even hit our peak period yet. Usually we start seeing this kind of increase in summer. So within the last twelve weeks, we've rescued 27 birds, 36 sea turtles and six sea snakes.'
She explained those figures are just from the North Coast branch, and don't include Central or South Coast rescues conducted over the last three months.
What species are you seeing?
'We've had a very busy period with pelicans,' said Ms Ayo, 'and pretty much all of those injuries have been fishing related.'
One factor seems to be increased recreational fishing during COVID, and between lockdowns.
'People are getting out there and trying to enjoy the simple things in life,' said Ms Ayo. 'And yeah, we have definitely seen it increasing since COVID. And during the holidays, we definitely see a lot a bigger increase of fishing related injuries.
'We have a pretty good connection with most of our locals in this area. But some visitors who come here might be fishing for the first time. Perhaps they're not aware of how to cast properly or what to do when they do accidentally catch an animal,' she said.
Apart from injured pelicans, ASR has recently been treating Australasian gannets, silver gulls and crested terns, along with three different species of sea snakes and numerous sick green turtles, mostly juveniles, which have been showing up all the way from the Tweed to Sandon River.
'In the last few weeks we've had many coming in really poor condition, with some dying within 24 hours. It's really tough,' said Ms Ayo.
Volunteers crucial
The backbone of Australian Seabird Rescue is a dedicated group of volunteers. 'We were lucky that during lockdown, our volunteers could still come in because they were essential. And it meant that our volunteers had a lot of extra time,' explained Ms Ayo.
She said new volunteers with an passion for wildlife were always welcome. 'Yes, we're always looking. If anyone is ever interested, they're more than welcome to contact us, send us an email, and we'd love to sign them up,' she said.
Australian Seabird Rescue is also planning to rebuild their Sea Turtle Hospital.
'It's been a bit hard doing any sort of fundraising just due to COVID,' Kelsey Ayo.
'So we are currently doing a raffle. People can buy tickets in person, head to the website or any of our social media sites and follow the link and buy them via PayPal.'
Apart from raffle tickets, people who don't have time to volunteer but want to help ASR do their wildlife work from day to day can also donate via the Australian Seabird Rescue website or Facebook page.
Pressure across the board
Kelsey Ayo says anecdotal evidence suggests that beyond Australian Seabird Rescue, other wildlife rehabilitation groups she's in touch with up and down the east coast are also seeing increasing numbers of animals coming into care.
While extra bird injuries can be attributed to COVID-related effects, to some extent, turtles and other marine species seem increasingly effected by climate shifts, water quality, parasites and malnutrition. The crisis is likely to worsen as the weather warms up.
Kelsey Ayo concluded with this message for beachgoers, 'During spring and summer, if you come across any sort of injured marine animal, don't just put it back into the ocean. Give us a call, or another local wildlife group.'
The ASR 24 hour rescue hotline for the North Coast is 0428 862 852.