With almost 59% of the vote after preferences were distributed, Ballina's new mayor is long-serving Councillor Sharon Cadwallader.
Mayor Cadwallader spoke to The Echo soon after receiving the news yesterday. How did she feel?
'Well, it's a very humbling and honoring experience. To know that I've got that support from the Ballina community. It's something I guess, I've worked for, for a long time. It's been nearly twenty years for me on council. And I believe that there's a lot to be done.'
Cr Cadwallader says she will be looking after all the issues that came to her attention during the campaign. 'A lot of those things are not big matters, but they're important to people in our community. All councillors were stood down on the fourth of December, and we haven't been able to activate any of those matters. So that'll be an important thing for me to get focused on first.'
While preferences have not yet been distributed for the remaining Ballina councillors (that happens tomorrow), it appears likely that a number of members of Sharon Cadwallader's team will be joining her in a new look Ballina Council.
New faces
'It's a great result for the community, I believe, because it brings diversity', said Mayor Cadwallader, noting the extra female councillors and other new faces likely to be joining her, including people from other tickets.
While she isn't the first female mayor of Ballina, Sharon Cadwallader's team member Rod Bruem noted she would be the first this century!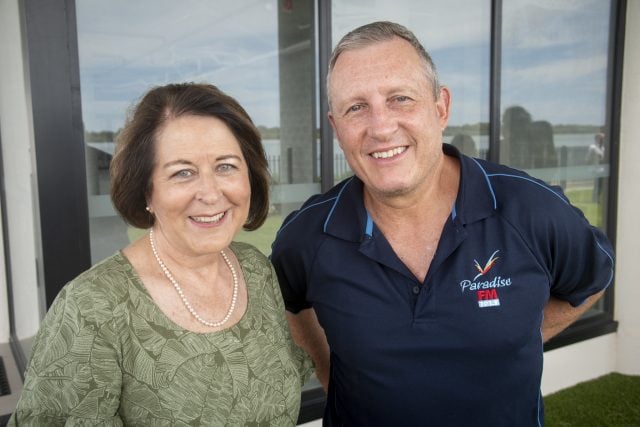 Mr Bruem is also likely to join Ballina Council representing A Ward, which would be the fulfilment of many years of political ambition. He told The Echo, 'It was a really tough campaign, because we were restricted from handing things out on voting day, which meant we basically had to talk to everyone that came in to try and win their support.
'That was also empowering because in the course of the campaign we've spoken to thousands of Ballina people. So we've heard firsthand what they're concerned about. And we can now take that forward and try and deliver policy here in Ballina Shire, that will really make a difference, and I think, could be seen in other regional communities to be effective, working closely with, say, Ben Franklin… who is about to be sworn in as Minister for Youth and Indigenous Affairs and Arts. All very important areas, here and across the north coast.'
Mr Bruem said he also wanted to acknowledge the other candidates who ran in a really tough contest. 'Particularly Jeff Johnson, who came very close, and we look forward to working closely with.
'There was some suggestion I know in your newspaper about this perhaps becoming a partisan council. And we've strongly rejected that. We're a team of independence, and we'll work with everyone, you know, for the betterment of Ballina.'
While Mayor Cadwallader said she had not spoken to outgoing mayor David Wright since her promotion, she wanted to publicly congratulate him on the longevity of his service to the council. 'He worked very hard, and I really want to acknowledge his input.'
Were either of you surprised by the strength of your vote, or did you see this coming?
Mayor Cadwallader said she didn't know what would happen until the Electoral Commission pressed the button.
'I deeply believe it's not over 'til it's over. You know, preferences play a major part in elections in Australia. And it's not clearly understood by a lot of people in our community how those preferences work; how important it is when you place those votes, those ones and twos and threes and fours on your ballot, how that can affect elections.
'So no, there was no expectation there. We were certainly hoping that we had a great result like we have. And we're very pleased and honored to have received that,' she said.
Rod Bruem said it became clear that the length of Cr Cadwallader's service counted for a lot, 'because over the course of that time, you just helped so many people and that was rewarded. So yeah, that was a big factor.'
And to the west…
Over in Lismore, Steve Krieg did not show up for the announcement that he would be Lismore's new mayor (with two thirds of the vote after preferences), although his advertising remains prominent in town.
Labor's Cr Darlene Cook was the only candidate who did show up, and she wished her opponent Mayor Krieg all the best.