Benjamin Gilmour made a film to highlight the detrimental impact of the war in Afghanistan.
But in the process he may have put the stars of his film at risk of persecution or death. This is something that weighs heavily on Gilmour's shoulders and is why he has become part of an Australian push to bring Afghan artists here under the protection of humanitarian visas.
Australia's official entry to the 91st Academy Awards in 2019, the film Jirga tells the story of a former soldier Mike (played by Sam Smith) who returns to Afghanistan to apologise to the family of a man he killed while serving in the war. In a sad irony, it is the actors who played the key roles that are now in hiding.
Gilmour has joined voices in the national community who are demanding that artists in Afghanistan be considered in the same way as a persecuted ethnic group.
Why?
Right now in Afghanistan, since the Taliban successfully waged an insurgency against the US backed government in Kabul and resumed control of the country, musicians, actors and performers are in danger.
'Female actors can't work' says Gilmour. 'Musicians of both genders can't work.'
This is because music is considered 'haram'–forbidden, under Taliban rule. While the current Taliban government is not as extreme as it previously was, Gilmour says the 'Taliban leaders in the capital don't have as much control as they'd like over commanders in distant provinces who might put a bullet in a musician because they are seen as a sinner.'
'There are musicians, artists, actors, film directors, cinematographers and Afghan journalists who are at risk for their past work and being persecuted for what they are writing and broadcasting now.
'Many artists actually worked for foreign forces at one time or another, or for the Western backed Afghan government.'
Actors were used to disseminate information and government propaganda by the Afghan military. They were used to do anti-Taliban, pro-government theatre plays, in performances that Gilmour says 'lionised the Afghan government and the army. Their faces were recognisable. They have been on TV in series where the villains were the Taliban.'
'Some of those people are household names and well known in Afghan society. They are worried that some young Taliban fighter will take revenge.'
Gilmour says that in the more remote provinces where there is very little exposure to screens characters played by actors can sometimes be perceived to be 'real', increasing the risks.
'We have artists who have been in hiding since August last year and who have no income, and they fear for their lives,' says the filmmaker.
Gilmour believes Australia has a responsibility for the safety of Afghan artists 'because we were part of the Coalition that gave the impression to Afghans it was safe to create and express themselves artistically in that environment.'
When it comes to artistic development, Australia certainly led the way. Saad Mohseni is an Afghan-Australian businessman and CEO of MOBY group. He became Afghanistan's prime media mogul, funded and mentored by Rupert Murdoch. Mohseni brought Western styled screen culture to Kabul, creating TOLO TV. The embracing of film and television culture with a Western Liberal tilt is at the core of what has put so many artists at risk.
'If we don't act now we'll have blood on our hands', says Gilmour, who says his own involvement in filmmaking in Afghanistan 'keeps me awake at night'.
The filmmaker is clear he discussed the dangers with his actors and crew before they embarked on the project, but none foresaw a return to Taliban rule. Now Gilmour gets messages 'all through the night on WhatsApp'.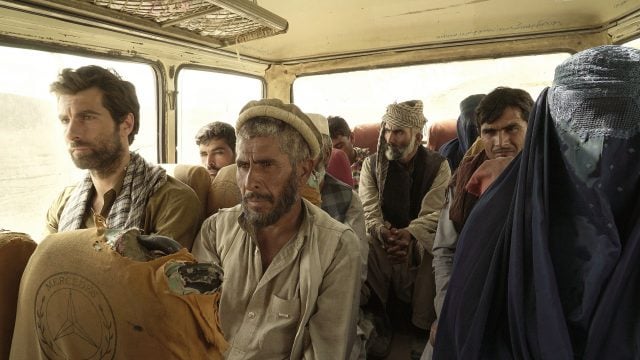 Beatings and assassinations
'I know my film has been viewed by the Taliban and is widely circulated in Afghanistan. The actors who played the lead roles are at risk.'
In an open letter to The Sunday Times in October 2021, Professor of Musicology at Kings College London, Dr Katherine Schofield, wrote about the brutality facing the creative community in Afghanistan.
'In the past six weeks the Taliban have carried out assassinations of traditional musicians; beaten performers; banned music on radio stations and in public places; and destroyed instruments in institutions such as the national broadcaster, RTA. Afghan musicians are now in hiding, terrified for their lives. They are at imminent and extreme risk.'
Benjamin Gilmour is working with Australian Refugee advocacy groups to push for the granting of humanitarian visas for Afghan artists and for Australia to increase its refugee quota to 20,000.
In the meantime, artists in Afghanistan who cannot work and are in hiding in fear for their lives are in the middle of a brutal winter. Refugee advocacy groups are putting out a call for donations to assist families through these harsh conditions.
To donate go to www.br4r.org.au/donate-2