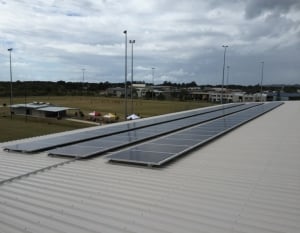 People with solar panels in flood affected areas were warned on Monday of injuries and potentially deaths associated with inundanted electrical systems.
Master Electricians Australia CEO Malcolm Richards said in an urgent warning issued Monday morning that solar panels continued to produce electricity during a flood event, even if the power supply was cut off and the panels turned off at the switchboard.
'Homeowners who are forced onto their roof due to flooding need to be extremely careful around solar panels as they present a real electrical safety risk,' Mr Richards said.
'This also applies to people in boats or other craft moving around near submerged homes,' he said.
Mr Richards said the threat was very serious and affected thousands of homes.
'Flood-affected residents can use the shutdown instructions to safely turn off the isolation switches located next to the Solar Inverter and these instructions are usually located on the switchboard,' the CEO said.
'If you're unsure of anything we urgently recommend engaging a fully qualified electrician.'
Free electrician hotline
MEA had a free hotline to connect home owners affected by flooding with local electricians:1300 889 198.
Mr Richards said it was vital residents made sure solar systems were electrically safe before being recommissioned.