Col Lee, President of Ballina-on-Richmond Rotary, spoke to The Echo about his club's recovery work across the region in the wake of the flood emergency.
Ballina Rotary is one of the recipients of The Echo's flood relief fundraiser, which is going directly to community groups working in the disaster zone, and has now raised over $41,000.
Col Lee's busy weekend started in Wardell, where his group was up early preparing all-day hot meals to be supplied to this community, which was cut off and hit hard by flooding. He explained that he and his club have not stopped since the floods hit.
Their initial work was in Ballina, assisting with evacuations. 'Yes, we did a couple of evacuations in the river around West Ballina, predominantly Riverside Drive,' he said.
'Initially, we worked on demand, just by word of mouth.'
While Mr Lee's own place was ok, near North Creek Road, many others were less fortunate, and he and his crew had to cross water to get to people in need.
The next few days were mostly spent assisting people in West Ballina who had been flooded, with six teams of 2-3 members. 'Every day we've had at least 20 to 25 people on the ground,' he said.
Local Rotary teams then diversified into catering roles as well as cleaning out flooded homes.
'So we did catering for the Evacuation Center at Southern Cross School. And for the Ballina Indoor Sports Center, we were cooking up meals for that and also doing takeaways.'
More cooking was happening at the nearby Hot Meal Centre, which didn't quite go underwater, although surrounding streets did.
'I've got a fairly high truck so I managed to get through! It's salt water, but we had no option,' said Mr Lee.
The following week was mainly devoted to cleaning out houses and caravan parks.
Pizza delivery with a difference
Col Lee explained that Rotary's initial assistance in Wardell came in the form of pizzas from the evacuation centre which were carried to stranded people via canoe.
'Yes they rowed backwards and forwards, eight hours a day. We've got people that have been working in Coraki, going down by boat. And we've also got a number of people working in Broadwater.'
The Broadwater community has been hit particularly hard by flooding, with the sugar mill also getting 'a massive amount of water through it'. The full damage has not yet been assessed.
In Wardell, Ballina-on-Richmond Rotary has been cooking meals all day from outside the Catholic Church (diagonally across from the hotel) since the water started receding.
Col Lee said they've been averaging 1,000 meals a day.
'I think the best day we did was about 1,200. We're just lucky that we've got some wonderful people around supplying sausages and eggs and bacon and bread, particularly. Some fantastic organizations,' he said.
While we were there, food donations arrived from as far afield as Coffs Harbour and the Gold Coast.
New house lost
And what are local people saying to you? 'Well, this is my hometown, Wardell, although I've been in Ballina for a long time,' said Mr Lee. 'I know a lot of the people here. I know the families, because it's generational. And they are just so traumatised. They are also so, so grateful.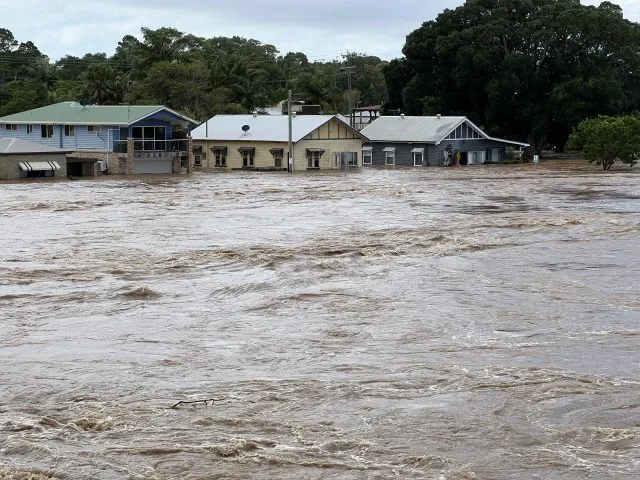 'It's been very emotional here, because of the sheer devastation that's happened in this town. One guy with two little children, I was talking to him the other day. He moved in on the Friday into his new home, they were very proud, it was all set up.
'On the Tuesday, it had a metre and a half of water through it. And they're back to square one.
'These are the stories we're getting. Thankfully, I know the area and guys have come in with boats saying, what can we do? And we've been able to get food out to places like Empire Vale that way, even South Ballina. There's been a lot of that.
'Some of those people hadn't seen anyone, mainly because of the isolation. So we were fortunate to be able to able to get down there and help those people, at first in boats, and then via road.'
Back to Ballina
Col Lee told The Echo, 'Ballina's had some terrible devastation, particularly the caravan parks. The damage is just amazing. I don't know what's going to happen there.'
The scale of the flood has taken many across the region surprise, including elderly people with extensive flood experience.
Do you think people who weren't here understand the magnitude of what happened? 'I saw the '54 flood, and the '74 flood, and they were nothing like this,' said Mr Lee.
You can't prepare for something that's never happened before, can you? 'Not at all.' Mr Lee remembers being able to drive his tractor through floodwater in previous floods to pick up his car to get to work in Ballina. With the latest flood more than two metres higher, that would have been impossible.
'I know places here in Wardell that had no water back in '74, now they got the water four foot high in the house. I heard it lapped the bottom of the bridge. That's a significant amount of water.'
This week, Ballina on Richmond Rotary is going to be focusing on Broadwater.
Col Lee says that if people want to help, the best thing they can do is donate to the fund which has been established by his club, which will disburse money via the same model used after the Rappville bushfire crisis, by giving vouchers directly to those in need.
'We've been on the front line in Wardell, Ballina, Broadwater. Every cent we raise goes back to people in need. We will be knocking on doors in all those areas that we know in Ballina that have been affected by flood, to see what we can do in the way of vouchers.'
Reaching out to deeply traumatised people
Col Lee explained to The Echo that there are some people touched by the flood who have been too traumatised to come to the door when helpers have arrived, and are now in houses that may be unsafe from flood damage and mould, with ruined furniture and carpets needing to be stripped.
One of Rotary's missions is to assist these people if possible. Many of them are elderly.
'The mould is poisonous, so that's a big factor that we're going to have to deal with,' said Mr Lee. 'And of course, a number of people are waiting on insurance companies, who haven't answered their calls. Of course they're overloaded with all this.
'And just the simple things, like a guy said to me the other night, we've got the power back on, but I can't buy a mattress. So we've been able to source stuff in that respect. We've had a lot of donations.'
Flood Donation Fund
With a number of other organisations channelling crisis support in his club's direction, even from overseas, Col Lee reiterated that Rotary's key policy is that every cent which comes in goes out again.
'Our club's biggest concern, when we set up a taskforce for this, was how many people can we get to? It all comes down to how many dollars we get.
'The more money we can raise with the Flood Donation Fund, the more people we can help.'
Anyone can assist the Rotary Club of Ballina-on-Richmond Flood Donation Fund directly by sending funds to BSB 722 744, account number 100129705. Col Lee asks that people note the money is for Flood Donation.