Wardell's Community Organised Resilience Effort (CORE) is planning a community event on Saturday to celebrate the way their local community has pulled through the flooding disaster.
Yesterday Joel Orchard from the group spoke to Ballina Shire Council about what Wardell CORE has achieved since their recent formation. He described 'an immense amount of activity' in a few short weeks.
As a resident of Wardell, he said, 'It's pretty hard to find a particularly clear picture of the first few days of the flood, between the growing burden of stress and then panic as the waters continued to rise, swallowing up more and more of the town, going further into the main street and eventually to engulf both sides of the river in Wardell and the surrounding River Basin.'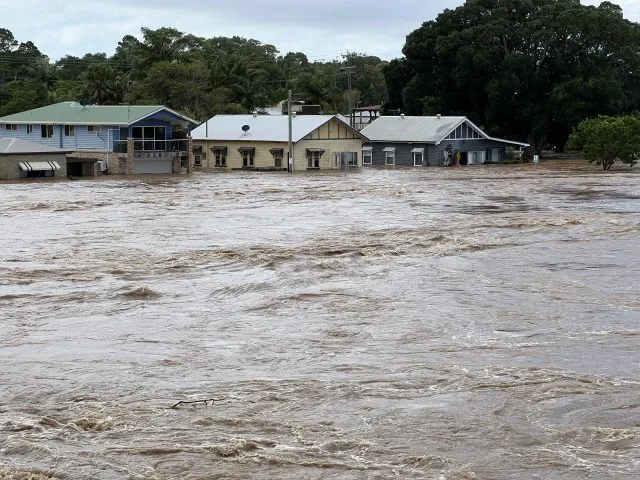 Sandbags until surrender
Mr Orchard explained that he lives one house back from the main street and directly opposite the Catholic church grounds.
'Myself and the rest of the town made sandbags all day and into the night and so I was privy to the last of the activities in town before we all surrendered and just watched the river grow.
'We hosted evacuees in our house and my partner and I were on site as soon as the waters started receding, helping first our immediate neighbors whose houses had been affected, followed by friends in East Wardell, Patchs Beach and then further down the river.
'Towards the end of the first week of helping with urgent house and debris clearing we connected with folks who'd already begun moving resources and emergency supply stores to the Wardell War Memorial Hall, from what had become an impractical and overburdened center at the childcare facility, which had also been for some time used as an overflow evacuation center.
'Anissa and Mark, my colleagues, had been granted access to the hall through the Progress Association and we helped to finalize the aggregation of supplies and establish the Hall as the primary depot for donations and goods.'
Let there be CORE
Joel Orchard told Ballina Council, 'The Wardell Community Organized Resilience Effort was born at this time.
'In a week we'd transformed the hall into an organized and cohesive distribution center, adopted strong communications platforms, an integrated task list and job platform and established a functional command center for volunteer coordination, emergency access to services, meals and support.
'By the end of the second week, the Anglican Church granted us further access to their facilities for supply overflow, and we're now looking to find further space in town and in partnership with the council for more sustainable warehousing options.
'Our CORE operations have since diversified. We're offering a wide range of services, ancillary support and continuation of volunteer coordination, provision of essential services hot and take home meals, and perhaps most importantly, community engagement.
'Our community hub and recovery center has tried to provide the continuation from emergency response through to relief and now into recovery.
'Our CORE team of four full time volunteer coordinators have the support of a number of daily hub and community extension volunteers.'
Community helping community
Mr Orchard said, 'We estimate that we continue to accommodate approximately 300 visitors per day from Wardell and surrounding areas. From South Ballina to Pimlico, Meerschaum Vale and Cabbage Tree Island.
'We currently facilitate a wide range of support and services including a donation center, including the coordination of supplies, logistics and distribution, volunteer coordination of home and property management tasks, hub volunteers and the facilitation of networking with other local centers, services and institutions.'
He said there was even a mental health outreach service, with a team of trained volunteer counsellors and practitioners offering in-house outreach support, and now training CORE volunteers.
'We're able to provide physical health and well-being support in partnership with the local pharmacist, a volunteer GP and nurses. We provide links with existing services and accommodate a permanent Services Australia team and an access point to the Department of Primary Industries, Australian Defence Force, the recovery center, Legal Aid and the Ballina Shire council.'
Communication too
Joel Orchard said, 'We continue to offer essential services such as internet and computer access through a donated Starlink satellite dish and computers, power for charging phones and most importantly, connection with other people.
"We've now begun to structure weekly community events engagement and information sessions in partnership with disaster management stakeholders, NSW departments and the private sector.
'We have a team of agile and motivated people with a wide range of skills and relevant expertise. We've been able to leverage a really dynamic range of relationships, locally and nationally, to quickly mobilise, coordinate and deliver quality services support and goods to the community of Wardell and surrounds.
'We're truly proud of what we have achieved and motivated to explore how we can continue to build on our success in community engagement to provide enduring support,' he said.
'Wardell CORE has received strong and positive endorsement from across the community. And this week we completed our application for incorporation so that we can build on this important work.
'Our vision is to help the community navigate the complexities of recovery, providing ongoing continuity of care for trauma recovery, programs for youth and the vulnerable, offer education and develop economic activities in the area.'
Incredible volunteers
Joel Orchard said, 'All of this to date has been made possible exclusively by volunteers and the support of a host of incredible people from local RFS services, Rotary and Lions Clubs, church and community groups and heaps of individual supporters.
'But perhaps what we're most proud of is that we've been able to create the social capital to make this facility successful independently, and demonstrate that communities can provide functional and comprehensive recovery centers through their own agency.
'We're keen to explore how we can continue to demonstrate leadership in this space by working with the Wardell community to build financial sustainability and embed community ownership into the recovery effort, with the support of local government and Resilience New South Wales.'
He said the community event planned for tomorrow would be 'an opportunity for us to come together as a community for reflection, share our losses, celebrate the amazing volunteer response and begin the process of reshaping our community.'
Remarkable work
Mayor Sharon Cadwallader thanked Mr Orchard for the amazing work that the CORE group have been able to do for the Wardell community… it's quite remarkable.'
Cr Simon Chate praised the 'one stop recovery spot' CORE has created for flood affected local residents. 'I've met some of the organisers and they are passionate, dedicated community members who've orchestrated an excellent, multi-faceted recovery/aid centre in the heart of Wardell.'
He told The Echo, 'They provide a wide range of services and a tremendous selection of emergency supplies and have really played a significant role in the Wardell community's healing process.'
Ballina Shire Council voted to accept Wardell CORE for Ward Committee Membership, one of a number of new community groups which will now have the opportunity to liaise with council directly.
Meanwhile, those needing help can find Wardell CORE at Wardell and District Memorial Hall on 49 Richmond Street Wardell. They say they will stay open 9-5, 7 days a week, as long as there is a community need.
A celebratory feast and flood recovery event is planned at the hall, for tomorrow Saturday 26 March, at 12pm, but may have to be postponed if intense rain returns. Details are online, at Wardell CORE's FB event page here.
---
More stories about Ballina Shire Council: