Flooding was back on the agenda at Ballina Shire Council's last meeting, with councillors agreeing to adopt a flood protection strategy which was in the works well prior to the 2022 flooding crisis, but has now acquired new urgency.
Discussion was preceded by a deputation from Burns Point Ferry Road resident Marilyn Chaseling, an area which she described as 'probably the worst affected of the flooded areas in Ballina', although according to council, 'we were only 13 or 14 in the list of problem areas'.
Ms Chaseling said what she'd warned of in previous submissions had now come to pass. 'That flooding has occurred, and we've been all very, very badly affected in that area.'
She said the ongoing threat of development on flood-prone land opposite would make the situation even worse.
Motion 10.2 urged council to adopt the Ballina Island and West Ballina Overland Flood Study and Flood Protection Feasibility Study and Plan report. This was moved by Cr Rod Bruem and seconded by Cr Simon Chate.
Cr Bruem endorsed the study, noting the high level of public input and the issue being 'uppermost in everybody's minds'. (There was some confusion in the chamber about the status of the study, which has already been on public exhibition, attracting a large number of comments.)
Cr Bruem said he hoped the public engagement process would continue 'so that we can get the right outcome, and then work with state government in particular to do the necessary things that need to happen to ensure that we are ready for the next one. And that people will be safer and that we can respond accordingly.'
Complex and difficult issue
Cr Jeff Johnson's said, 'Since I've been on council the last fourteen years, we must have had 10-15 briefings on trying to deal with flooding and potential evacuation during flood events on Ballina Island, the impacts of sea level rise. It is a very complex and difficult issue given our location and what's happening with global warming and sea level rise.'
'The expectations were higher during those earlier briefings that we would be able to raise the roads, to get the evacuation routes working.'
Cr Johnson said the SES had emphasised the importance of evacuating those at greatest risk, such as people in nursing homes and hospitals, when a major flood was on the way.
'It's certainly not an easy prospect to be able to do this. I think there's a reasonable level of disconnect between having a plan and actually being able to implement the plan, if we're going to be realistic moving forward, which is something that I've been struggling with since I've been on council,' he said.
'We've seen already, as we're upgrading all our roads, we're not starting to raise them. There's some pretty scary costs and logistical issues with some of the recommendations, like raising the main roads for the evacuations, and the prospect of levees on various sections of the island.'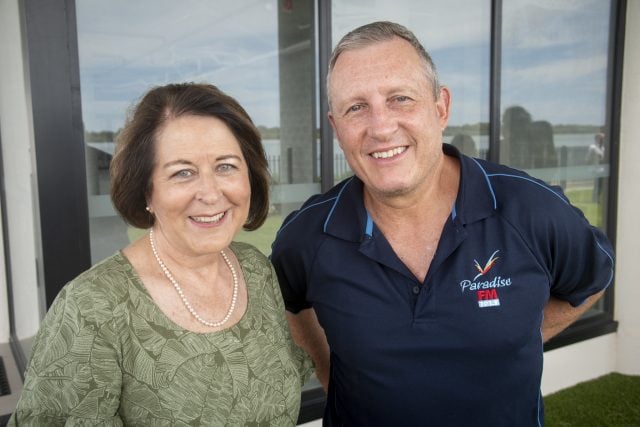 Mayor Cadwallader's view
Cr Sharon Cadwallader agreed that the issues of raising evacuation routes were problematic.
'It's all about cost,' she said, noting that she'd recently spoken to the Minister Sam Farraway and Coordinator-General Shane Stone about the issue.
'We know that 97% of all money is spent on recovery and 3% on mitigation,' she said. 'It's time that was changed, it needs to be the opposite.' She said there was much lobbying going on to fix the situation, from organisations including the Australian Coastal Councils Association and the Australian Local Government Association.'
Cr Bruem talked about the importance of private homeowners having the ability to to raise their homes if they wish to. 'It's been really concerning to see that there is such a scheme now available in Queensland, in response to the floods there, but nothing yet in New South Wales.
'I'll just make the point that if it's ever going to happen, you'd think now would be the time.'
Council voted unanimously to adopt the Ballina Flood and Protection Feasibility Plan, which is available to read in full here.
Further thoughts
Speaking to The Echo after the meeting, Cr Jeff Johnson said, 'While a levee around Ballina Island has been talked about, now that the costs and significant number of property acquisitions that would be necessary have been modelled, I think it's been shown that this probably isn't a feasible option.
'What's plainly obvious is that the sooner the world moves to a net zero carbon economy, the less likely the more extreme weather forecasts and sea level rise predictions will occur,' he said.
'All communities need to assist with this, and hopefully with the change of government at the federal level the debate can shift to how we achieve this in the shortest amount of time, rather than using climate change as a wedge issue that appeals to short term voting considerations.
'I'm hopeful that Australia has just had a tectonic shift on this issue and can be a world leader rather than an outcast,' said Cr Johnson.
More stories about Ballina Shire Council: