♦ Budgeram means story in Bundjalung language.
Having spent a long time reflecting on the last 13 weeks since the floods devastated our region, many important issues have come to my attention – loss of homes, possessions, safety, schools suspended from flooding, chaos, death, loss of animals, extreme anxiety and desperation, and so much more. Even as I write it is depressing to navigate and comprehend the scope of this natural disaster.
In the first stages of news being delivered to us about the scope and immense nature of the weather event, I felt like a zombie from an apocalyptic movie. What could I do to help? How could I be useful? My eldest daughter Ella, who is a champion for equality and the environment, and her partner Kirilly, showed this old girl how it is done!
Their frontline volunteerism at the Koori Mail in Lismore has been epic (along with many others who turned up to help). They started with a table and a chair, and over the last 13 weeks have provided support for flood-stricken victims, Aboriginal and non-Aboriginal people.
It has been an out of mind experience, having to deal with such catastrophic natural disasters – first the bushfires that threatened our homes in Upper Main Arm, then COVID-19 that enforced a dome of isolation over my life and my family's, and then the enormity of the floods that truly decimated the landscape in our beautiful Bundjalung country.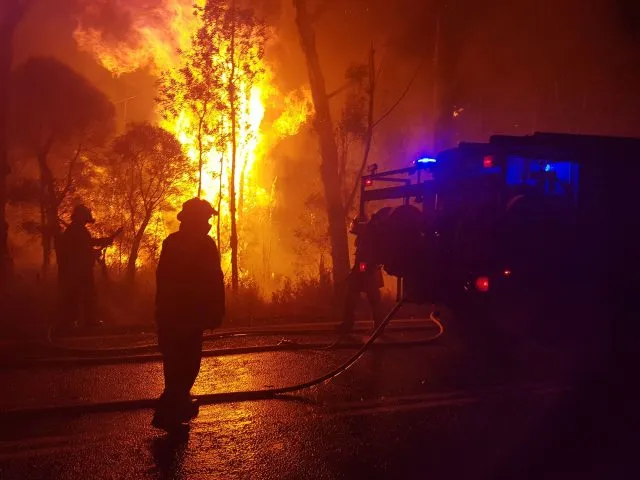 I feel these events have assisted in elevating the priorities in my life and that of many others who are now survivors of these life-changing events. My tolerance level for intolerance and lack of empathy has escalated, and I cannot count how many times I have had to assert to the unaffected just how terrible these events have been. If it is not in the 24-hour news cycle, then it is like it never happened and it is business as usual. This is not the case and many, many years of recovery are ahead of us all. Our lives will never be the same. I was very angry about the lack of support on the ground by emergency services, particularly the Australian Army.
My father, a Bundjalung man, served in World War II, not as a citizen of Australia but as a 'non-human being', being classified under the Australian government as 'flora and fauna'.
In 1967, an Act was introduced when we were identified as 'citizens'. I asked my father why he went to war; his response was, 'It's my country too, Bronwyn'. I know in my heart that Dad and his brothers, legendary men with amazing bush skills and ingenious solutions to problem-solving, would have been in the thick of it. They would have been trying to unlock the dilemma that many were confronted by in that first awful week and the realisation that entire families and communities face – that of attempting to make sense of what had just occurred. Like the aftermath of war, they would have mobilised to gift their time to others when they had lost everything.  
I witnessed many acts of unselfishness, love and empathy that have helped to assist in my own recovery and healing around the trauma that insidiously invaded my mind and created a disconnect that existed to enable survival and sanity.
The community volunteers who generously stopped their lives to help so many, and the ongoing contribution by the community, has delivered a framework and the resources to assist with the basics. It was a logistical nightmare to access basic needs to fill the void left by the powerful impacts of our natural world. 
In this world that we take for granted we foolishly destroy wetlands for rich people fleeing the concrete jungles. The lack of consultation with Aboriginal people since colonisation has been perpetuated by a methodical and well-planned strategy to make us extinct in our own nations, our own country. 
The parallel, in relation to the way that flood victims have been treated by governments, is a contemporary manifestation of contempt for those people. I have not received any flood support to help with my existence while I have not been able to access my home. Have you? I do not have a 4WD drive vehicle so my attempt to get home has been thwarted by rivers of mud, and I cannot find $20,000 to upgrade the access so that safe access is assured.
I know there is an election looming on Saturday 21 May 2022. I also know that governments are out of touch with people who reside in this country. They have to be stopped from using the proceeds of taxation to fund their rich mates, corporate partners and any number of corrupt incidents that have littered the landscape; this must be stopped, and people power is the only solution. Stop the rot. This country is what we have now to nurture, to respect, to be custodians of – climate change is real. Corruption is rife and real solutions are being ignored as powerful arbitrators decide our future through their twisted privileged lens that has left a gaping hole in our society for the elderly, the poor and the vulnerable.
Lest we forget.
---
Author
Dr Bronwyn Bancroft is a proud Bundjalung Woman and Artist. Bronwyn has been exhibiting nationally and internationally for over three decades.
Bronwyn has a diverse Artistic practice including public art commissions and imagery design for private commission. Bronwyn illustrated her first children's book, The Fat and Juicy Place in 1992. Since then, Bronwyn has authored and/or illustrated 41 children's books.
Bronwyn was the Australian finalist for the Ezra Jack Keats Award for Excellence in Children's Book Illustration in 1994.
In 2010 Bronwyn received the Dromkeen Medal for her contribution to Australian Literature and in 2016 was the Australian Finalist for the Hans Christian Andersen Award (Illustrator). Bronwyn is currently nominated for the 2020 Astrid Lindgren Memorial Award.
Bronwyn holds board positions with Australian Indigenous Mentoring Experience (Director) and the Commonwealth Bank Indigenous Advisory Council. Bronwyn has been a volunteer senior strategist at Boomalli Aboriginal Artists Co-operative since 2009.
Bronwyn has a Diploma of Visual Arts; two Masters degrees from the University of Sydney, one in Studio Practice and the other in Visual Art. Bronwyn was awarded her Doctor of Philosophy (PhD) in 2018.