Steve Krieg's campaign slogan was We are the change, but many in the Lismore community are wondering what the 'change' actually means. People are at a loss to know what is happening in council – are they not getting what they bargained for?
Apart from the confusion of protocol and crisscrossing private agendas, what the public witnessed last night, from their elected officials in the chamber, was downright scary.
During the much-inflamed debate at the July meeting, the process or the apparent lack thereof wound around itself so many times that everyone lost track.
Is the motion urgent enough?
The meeting had not long begun when Cr Adam Guise said that he had an urgency motion. Anyone who used social media yesterday knew what the motion was about, but certain councillors seemed determined not to have the subject of the motion on public record.
Cr Guise's motion was in part prompted by Sunday evening's Four Corners program Washed Away: The planning failures deepening Australia's flood crisis on the ABC.
Viewers of the show would have heard Lismore City Mayor Steve Krieg say he understood the frustration and the anger of Lismore residents after the floods. 'I feel it myself. I'm living through it myself. I don't have answers for it. I can't make things go faster than what they already are.'
But it was Cr Krieg's next comments that set Cr Guise's motion in motion. In regards to the recovery process, the mayor said council wasn't up to the job.
'We cannot do it. We need the state and the federal government to help us. This is a very personal opinion, this is not a council statement, but really you can't do the work that needs to be done in Lismore through the council.
The Four Corners bombshell
Then the bombshell: 'You actually need an autocratic approach and if you want me to be totally honest, and I hope you probably will put this to air, but you actually need to sack the council to make this happen.'
Many commenters say they were shocked by Cr Krieg's point of view. Cr Guise wanted to put up an urgency motion that: Based on the Mayor's comments on 4 Corners calling for an autocratic regime and that the democratically elected Council be sacked, that Council expresses no confidence in the Mayor and calls on the Mayor to resign.
Then the fun began…
Cr Guise asked for the motion to be posted on the screen in the room for all councillors to read. 'May I have an urgency motion which I just circulated and I asked about to be put up on the screen and I will speak to its urgency?'
The motion appeared.
The mayor said council needed to vote on whether they considered it urgent.
Cr Guise said he was entitled to an opportunity to speak to it and then a ruling could be made.
'It's not up to me,' said the mayor. 'Sorry, Cr Guise, it's up to the forum to make a ruling – to vote on whether it's urgent or not. So we need to first consider the matter – is the ruling. So all those in favour of…'
Cr Guise raised a point of order. 'Mr Mayor, I have moved the motion – I'm given the opportunity to speak to the motion, and then you can vote as to whether you'll consider the business, or not, but I do get to speak to the motion which I have moved.'
Cr Krieg said that was not the advice that council had been given and then both he and John Walker looked to their right for support from Governance Officer Christine Cotterill and two members of the Office of Local Government who were 'observing' proceedings.
Then, another pause while Mr Walker rose and spoke to Governance Officer Christine Cotterill and the two members of the Office of Local Government.
Confusion reigned in the chambers
The next ten minutes were spent 'debating' about whether Cr Guise had the right to outline his motion before council voted on its merit as urgent.
Arguments included several points of order and comments from Cr Gordon who was absolutely passionate that the motion not appear on the screen. At one point Cr Krieg rose to speak about Sunday night on the ABC. 'As everybody here is no doubt aware, a comment was on last night's Four Corners program…' This was not what they were debating but rather Cr Guise's right to speak to the motion.
Not for the first, or last time during the meeting, Ms Cotterill threw her hat into the ring. 'What's happened in the past has not necessarily been in line with the Code of Meeting Practice.'
She then went on to outline the protocol.
Cr Guise was finally allowed to speak to the motion. 'Thank you, Mr Mayor. I will speak to this urgency motion and I thank you for making a ruling for us to exercise our democratic right in this chamber.
A heavy heart
'It is with a heavy heart that I bring this urgency motion and I bring it off the back of Four Corners where you [Steve Krieg] made some rather shocking and untoward statements, that quite frankly myself and the community are affronted by.
'On this Four Corners episode in response to the flood crisis, the rebuild crisis and recovery crisis were in, you said, that we should all be sacked, the council should be sacked and that we need to appoint an autocratic regime to deal with the current crisis we're in.
'Well, I find that totally untoward and totally against your role and our role as representatives and councillors speaking on behalf of our community, hence why I'm bringing this motion tonight, to recognise that you cannot continue to perform your leadership and your mayoral duties by being the figurehead and the leader for our council, if all you want to do is give away your leadership to an autocratic leader and have us sacked.
'That goes completely against our role as councillors, it goes completely against you being elected on the platform of "be the change", and it flies in the face of the crisis our community faces in their time of need.'
A benevolent dictator
Cr Guise continued, 'I've come to this point, because in the past on 60 Minutes, you said we need a benevolent dictator – here it is – a reference to a single unilateral person that's not us, not the elected councillors not the governing body that's meant to represent our community.
'It calls for leadership, but I ask Mr Mayor, have you looked in the mirror? You are our elected leader, you're meant to be leading us out of this crisis.
'You've said in response to these floods that we need sunshine, that we need hugs, that we need cardboard, that we need to mow our lawns – but you haven't called for buybacks, for land swaps for government support that pays back the rates of flooding impacted properties.
'You've squibbed that leadership role. You've given it away and you've said someone else needs to do it. We are asking you, Mr Mayor, to honour your commitment tonight, and other councillors honour your commitment tonight, and step down from your roles if you're not prepared to lead.'
A

loss of democracy and community voice
Cr Guise said that if we go down the path of administration, the path of an autocrat or a dictator, that means a loss of democracy and a loss of voice for this community. 'It is a backward step. It would turn our backs on our community that cares so much and has fought so hard to get us to where we are now. And it would betray the trust that voters put in you and your councillors, to lead us through this mess.
'And it's urgent, Mr Mayor, because we can't have a mayor going around throwing councillors under a bus and calling for our sacking. It causes division. It doesn't get on with the job of the things that you're elected for – roads rates and rubbish, getting our council financially back on track. It does a disservice to our community and it leaves real leadership begging when we've got so many good people in this council who have led us before who can lead us now and are up for the job.
'So please resign and let someone do the job.'
The Mayor said he appreciated Cr Guise's passion. 'Very good Councillor.'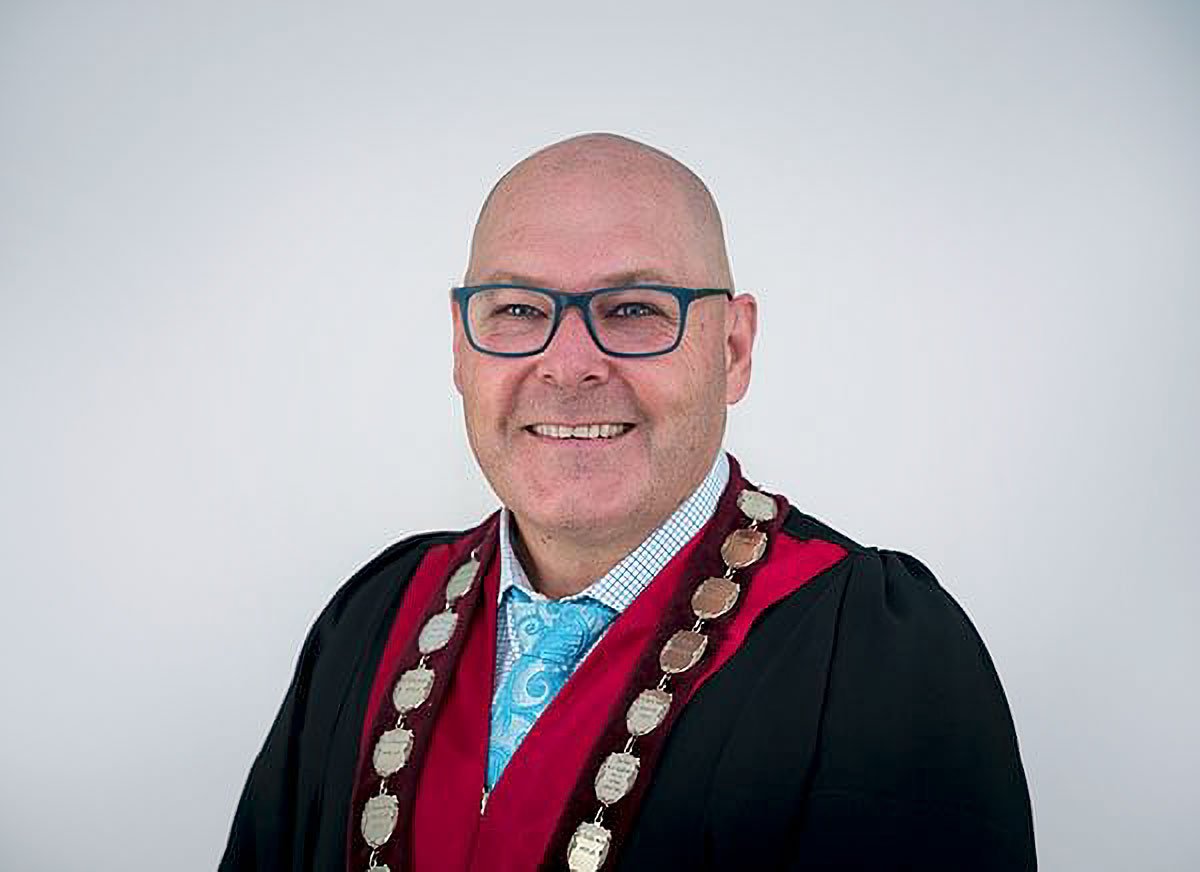 Appropriate for the mayor to vote about himself?
Before Cr Krieg had a chance to put it to the vote, Cr Darlene Cook raised a point of order asking if it was appropriate for the mayor to consider whether it is urgent to have a motion of no confidence in himself.
Ms Cotterill said there was no conflict because this is the mayor's public office. 'You're the chairperson. You have that right.'
Before the vote began, Cr Andrew Gordon also had his say. 'Please! Mr Mayor. We're going over this again. The motion that was put first was to be considered an emergency motion. We then allowed the motion to continue to be presented as it is in front of him. I'm sorry, I'm just distracted by this and I'm finding it very difficult to speak, but it's done.
Blah, blah, blaaaah
'We've now reached the point where we need to vote on the motion that's put before us. Whether the motion is urgent? We're way past that point. We've now got to this point, so we're now voting on, basically the Mayor's comments. Blah, blah, blaaaah,' said Cr Gordon.

Skipping a few points in procedure, council then voted on the motion, not on whether it was urgent or not.
In a not unexpected outcome, (on the motion, not the urgency) the mayor asked who was in favour of supporting the no-confidence motion. 'Councillors, Ekins, Cook, Rob and Guise. All those against the motion? We've got Councillors Gordon, Colby, Hall, Jensen, Bing and Krieg – so that motion is defeated.'
A lone voice yelled from the gallery: 'It was supposed to vote on whether it was urgent, not the motion.
'They've got it wrong.'
If you want to relive the fun for yourself, the video is available on the Lismore Council Facebook page.