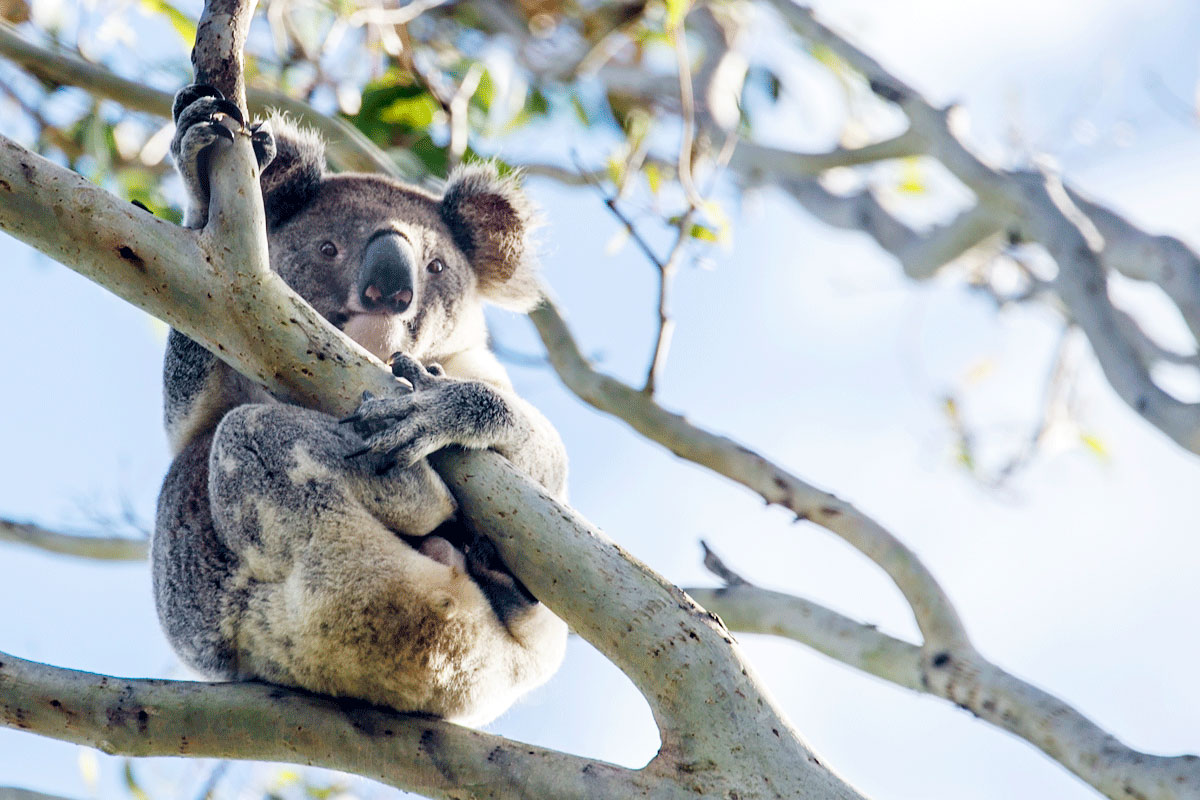 Ahead of today's Save the Koala Day, NSW Minister for Environment James Griffin yesterday announced that private landholders are being supported to restore 200 hectares of koala habitat in the Northern Rivers through a new initiative that is planting 250,000 tree seedlings, backed by the NSW Koala Strategy.
The Minister said the landmark program is restoring koala habitat on private land, increasing biodiversity and providing an additional revenue stream for landholders through carbon farming.
A distraction and a death sentence
Animal Justice Party Councillor for the City of Campbelltown Matt Stellino says the Environment Minister's announcement is a distraction and a death sentence for koalas. 'He hasn't announced additional koala habitat: he's announced the planting of seedlings. They won't become koala habitat for 30 years. Koalas don't have 30 years.
Mr Stellino said the announcement doesn't protect any land and it doesn't address the issue that 70 per cent of koalas live on private land, surviving in trees that are subject to private forestry agreements.
'The money he has announced for his mass seedling spree would be better spent on retaining the existing forest that is in private hands. Pay farmers to keep mature trees!
'We already have some of the best quality koala food trees in the country in the Northern Rivers, but they're subject to private forestry agreements and Minister James Griffin doesn't think that's a problem. Instead, he's paying for seedlings to be planted on barren paddocks and saying let's wait 30 years while they grow and then see if there are any koalas left.
Koalas to wait 30 years their next meal
'Environment Minister James Griffin is telling Northern Rivers koalas to wait 30 years for their next meal. That is a death sentence. Protect the koala habitat that exists now or you kill the koalas who are alive today. Koalas don't live in seedlings. They live in trees.
Conservationists and koala protectors say NSW Forest Corp is celebrating National Save the Koala Day by logging koala homes in Cherry Tree State Forest on the Richmond Range in North East NSW today.
They say local residents are spending their Fridays4Forests bearing witness to the destruction of Endangered koala habitat they have documented in this public native forest. They are calling for the NSW government to put an end to the logging of public native forests and the creation of a reserve system that will stop the slide of our koalas to extinction.
Approval to be trash forests
Local ecologist Jim Morrison says he was appalled that an unburned forest in a regional wildlife corridor could get approval to be trashed. 'Our koalas are just one of the many species threatened with extinction by the logging of their forests Cherry tree is also home to greater gliders, yellow bellied, gliders, black striped wallabies and quolls just to name a few threatened species known to inhabit this forest.
'To allow extensive habitat destruction as planned by Forest Corps ignores the billions of animals lost in the black summer bushfires and will contribute significantly to the current biodiversity and climate crisis that needs urgently to be addressed"
NE Forests Campaigner Sean O'Shannessy says koalas are an essential part of the Australian identity. 'We rely on them for their economic, ecological and heritage values. They are irreplaceable, logging them to extinction has to stop. Aussies cannot afford to keep shelling out millions of taxpayer dollars for our koalas' forests to be logged to death.'
Forest Corp a rogue agency?
Mr O'Shannessy says we have good reason to believe that NSW Forest Corp is a rogue agency acting outside the law in issuing harvest plans which don't comply with ecologically sustainable forest management. 'Traditional owners have initiated court proceedings to force them to obey the rule of law and we hope the courts will grant an injunction against this reckless destruction of our koalas' homes and significant cultural heritage sites.
'Having just survived the worst flooding disaster in Australian history, locals are alarmed at the wanton vandalism going on in the headwaters of the Richmond and Clarence rivers. Our catchments are irreplaceable and mustn't be sacrificed for the profits of a few rogue loggers. We need our headwater forests to continue to act as the sponges that moderate flows downstream, capturing the flows in flood times and steadily releasing them in dry times.
'There are far more jobs and other economic benefits in sustainably managed plantation timber production and management of well-run reserve systems than the heavily subsidised native forest logging industry, and the two are mutually exclusive. We have to make a choice and take action right now if we are to have the option of the long-term benefits of saving our forests before the loggers irreparably damage our public assets and drive our endangered koalas over the brink.'
Stop approving habitat for clearing and logging
To mark Save the Koala Day the North East Forest Alliance is appealing to the NSW Government to stop approving core koala habitat for clearing and logging, if they have any genuine intent to stop koalas becoming extinct in the wild by 2050.
They say NSW Government's spending of tens of millions on koala hospitals, open range zoos and planting seedlings won't stop Koalas becoming extinct in the wild unless they save and stabilise surviving Koalas by protecting their existing homes.
NEFA spokesperson Dailan Pugh says that every day the NSW Government is allowing the Forestry Corporation to cut down mature koala feed trees in public forests, and farmers to bulldoze them, while their propaganda arm goes into over-drive pretending that Koalas don't need their feed trees. 'We know that koalas only utilise certain individuals of certain species, and that the larger those trees are the more they use them. Protecting these key trees and allowing others to mature is essential for koala's survival.
'If the NSW Government is sincere about saving koalas they need to ensure thorough surveys of potential habitat before clearing or logging is allowed, and to protect any core Koala habitat found.
'For a start they can ditch their current policy that if a logger sees a koala in a tree they just wait for it to leave before they cut its home down.'