Belonging is critical to wellbeing for humans and has been for thousands of years. 
Belonging is a feeling of security and support we experience when we experience a sense of acceptance and inclusion in community. Belonging is a sense of being connected to something greater; it increases a sense of safety, resilience, and ability to cope more effectively with difficult times in our lives. It is something we continually seek to find and maintain and as we strive to belong, we are also deeply conditioned to provide a sense of belonging to others. 'Place attachment' or a sense of belonging to Country and community in people that turns a place into an anchor of their identity. It is a complex and dynamic process unique to each person, affected by our cultural frameworks. An absence of belonging has negative and devastating effects on people, both physically and psychologically.
For thousands of years Aboriginal people have had a strong culture of belonging to Country and community. Belonging to Country and community is intrinsic to identity and wellbeing.
Our people have genetic memories of our belonging and connection that are thousands of years old. The culture of belonging is based on contribution and respect, reciprocity and responsibility, a balance of give and take that is a relationship with Country and the community that work together to care for Country. Belonging is in our bloodlines.
Traditional Aboriginal kinship systems are complex and dynamic systems that define how a person connects into their family and community. Kinship systems structure people's relationships, obligations, and behaviours towards each other, to the broader community, and in caring for Country. Traditionally the Aboriginal family was a collaboration of clans composed of mothers, fathers, uncles, aunties, sisters, brothers, cousins. Our families continue to have these connections with extended family members. Aboriginal kinship and family structures continue to connect Aboriginal people throughout Australia. 
Belonging is a strong part of our genetic memories, and we strive to find our belonging places within a dominant cultural paradigm that has economised belonging. Colonisation has impacted first nations belongingness through forced removal of families from Country and each other. Further, the privatisation of land ownership locks us out of our relationship with Country. The trauma wounds of the breaking of our connection to Country and each other continue to cause significant damage in our communities. Now this intergenerational trauma is also part of our genetic memories. Our people walk between two worlds, governed by a culture of ownership and rights that is determined by economics, yet we continue to strive for healing. 
Destructive impacts
Colonisation has had devastating impacts on traditional kinship structures. The forced removal of Aboriginal people from families and Country has disrupted the regulation of this traditional system. Healing intergenerational trauma through reclamation and restoration of kinship connections is critical. Our people are hardwired for connection; isolation and rejection from communities causes a grief that cannot be healed.  
Our communities are struggling to continue to belong in the current economic framework that is based on competition. This has given rise to lateral violence, which exacerbates social rejection and isolation and shatters any salvaged sense of belonging. 
The compounded impacts and complexities of the current housing crisis on the NSW North Coast, and the new wave of dispossession that is sweeping through our communities, are further traumatising our people. The lack of affordable, available housing for Aboriginal people is a form of social rejection from Country where we have always belonged in communities where we have a kinship connection. 
The Australian Human Rights Commission identifies safe, secure, and stable housing as critical to health, education, and employment, and it is key to improving outcomes for people in entrenched disadvantage. First nations people face multiple, intersecting barriers to realising the right to housing including: a greater likelihood of experiencing economic disadvantage; greater responsibility for caring for family; higher levels of gendered violence; stereotyping, racism, and discrimination. Our people continue to cite housing as a major priority issue and identify the need to address availability, overcrowding, discriminatory housing access, affordability, social housing, and homelessness. 
The current housing crisis is further impacting belonging for first nations people, the disconnection and isolation producing a sense of rejection from reclaimed kinship connections. Housing stress is impacting communities across the North Coast region. For first nations people there has been a housing crisis since colonisation, and this is a new wave of dispossession. 
It is critical to recognise that for our people it goes beyond affordable housing to our belonging places, and this must be protected to avoid re-traumatising of our people. For many Australians, the increasing economic wealth of our society means that they can afford to live on their own and migrate away from the communities where they grew up. This is a luxury and a framework that first nations people do not have. Connection to Country and community is part of our culture, part of our identity, and the exclusion from our belonging places owing to economics is an ongoing part of colonisation that must discontinue. 
The community service sector is plugging gaps, but while there is no solution to housing our people cannot experience the targets set by the government in the Close the Gap report. We need to start with secure and safe housing if we are to 'close the gap'. We need to reflect on how society views housing as a commodity and the resulting social and health impacts this approach is having on wellbeing. It's time to rethink the current housing options and look towards redesigning housing opportunities to respond to the needs of communities. This includes culturally appropriate housing that enables intergenerational living and allows first nations people to fulfil our kinship obligations. We have an obligation to prioritise first nations people's rights to live on Country and with our kinship communities.
---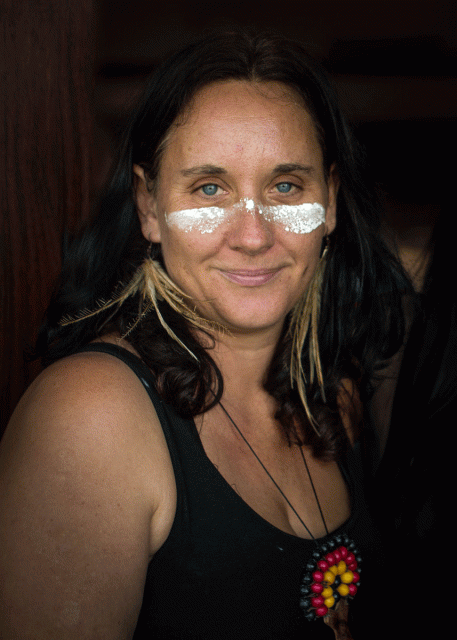 Author
Belle Budden is a local dubay of Wakka Wakka descent. 'Living off country I pay my respect to the Arakwal people and the wider Bundjalung people of this land,' says Belle. 
Belle has worked in community for 15 years, Belle is an artist, dancer and weaver working across many other mediums. Belle is passionate about community and has committed to empowering women and young people through cultural practice. She has worked in government, arts and community organisation to advocate for improved access to land, culture and services. Belle is currently employed at Desert Pea Media as the Projects Manager.