Getting population projections correct is key to planning for the future of housing, infrastructure and water for the region and is an important issue that came up at the 15 December Tweed Council meeting where they noted that projections differ by 16,000 for the Shire between the PSA Consulting (Australia) Pty Ltd projections and those of NSW department figures. 
The issue came up during the vote to move forward with the Growth Management and Housing Strategy – Issues Paper (GMHSIP) to the preparation of the  Growth Management and Housing Strategy – Options Paper (GMHSOP).
Mayor Chris Cherry initiated a number of changes to the (GMHSIP) including a recognition of the divergent population projections, making the 'natural environment' a key theme and correcting mapping. 
'Growth management and housing strategy is our most important strategy that we have going forward for our term. It is incredibly important that we get it right. I think the options paper has considered things very, very well. It has gone into a lot of detail and I am very excited about that,' said Cr Cherry.
Mapping corrections
'The changes that I'm asking to be made are mapping corrections. I don't ever want to be in position where we have a council document that has maps in it indicating lands in it that haven't really been consulted with the community. The options paper (GMHSOP) obviously has the opportunity to bring those things forward, but at this point, we need to make sure those documents are accurate.
Population projections
'I also wanted to address the issue of population projections,' she said.
'Initially, in the draft [GMHSIP] that went out, the population projections by the Department of Planning were in there, but in the finalised document it is not in there. I think it is important that it does go back in there.
'I know that these are small things but it is making sure we set ourselves up right for the options paper (GMHSOP) as it comes forward. When we put the issues paper (GMHSIP) on exhibition it did say that this is a strategy of dealing with a population increase of 15,000. So it is important to have a point in there about why we have changed that to 31,000 that we are now talking about.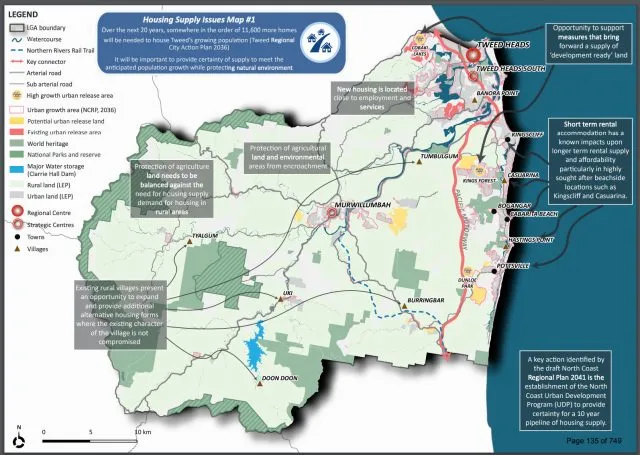 'Population projections are incredibly important. We use them to determine our infrastructure planning, our water supply planning – all of the things we need to think about as a service provider. Obviously under or overpopulation projections are not good. 
'Point three should say that the population outlook prepared by PSE in their draft issues paper is more than double than the projection published of the NSW Planning and Environment and the NSW Department of Health.'
Environment Key
The environment and flooding were also raised and subsequently included as important issues in the GMHSOP that is to be developed. 
'Point E was asking for the natural environment to be added in as a key theme under the planning and policy framework section of that issues paper,' said Cr Cherry.
Councillor Dr Noala Firth, who also seconded the motion put forward the inclusion of the one-in-500 food risk assessment for the options paper (GMHSOP).  
'Can we include that the options paper includes from here on flood mapping that is at least one in 500 rather than just the current one in one hundred measure.'
These additions were included highlighting the essential role councillors can play in embedding these environmental principles in council documents so that they can be used effectively to protect the environment in the future as well as create housing and infrastructure that acknowledges the real risks of increasing climate impacts of flooding. 
The motion was carried with all councillors in favour. Councillor warren Polgalse was absent.