♦ Budgeram means story in Bundjalung language.
Here comes Christmas, the festive season; the year is drawing to a close and we put the icing on the year with the biggest celebration in our collective calendar. For many it's a problematic time of year with conflicting values, grief and isolation. It's a busy time at the end of a busy year as we collectively draw a deep breath to get through the expectations of the season. 
No matter what your belief system, the festive season is a time of connection, a special time where we stop to prioritise spending time with our loved ones, perhaps sharing gifts to affirm love and appreciation. We invest our energy on intentional kindness and connection with family, friends, and community. It's a season to celebrate connections and hopefully strengthen them for the year to come.
Connection and giving
For many the festive season is also about giving, demonstrating our appreciation for others through gifts. The joy of giving is an expression of special connections. This has been a practice across many cultures throughout the world. Through careful construction and reconstruction of our social norms and iconography, capitalism has hijacked the season to make it all about spending. Where once we had an experience to celebrate sharing, we now have a season of over-consuming. One many of us cannot afford, and Country, our Earth cannot afford to support.
After exposure to the waste from the devastating floods this year I have found it difficult to justify the consumption. Still reeling from the visual impact of seeing the mounds of water-damaged waste and knowing it was destined for Country, Bundjalung Country and beyond to Yuggera Country in southeast Queensland.
According to the Environmental Protection Authority website, after the floods in 2022, 22,000 truckloads of waste were cleared from flood-affected communities and 940 cubic metres of debris removed from beaches and waterways across the Northern Rivers region.
A total of 4,340 cubic metres of debris was removed from impacted waterways across all of NSW. Almost a quarter of that came from the Tweed, Richmond, and Wilsons rivers and the beaches around Ballina. That doesn't include the household waste that was collected. It is estimated to be a year's worth of landfill going back into Country. 
Capitalism has driven Christmas to be a season of waste; celebrations in the festive season involve over-filled bins spilling over with discarded packaging, wrapping paper and crackers, single-use items and the remnants of over consuming. It's time to collectively consider how we can upcycle Christmas, our festive season, to be a season of sustainability. Focus on conversations with our nearest and dearest on how we can put Country back at the centre of our celebration and recreate a culture that focuses on caring for Country.
The good news is that we are shifting our consumption patterns and driving the business to make change. The 2022 report released by Monash Business School's Australian Consumer and Retail Studies (ACRS) research unit Spotlight on Sustainability found that Australian consumers are seeking sustainable products and are increasingly looking for more environmentally conscious shopping options. 
Key findings of the report included:
85 per cent of survey participants said that durability and repairability (73 per cent) were priorities when making non-grocery purchases 
• 38 per cent have reduced the number of new products purchased 
• 45 per cent are willing to pay more for ethically produced products 
• 42 per cent would pay more for products packaged in recycled material.
Critically the report found that the Australian consumer is driving the sustainable change through their everyday purchases and lifestyles and wanting businesses to enable this change. This is a great shift in our consumption patterns, especially through this period.
Consumption patterns are the beginning. We need to shift the way we celebrate and what we prioritise, to put caring for Country and our communities at the centre of our celebration. To give small things with big love, to make, remake or upcycle objects for gifts, to give our time and energy and experiences that celebrate and connect us to Country. It's time to upcycle our festive season to celebrate connections and honour and care for Country.
---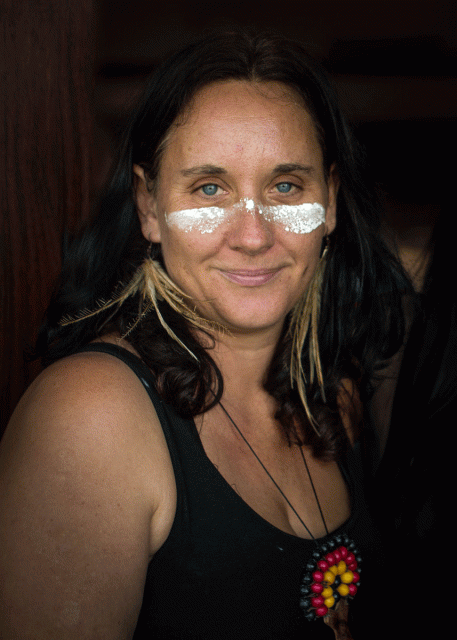 Author
Belle Budden is a local dubay of Wakka Wakka descent. 'Living off country I pay my respect to the Arakwal people and the wider Bundjalung people of this land,' says Belle. 
Belle has worked in community for 15 years, Belle is an artist, dancer and weaver working across many other mediums. Belle is passionate about community and has committed to empowering women and young people through cultural practice. She has worked in government, arts and community organisation to advocate for improved access to land, culture and services. Belle is currently employed at Desert Pea Media as the Projects Manager.