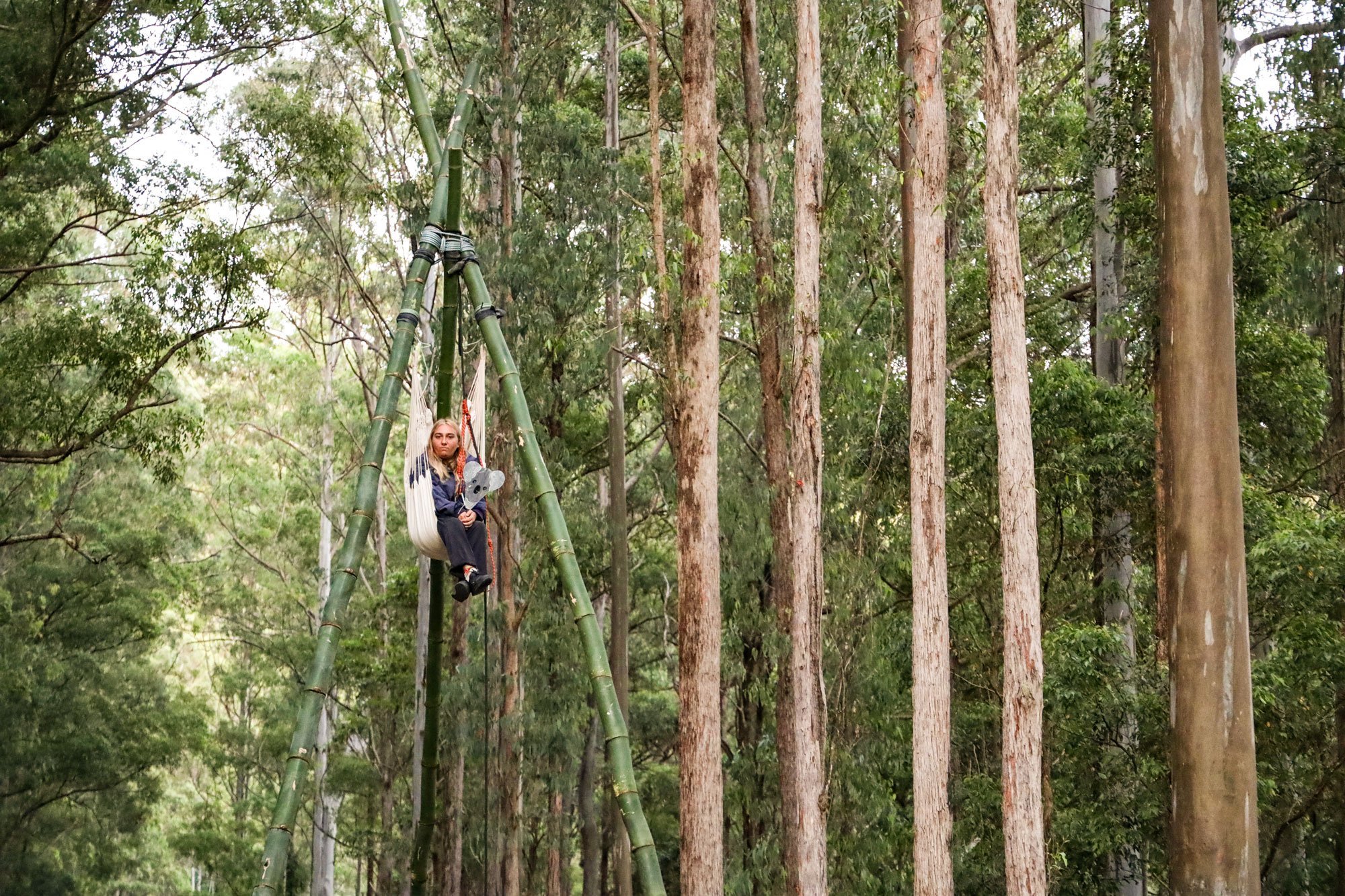 Forest protestors at Bulga Forest are nothing if not determined to resist what they say is the logging carnage in the area.
The community of the Bulga Plateau and friends blocked work again this morning, standing in the way of the logging machines to try and prevent further work in the Bulga State Forest.
Access to the logging area was blocked by a young forest protector on a tripod.
Couldn't stand idly by
Isla Lamont, 21, was born in Taree. Lamont said the Bulga Plateau with its waterfalls, forests and secret swimming holes has always had a special place in her heart. 'I spent some of the happiest days of my life here. It is one of those places where all is green and good in the world. I couldn't stand idly by knowing that the bulldozers were destroying Bulga forest.
'If not me then who?'
Lamont says it's only been three years since this area was ringed by fire. 'So many animals died. The gum trees might have leaves on them again but the animals are only holding on to existence by the tips of their claws.
'If I have children I want them to have the chance to see Greater Gliders, Sooty Owls, Spotted-tailed quolls and Koalas.'
Save our Forest Home
Lamont was supported by dozens of other people, holding colourful banners and signs, many with koala masks and chanting 'Save our Forest Home!'
They are joined by Greens MLC Sue Higginson.
Higginson said she joined the community today as they draw the line and stand up to protect the public native forest from destruction. 'The police arrived and I had a good discussion with them about the need to protect our public native forests,' she said.
'There is a young person in a tripod and someone in a tree-sit in the logging compartment.
'The community is brave and resolved to protect this forest. Both the coalition government and the Labor opposition need to wake up and support the community, the science and the timber workers.
Public native forests
Higginson said it cost the NSW community $9m last year to log our public native forests. 'It's nonsense! The industry needs to be in plantations not native forests.'
The Bulga Forest is west of Port Macquarie, on a ridge of the Great Dividing Range, it's forests are the water catchment for the towns Port Macquarie, Wauchope, Taree and Wingham.
The area was caught between the Rumbadump and Coombes Complex fires in 2019. At that time the local community, set up their own 24 /7 'community support hub' and provided food and support for dozens of fire crews and affected residents over many weeks.
The group has set up a forest support camp at the Ellenborough Falls campground to provide food and care for all those who come to help with their efforts.