Despite free coffee and ice cream stalls, there was a very small turnout for the flood commemoration morning tea event at Missingham Park on the weekend.
The event was organised by Ballina Shire Council to recognise the flood anniversary, and to give flood-impacted residents the opportunity to talk to recovery officers, but many locals appeared to have no idea it was happening. There was live music and kids face painting on offer, as well as some electioneering, with several Nationals representatives in attendance.
Community Recovery Officer Laura Woolcott opened the proceedings by welcoming the Headliners Chorus, which included 30 singers from across the Northern Rivers (some flood-affected themselves) performing 'positive Australian songs' a capella style, in four part harmony.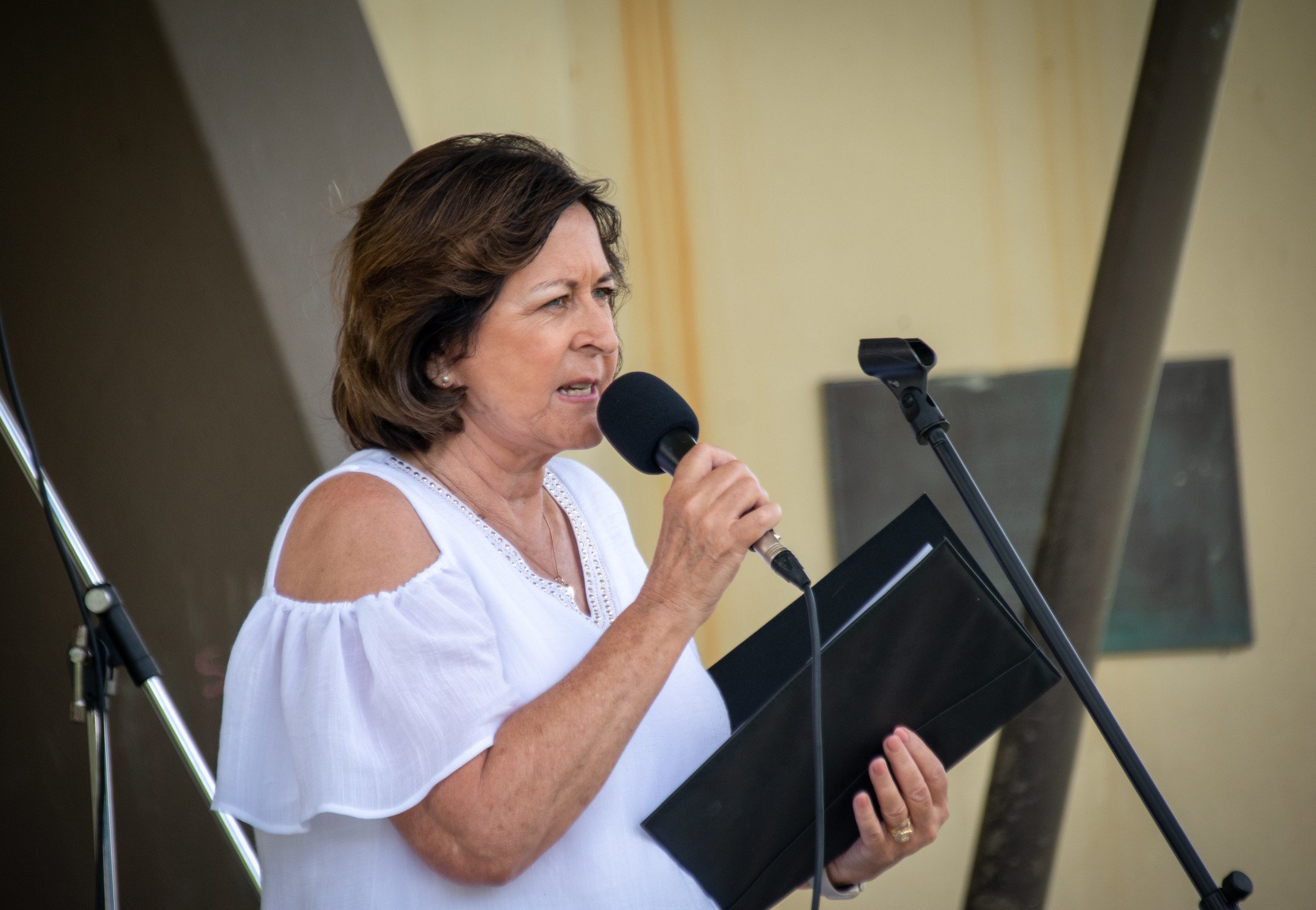 Time for reflection
Ballina Mayor Sharon Cadwallader then spoke, saying 'I thought it was important to provide an opportunity for a relaxed gathering, where together we can reflect on all that has past and build strength as we look ahead; at what still needs to be done in our community, as we continue to recover.
'One year ago this week, our community faced the unimaginable,' she said. 'The flood event was unprecedented. And the physical, emotional, and financial scars are still present. There's no denying that. And I know that for many, the rebuild is just the beginning.
'But today is not only a day to remember what we've lost, but to remember how far we've come on our recovery journey,' said Mayor Cadwallader. 'We may be small in numbers here this morning, but we're high in spirits.'
Thanking the NSW and federal governments for their support, Mayor Cadwallader then warmly welcomed the Nationals NSW Upper House member and Minister for Arts, Tourism, Aboriginal Affairs and Regional Youth, Ben Franklin, to the stage.
Reflecting the love right back, Mr Franklin said, 'Council has been extraordinary through this. You know, it was such a desperately distressing moment that we all went through together as a community a year ago…
'We have an extraordinary community, a community that is resilient and strong and proud,' he said. 'And I know how desperately difficult this has been for so many. Losing possessions, losing livelihoods, losing homes, is of course awful, but they can be replaced.
'What we need to do is to make sure we continue today, and on so many days, to go home to take care of the things that aren't physical, but things that are emotional and psychological, and keep checking in with our friends and our neighbors and make sure they're okay.'
Vote for Dom
Sliding smoothly into election mode, Mr Franklin then spoke about his leader, embattled NSW Premier Dominic Perrottet, who arrived in Ballina later that day.
'This experience for him, working through the floods, coming up again and again and again and again and again, to this community, has been by far the most impactful and most important experience of his time as premier. That's why he's coming back again today…
'You know, it's been a tough journey to get through. But we've done it with strength and with resilience, with positivity. And with hope for the future. Because we know that together, we are so much stronger than we are by ourselves. Thank you all for being here.'
Mayor Cadwallader then thanked Mr Franklin and the premier for visiting Ballina, before pointing out Nationals candidate for the electorate Josh Booyens to anyone who might have missed his red electric Mini in the car park.
Laura Woolcott invited everyone present to have a wonderful morning and a blessed day, as kids skated behind the stage, and wing foilers cut across the mouth of the river with colourful sails.
More stories about Ballina Shire Council: