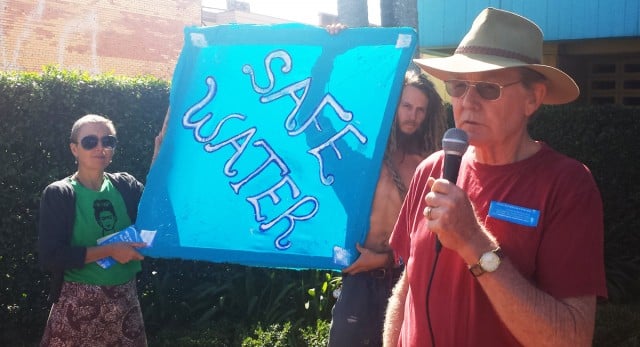 Melissa Hargraves
A long-term community campaign may be the only way for local residents to oppose 'the mass medication of fluoride in the town's water supply', said a Lismore councillor at an anti-fluoride gathering outside Rous Water offices yesterday morning.
City councillor and Rous Water board member Simon Clough, who was one of the guest speakers at the Safe Water Northern Rivers event, told the group that Lismore City Council (LCC) is organising a public seminar with three speakers from both sides of the debate on Tuesday December 3 at the Council Chambers.
Cr Vanessa Ekins, who has been a member of the Rous Water board since 2006, did not speak at the event but was in attendance. She told Echonetdaily that the urgent workshop called by councillors has turned out to be hardly urgent.
'An urgent workshop called in September to be held in December is quite manipulative in a way,' Cr Ekins said. 'I think it is designed to be outside of the Rous Water decision-making process.
'This means that if we want to inform Rous about a change of decision it will be in December,' she said, 'but Rous already has money from the state government to put fluoride in the water so they want to act on it.'
Cr Ekins told Echonetdaily she asked Rous Water management if they would wait until Lismore had held the workshop but says she was told they were not prepared to do so.
'I think it is unfortunate that Lismore will have its meeting three months later than it could have been,' Cr Ekins said.
Cr Ekins is a scientist and is concerned that elected representatives with no scientific background will be making decisions when 'there is quite a lot of science coming out describing the serious impacts that fluoride does have on our bodies, important organs such as the kidneys and heart'.
'As a scientist it really worries me that if there is a question about this we shouldn't be doing it, especially when there are so many other options,' Cr Ekins said.
Cr Clough said, 'LCC is currently six votes to five in support of fluoride. I have to say I am not wildly optimistic that fluoride will be rejected but there is every opportunity for the general public to lobby our councillors.'
Cr Clough said, 'people need to do so in a sensible way' and said that the 'NSW shadow minister for health Mr Andrew McDonald has put up a private members bill mandating fluoride supplies'.
'If that comes through from the state level,' said Cr Clough, 'at that point it is beyond local government.'
'It is still in our hands at the moment and can still be changed,' said Cr Clough.
Emma Salberstein of Safe Water Northern Rivers said the intention of the day was to 'not discredit people's choices; rather we are saying that there are other ways people can access fluoride without forcing it on the rest of the community [who are] unwilling.'