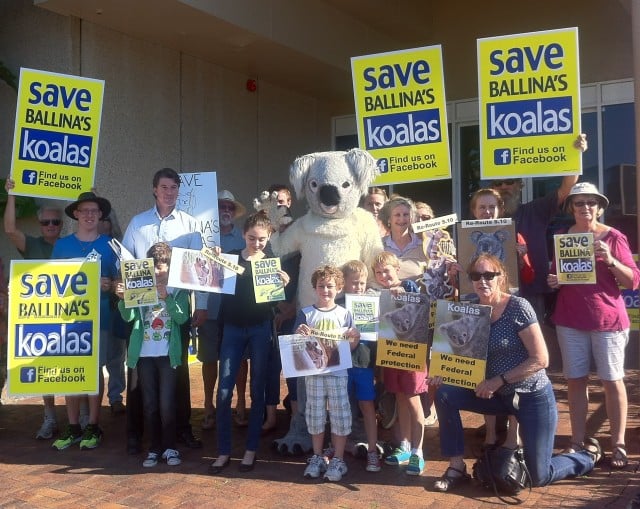 Darcy Garlick-Kelly
Ballina Shire Council (BSC) is urging the state government to reconsider the proposed Pacific Highway upgrade route that threatens over 300 hectares of koala habitat.
The unanimous decision at yesterday's council meeting for Council to lobby the government to look at other route options is a major win for the Save Ballina's Koalas campaign in its efforts to protect the nationally significant koala population in the Blackwall Range south of Ballina.
Cr Jeff Johnson put forward the motion, which will see letters written to premier Mike Baird, planning minister Pru Goward, roads minister Duncan Gay, federal environment minister Greg Hunt and the Roads and Maritime Service (RMS) in support of a reconsideration of the Pacific Highway upgrade route between Broadwater and Wardell.
Cr Johnson said that to protect this key koala population, 'the biggest step we can take is to make the state government reconsider the route'.
He also said that if the Pacific Highway route were reconsidered, the area should be made into a koala sanctuary.
Friends of the Koalas president Lorraine Vass welcomed the decision, saying Ballina councillors' resolve to have the RMS reconsider route options for the section from the Richmond River to Wardell 'is a significant step in our community campaign to save Ballina's koalas'.
Ms Vass said koala campaigners were encouraged to see six councillors as well as Cr Johnson speak in support of the motion.
'Council is reflecting the community's wishes that the koalas and other threatened species which are found in the Blackwall Range need the highest degree of protection into perpetuity,' she said.
Crs Keith Williams, Ken Johnston and Sharon Cadwallader all voiced their support for the motion, with Cr Johnston suggesting 'it is crazy to go ahead' with a project that endangers a koala population of over 300.
Cr Williams said, 'It is not a good reason for the state government to proceed owing to bureaucratic inertia, simply because they are locked onto this proposed route'.
Cr Susan Meehan spoke of the state-government-funded study of the area by Dr Steve Phillips released in November 2013,  which found the koala population was a regional source of koala breeding and dispersal.
Cr Meehan said, 'It is totally appropriate to reconsider the proposed route since the new study has come to light'.
The decision follows previous letters sent by Council to the state government asking for significant protection measures for koalas if the proposed route were to go ahead.
However, this is the first time the Council has supported alternative routes that would reduce the impact on the Blackwall koala population.