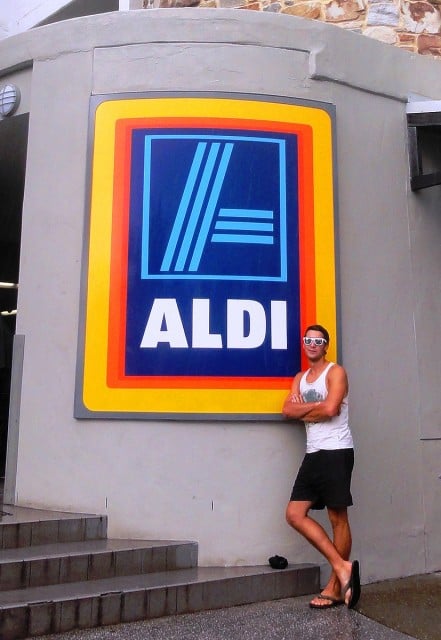 Chris Dobney
Byron Greens Councillor Duncan Dey will ask council on Thursday to submit an objection to the granting of a liquor licence to Byron Bay's ALDI store.
Cr Dey said that despite the problems the town continues to experience with alcohol-fuelled violence, and the recent role of the Office of Liquor Gaming and Racing (OLGR) in the town, he only heard of the application through a neighbouring business that received a notice from the company's lawyers.
Byron Shire Council successfully fought off a similar application by discount liquor chain Dan Murphy's in September 2012 but Cr Dey says ALDI has a similar reputation for cheap alcohol prices.
A local bottle shop, which is a member of the Byron Bay Liquor Accord (BBLA), says ALDI liquor prices are on average 30 per cent cheaper than other outlets in the town.
Currently the cheapest price for a carton of beer in Byron Bay is $34.99 while an ALDI brand is available for $24.99.
Cr Dey said Taree police recently successfully opposed the opening of an ALDI liquor store in that town owing to the predicted increase in alcohol-related problems.
'According BOCSAR statistics, Byron Bay has about ten times [Taree's] rate of alcohol-related incidents per head of population,' he said.
Moratorium on licences
He added OLGR's own alcohol action plan for Byron Bay 'ignores the role of the state, which has the right to grant licences or not'.
'I'm thinking of adding in an amendment that would ask OLGR to amend the action plan for Byron Bay to address the issue of new licences,' he told Echonetdaily.
'I would like to see a moratorium on granting licences, which would be lifted when alcohol-fuelled behavior was no longer a threat in Byron Bay.
'The measure of misbehaviour at the moment is arrests for violence, but I think it needs to go deeper than that. Arrests unfortunately depend on the number of police on the beat.'
Cr Dey added that an additional problem was that ALDI is a multi-national corporation, where decisions are taken at head office.
'Aldi has indicated that it will join BBLA once the licence is issued but the current Accord terms are agreed to by the owners of the existing businesses in town. As they all live here and own their own businesses this is something they can easily do.
'The manager of an Aldi supermarket has little control over the pricing and range of products however – these are fixed by head office in Sydney,' he said.
He added, 'if this application for a bottleshop within the supermarket is approved by OLGR, then the precedent is set for any supermarket in Byron Bay to have an attached liquor licence.'
ALDI has been approached for comment and Echonetdaily is awaiting a response.
Submissions close on June 15.