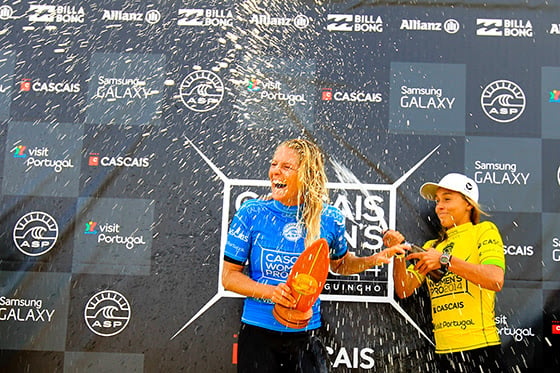 North coast surfers Stephanie Gilmour (Kingscliff) and Tyler Wright (Lennox Head) joined Sally Fitzgibbons (NSW South Coast) to make it a clean sweep for Australia yesterday in Portuguese leg of the women's world championship tour.
Gilmour defeated Fitzgibbons in an exciting final in The Cascais Women's Pro, stop No. 9 of 10 on the 2014 Samsung Galaxy ASP Women's World Championship Tour, which was completed at the backup venue of Bafureira in clean 2-to-4-foot waves.
Gilmour, the 5-time ASP World Champion, takes the rankings lead before the final stop on this year's tour the Target Maui Pro.
Meanwhile, John John Florence of Oahu, Hawaii won the Quiksilver Pro France yesterday, defeating Jadson Andre of Brazil in the final, in eight-to-10-foot barrels at Les Gardians.
Florence defeated Andre with an enormous 16.00 victory (out of a possible 20.00) to Andre's 4.57 final heat score. Florence is now fifth on the ASP World Title ratings.