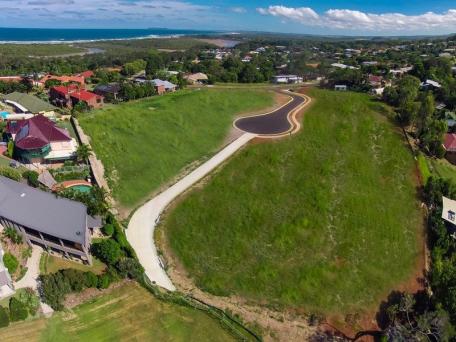 Chris Dobney
Byron Shire Council has come up with a new proposal to speed up sale of its prime real estate at Ocean Shores, to get around a group of residents who have been blocking the move.
Sale of the so-called Roundhouse sites was set to go ahead in March last year when it was stopped by an 11th hour claim by the Ocean Shores Community Association (OSCA). The group threatened to test the validity of its 'operational' status in the Land and Environment Court, claiming the developer had set it aside for community purposes.
At that time mayor Simon Richardson told Echonetdaily, 'Council is taking a few weeks to confirm that the sales can proceed without any threat of legal action sitting in the background.
'The auction date has been temporarily delayed and we will be looking to set a new auction date as soon as possible.'
But a year down the track there has been no rapprochement with the group and council has decided to reclassify it to 'operational land – interest changed'.
According to council's director of infrastructure services, Phil Holloway, this would effectively mean that the land was 'discharged from potential trusts other than easements for services and carriageways'.
Mr Holloway said the land was classified as 'operational land' in the Byron 1988 LEP and the subdivision works and sale of the eleven lots would proceed.
'The current planning proposal on public exhibition will help clarify that the land can be sold and the money invested back into the community.
'It is a local government process where the planning proposal is placed on public exhibition, feedback is sought and then a public hearing will be held,' Mr Holloway said.
Mayor Richardson added that the future sale of the Roundhouse housing blocks was a key element of council's Financial Sustainability Project plan and aimed to generate reserves to fund infrastructure projects within Ocean Shores and other parts of the shire.
'For years we've shared the concerns with many residents in the north of the shire about the lack of infrastructure facilities such as footpaths, road and drainage upgrades, sport fields and parks.
'Council would like to get on with key works, however, the delay of the Roundhouse land sales has meant that projects such as stage 1 of the $500,000 Kolora Way road upgrade and $300,000 for the Kolora Way Bridge upgrade has not been able to go ahead.
'The Ocean Shores Roundhouse planning proposal will allow council to get on with the job of providing new infrastructure for the north of the shire,' he said.