Two Evans Head fishermen have been rescued by the Ballina Jet Rescue Boat in a dramatic search operation this morning near Evans Head.
The Jet Boat was tasked by Police at 2.50am to respond to reports a trawler, the  Coombell Star, with skipper Brett McMahon and Glenn Deas on board, was on fire off the coast of Evans Head.
Rescue crew members Gary Meredith and Brad Heard grabbed their night rescue kit, and were negotiating the choppy conditions of the Richmond River bar at Ballina shortly after 3am.
As it turned out, the trawler had actually become snagged on a fishing net which pulled the boat underwater, rapidly sinking the vessel.
Mr Meredith said the two fishermen aboard were tossed into the water but a small aluminium boat secured to the top of the trawler floated to the surface and the men climbed into the tinnie.
He said the fishermen had a mobile phone and were able to contact other trawlers at sea in the area.
The Jet Boat crew were receiving relayed reports from police as to the possible location of the stranded fishermen, firstly heading south to Evans Head, with the search area then moving further south to Snapper Rock.
Mr Meredith said the search was difficult in the dark conditions and used an infrared camera to spot the missing men.
Finally, at around 5.15am and about 2 kilometres offshore, the crew spotted a light, which turned out to be the fishermen holding up a mobile phone to try to attract attention.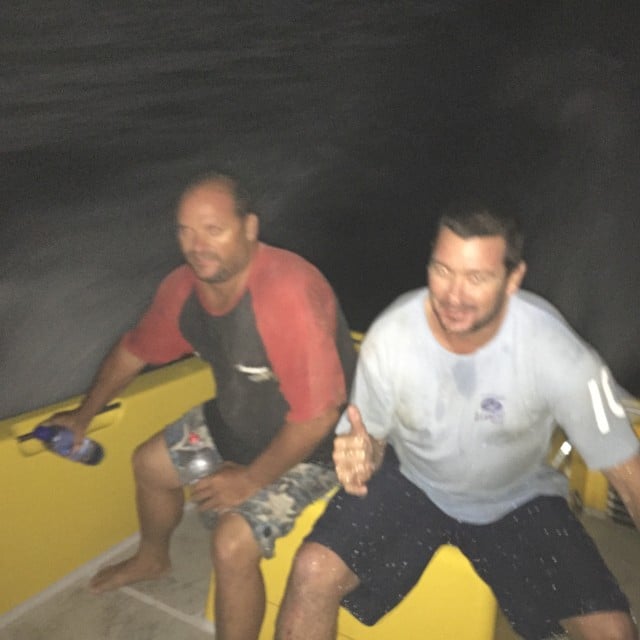 The men were brought aboard the Ballina Jet Boat and delivered to waiting ambulance officers at the Evans Head fishing co-op.
They were suffering from shock and some minor cuts and scratches.
Far North Coast Emergency coordinator Jimmy Keough said the fast response of the Jet Boat crew and the purpose-designed equipment aboard the vessel, including the infrared camera, greatly assisted in the more than three-hour rescue effort.
'This is a great result and I commend our volunteers for such a professional and prolonged search and rescue operation in very difficult conditions,' Mr Keough said.
'The fishermen are extremely lucky a number of things went their way and the Ballina guys had the equipment and skills to launch such a rapid response.'