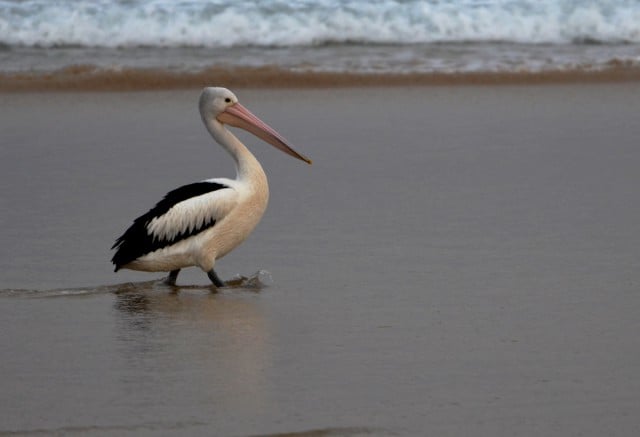 Mary Gardner
This waterway on Tallow Beach is still open to the sea. Nearly in tears, I stare at the pelican strutting in the cross currents. The lump of knowledge chokes in my throat and I am lost for words. The camera with its telephoto lens holds the image better than memory. I stutter, rewriting these first words again and again. After a painful hour, only three words remain: less is more.
If I flew with you as the pelican does over to the Belongil waterway, we could both see the strange busyness of people. They cut roads through the swamp for their noisy vehicles. The exhaust fumes sicken their lungs and hearts. Accidents also happen. All of this hurts and kills people.
Some of the exhaust settles onto the roads until rain washes the pollution into channels, all joined with waterways and beaches. The chemistry of the sea around us absorbs other pollution in the air. The ocean water receives everything. It becomes acidic. It is dirty with rubber from tyres, particulates from fossil fuel and more chemicals. Marine life suffers.
Soaring over the traffic jams, I point out routes for new roads, for parking lots and even buildings dedicated to storing more cars. We glide over hectares to be done over with more housing developments as thick as a city. Wetlands to be dug till their soils produce fresh acid sulfates. Food trees and shelters for koalas and all the other creatures will disappear. Hard surfaces will armour more of the soft ground. The effluent from the sewage treatment plant, already overwhelming the Belongil, will increase. That coastal edge there at Belongil is being prepped for more rock walls, well known to hurry erosion of beaches.
We do understand how building more roads, burning more fossil fuels and paving more coastal wetlands is not progress but excess. Of the entire far north coast, here is one of the last coastal places not quite cemented.
We are in the curious stage of living at the very limits of what we once labelled 'growth'. What has it amounted to? In Australia, the Australian Council of Social Services explains that what measures as 'average wealth' is deeply inequitable: the upper group has 70 times the financial value of the lowest one. WWF describes another type of inequity: the known loss of over fifty per cent of mammals, birds, reptiles, amphibians and fish. The unknown losses of other lives from molluscs to insects. Global warming is racing ahead off the charts.
Trends are mental tsunamis. They flood our imaginary sense of the future. The experience is so vivid that our vision is shattered. It's a waking nightmare.
Every culture, even our western one, respects bad dreams. Sometimes, personal counselling suggests that we each meet such terrors in an imaginary dialogue. Listen, respond and imagine new actions. Collective terrors require the same. As we keep listening, small details light up. Little turning points appear. Once again, we spot other potential. Our sense of shattered futures regroups itself but differently.
Here in Byron Bay, we struggle to accept limits to 'growth'. Nightmare trends for more cars, bigger buildings, more roads and even more rock walls seem well underway. But just as we dreamed them up, we can re-imagine them. What about alternative growth trends? Backing off from pollution? Resolving inequities among ourselves and other species? Returning plants lost to beaches, wetlands, neighbourhoods and rural places? Less is more.
The great bird I watch watches me. Its kind survived trends over millennia to get here. I hang onto a phrase from an Aboriginal Australian language. Tangara minnarka. Brought from far away by a pelican.