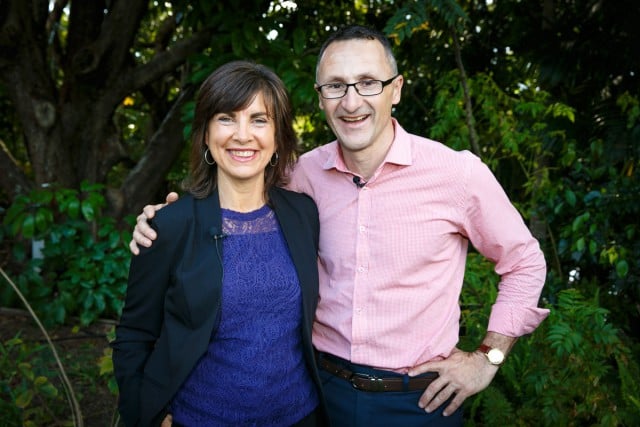 Eve Jeffery
Federal Greens leader Senator Richard Di Natale yesterday launched the election campaign for the Greens candidate for Richmond, Dawn Walker, in Murwillumbah.
Senator Di Natale spent the day in the northern rivers yesterday as part of a national tour, after starting his day with an early appearance in Sydney before flying into the Gold Coast.
He began the far north coast leg of the tour with a press conference outside the Murwillumbah hospital with Ms Walker to announce her candidacy for the upcoming election.
'This region has delivered breakthrough wins for the Greens. With two Green mayors and a Greens state MP for Ballina, the future looks positive for the region,' Senator Di Natale said.
'The time is now ripe to elect a Green to the federal seat of Richmond.
'A Green in federal parliament will mean a strong voice for those too often ignored by the old parties.
'Unlike Labor and the Nationals, who copy each other on critical issues like the renewable energy target, data surveillance, the Shenhua coal mine and asylum seeker policy, the Greens stand up for the community, he said.
Ms Walker said she had spoken at length with Senator Di Natale 'about our region's need for jobs in the renewable energy sector, the untapped potential for low impact tourism and more support for the growing number of innovative small businesses.
'I emphasised the need for increased funding for our schools, hospitals and TAFE, and for maintaining environmental laws that protect our fragile Northern Rivers environment, which is under threat from over-development.
'Unlike the old parties, I will not be a lone voice drowned out by the party machine.
'People are disappointed with the local Labor representative voting with the Liberals and Nationals to lock up refugees, spy on citizens' internet metadata, weaken citizenship laws, reduce the renewable energy target and allow big business to overshadow the needs of our small business sector.
'I want to see greater investment in the North Coast in order to support local industries and jobs. The economic future for Richmond will come from the renewable energy sector, sustainable agriculture and growing clean healthy food, creative industries, and tourism.
'Over-development and coal seam gas threaten our natural assets and the lifestyle we all share.
'Make no mistake, the issues of the 21st century are Green issues. Building clean renewable energy on the North Coast to create local jobs, ensuring our health and education services are secured, and getting a fair return from the big end of town rather than charging our kids $100,000 for a degree will be my priorities.
'The Greens can win Richmond and I'm excited to be part of Richard Di Natale's Green team to represent our unique region,' Ms Walker said.
Background
Dawn Walker lives on the Tweed coast with her husband and three children.
Prior to relocating on the North Coast ten year ago, Dawn was a policy adviser for 15 years to Small Business Victoria which sat under Department of Industry and Regional Development.
As the family manufacturing business grew, it was decided to move to Tweed Heads and expand into the export market.
Since joining the Greens about four years ago, Ms Walker has spearheaded a number of high profile local community campaigns against over-development and environmental exploitation.
She is active in her local (Fingal Head) community association, serving as president in 2012-13 and is an enthusiastic member of her local Coastcare group.
Ms Walker ran as the federal Greens candidate in the seat of Richmond in 2013, which resulted in a strong positive swing, obtaining 17.7 per cent of the primary vote.
She said she chose the hospital for the announcement because it is the scene of a great victory.
'It gives me enormous pleasure to be standing here because the Murwillumbah birthing unit was in dire straights', she said.
'These grounds were the scene of a very passionate demonstration from some of the locals to say "No, you are not going to close our birthing unit!" and to their credit, they were able to actually have the birthing unit reopened.
'In two weeks time it will be opened and we will have babies born in Murwillumbah once again as they have done for generations.'
Ms Walker said she asked the Greens helmsman to come to Murwillumbah because of its vibrancy and diversity.
'I asked Richard to come here because I think in many ways Murwillumbah represents a lot of what is really great about our region.
'It's a small vibrant town, it's full of diverse crazy characters and it's surrounded by beautiful farm land and just an incredibly precious diverse environment.'
Senator Di Natale said that the election could be at any time and that Richmond has a great candidate in Ms Walker.
'We've got an opportunity to make history in Richmond. So let's pull together, let's recognise that we have this very brief window in time. I would love nothing more than to be back here in a few months time welcoming Dawn to the Greens party room as the new member for Richmond.'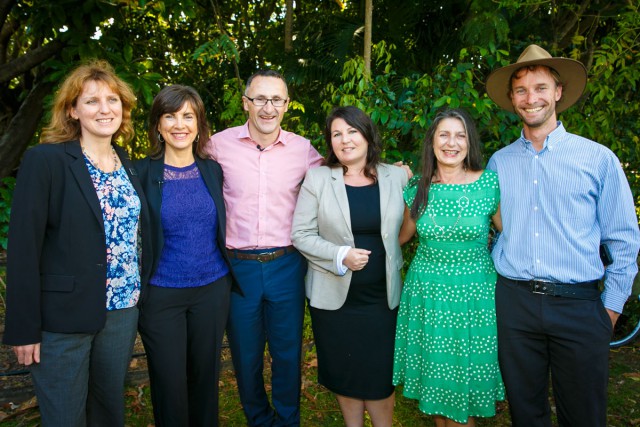 The senator continued his visit to the area with an afternoon tea with the Richmond campaign team at the Tweed Regional Gallery café in Murwillumbah before continuing on to an evening in Bangalow as part of his national tour.
Starting in Hobart late August and finishing in Melbourne next week, the tour has been Di Natale's introduction to the people of Australia and vice versa.
The senator, who lives in Melbourne, says he is keen to share his vision for Australia's future including restoring trust and confidence in politics; creating jobs and building the economy; global warming; and delivering health and education services.
He said he has has a positive reaction to his ideas.
'The response from the community through this national tour has been overwhelming', he said.
'There's a real yearning for a bold and ambitious approach to climate change, there's a yearning for people to have the services they want funded, things like health care and education, and we need to raise the revenue to to do that. I've been really thrilled at the response we've got from people right around the country.'
The evening saw a standing-room only event at the A&I Hall in Bangalow with people staying long after the official speeches were over to have a few words with that man they would see as the leader of the country.
Asked if he shared Bob Brown's optimism Senator Di Natale said he viewed things slightly differently.
'I think I'm realistic', he said. 'I'm realistic about the future, and with that realism comes an optimism about the community, who want to see a better, more confident, more caring and compassionate Australia.
'I know there are so many people right across the country who share that vision, and that does fill me with optimism.'