Zakay Glass Creations Exhibition Event Featuring Julie Corbet
Zakay Glass Creations, a Bangalow gallery specialising in handmade contemporary glass sculpture and luminary lighting, is celebrating their second artist exhibition of the year featuring oil painter Julie Corbet. With second story views and a beautiful balcony overlooking the main street, the gallery witnesses the vibrancy of Bangalow while exhibiting their stunning geometric sculptures and world renown artists Avital Sheffer and Noel Hart.
Join them in celebrating their second exhibition event on Saturday 14 November starting from 6pm. With live music by Mandy Hawkes, a solo exhibition by local artist Julie Corbet plus organic wine by Rosnay and nibbles, this will be a night not to be missed.
Julie will present her solo exhibition Suyulu, displaying vivid oil paintings that beckon mysticism in abstract art. Corbet describes her paintings as playful and meditative, "It explores intuition, instinct, and embraces uncertainty. My paintings aspire to encourage the viewer to discover something more universal. As we become aware of the infinite, we embrace the unknown and are freed from the constraints of everyday life – we become part of something larger."
Saturday at Zakay Glass Creations, Bangalow.
It's about a Garden
More than 20 homegrown talents come together to create The Garden Show, opening at Art Piece Gallery on Thursday. Attendees to the opening are asked to bring a flower to add to the interactive floral installation. You can even pick up a pencil and colour in the super-sized group effort.
Delightful pieces by seasoned artists Robyn Sweaney, Belinda Black, Ian Pearson and Rose McKinley will sit aside the budding talents of Byron School of Art student Sharon Whittle (second prize for drawing in last week's Coraki Art Prize) and new paper cut artist Sabine Brosch. Gatya Kelly's traffic-stopping magnolias will again light up the space and Robyn Sweaney, recently highly commended in the prestigious Paddington Art Prize, will show her sumptuous floral collages, alongside one of the house paintings for which she has rightly become well known, its garden beautifully manicured.
Melissa Hirsch whose recent fishing line jellyfish won the people's heart (and choice) at the Brunswick Heads Sculpture Walk, shows more of her impressively complex pieces. Melissa Wright returns to the stage with beautiful dry point etchings and her female figures in a gilded bed of roses. Celia Morgan, a finalist in this year's Wynne Prize shows a series of beautifully detailed graphite on paper drawings. Zom Osborne's paintings are populated by strong, defiant characters, custodians of our precious earth and Jade Burstall's lighthearted video is inspired by the sentiment that more truths are revealed through moments of play than hours of conversation. 6pm on Thursday.
Having a Yarn
Share your stories, memorabilia and memories about Lismore's historic Regional Conservatorium and library buildings on The Big Yarn Day at the Northern Rivers Conservatorium Open Day! Record your story in video story-telling booths and be part of a major multi-media digital art work, groove to live music, wander the handmade and vintage markets, get creative in a workshop, join an historical tour, munch on delicious lunches, and get the low down on enrolment and course information to study in 2016 at the Con!
Saturday 10am–5pm in the buildings and grounds of the Northern Rivers Conservatorium and Tweed Regional Library, corner of Magellan and Keen streets, Lismore. Entry is free.
Inside the Writers Room
Local writers are encouraged to apply to Screenworks for the opportunity to be placed inside the writing room of one of Australia's major screen production companies. Now in its second year, Inside the Writers Room is designed to give up to four participants the unique opportunity to participate in a dynamic professional writers room environment and experience the development of a television script. The writers room is best described as the 'collective brain' of a TV show. Ideas for episodes and scenes are developed, written and rewritten.
To apply for the program, applicants need to be a resident of the northern rivers and have an up-to-date Screenworks membership. The opportunity is most relevant to writers of television content and more specifically TV drama or comedy series.
Details of Inside the Writers Room, the online application form and other relevant information can be found on Screenworks website www.screenworks.com.au/itwr. Applications close at 5pm on Thursday 26 November.
Turning the Tables on Fables with Gillian Mears
Since the age of 20, Gillian Mears has been writing stories, novels and essays. Ride A Cock Horse, her first collection of short stories, won the Regional Commonwealth Writers award for the Asia Pacific region in 1989 and her second novel The Grass Sister was also awarded this prize in 1996. In 1990 her first novel The Mint Lawn won the Vogel prize. She has been the recipient of a number of fellowships, including the Keesing studio fellowship in 1992 and the Marten Bequest Travelling Scholarship of 1989. For a time, Fineflour, another collection of short stories, was on the NSW HSC syllabus (before being removed following an Alan Jones and Fred Nile led campaign). University of Queensland Press published a Collected Stories in 1997, which was also the year Random House published Paradise is a Place, Gillian's photo-essay collaboration with Sydney photographer Sandy Edwards. Picador went on to publish a 4th collection of stories, A Map of the Gardens. In 2003 it was awarded the Steele Rudd prize for the best collection of short stories in 2003. There was a wait then due to two medical catastrophes in 2002 (open heart surgery followed by a diagnosis of multiple sclerosis). She wrote her next novel very fast and it won many prizes, culminating in the 2012 PM's Prize for Literature. Her fable about a magical cat and magical icecream found a publisher in Walker Books.
Mears will be launching her new book, The Cat with the Coloured Tail at the Deck at the Byron Beach Cafe on Sunday 15 November from 3-5pm.
Even people with nut allergies can enjoy The Nutcracker!
Byron Ballet Company once again brings the world's most popular ballet to Byron Theatre. Tchaikovsky's musical score is sublime and a perfect introduction to classical music for children. Young audiences will be mesmerised by this coming-of-age story where the Xmas party transforms into a battleground between mice and toy soldiers, and the Nutcracker Prince repels the wicked Rat King. In hundreds of towns and cities across the globe, The Nutcracker is performed annually to packed houses as it is simply the 'best' and most accessible ballet in the world. Come and celebrate with us this masterpiece of dance and music. Special guest principal dancer – Micheal Braun (ex-NZ, WA and QLD Ballets).
Byron Community Centre, Friday 7pm, Saturday 2pm & 7pm and Sunday 6pm. Tickets at the centre.
Touching on Human Nature
Vianney Pinon's body of work in his new exhibition Human Nature was inspired by textures. 'Often textures of materials abandoned on the land, pieces of metal, concrete, wood… always tracks of human passing, of human doing, of human being. I began seeing them as mirrors of our flesh, of humanity…'
'When walking on the farm we were living on, I collected many photographs of these textures. They became my memories of visited places, like postcards of artefacts from our past and present societies. These time-marks were witnesses of what we so often do to what or whom we pretend to love. The effects of our presence on our planet, even all the processes of climate change denial are there to demonstrate our relationship and implication in the destruction of our Dear Nature. The frailty of our humanity, the unbalanced relationship with our planet and then too, with ourselves, is the invisible thread of this exhibition.'
Originally from France but now adopted Australian, Vianney lives in Byron Bay with his wife Sabine and their two sons Theotime and Uriel.
With Sabine, he runs Still @ the Centre, Byron Bay's centre for the Arts and the Ateliers Fourwinds, an artists' residency in Provence.
Human Nature, opens at the Lone Goat Gallery in Byron on Friday.
Getting the Drill in Your Hot Shorts 
Now that the wonderfully moving Ballad of Edgar and Mary is over the Drill Hall moves on to their bi-annual favourite: Hot Shorts.
Presenting nine plays written by local writers, performed by local actors and judged by a panel from the Northern Rivers Writers Centre. Including plays by Alex Broun about an awkward moment at an airport in India, to Michael Lill's Godly delusions of grandeur in The Big One to Mark Swivel's observations on intimacy in In the Vacuum.
Performed over two weekends, starting this Friday and Saturday at 8pm with a Sunday show at 2pm.
Tickets ($20 & $15) are on sale at The Bookshop Mullumbimby or online at drillhalltheatre.org.au
Getting Books on Screen
At a Books to Screen workshop in Byron Bay on November 12, two of Australia's most successful screen producers along with a writer/screenwriter will present ways to develop a book into a screenplay and inform local authors, screenwriters and producers how to get stories from published books onto our screens. Executive producer and screenwriter, Tony Ayres, founding producer of Matchbox Pictures (The Slap, Barracuda), Benjamin Law, author (The Family Law, Gaysia: Adventures in the Queer East) and Julie Eckersley, producer (The Family Law, Nowhere Boys) are being brought to the region by Screenworks to talk about their experiences in taking a book to the screen. All three have just completed the highly anticipated television production of The Family Law which is due for broadcast on SBS in 2016. Books To Screen workshop will be held at SAE Theatre on Thursday 12 November, 6:30pm to 9:30pm.
For more information and tickets visitscreenworks.com.au/event/books-2-screen/ or call 02 6687 1599.
The Dark Side of Fashion
Fashion designer and retailer Helen O'Carroll is presenting The True Cost, a documentary about the clothes we wear, the people who make them, and the impact the fashion industry is having on our world.
Helen has partnered with Startinno to host this first event. Startinno helps business owners and entrepreneurs to '#juststart' right here in Byron Bay. The first of these screenings will be at Startinno, 4/8 Banksia Drive, Byron Bay, on November 12 at 5:45pm including Q&A panel session, networking and drinks.
Howe Funny!
Anne Howe is bloody outrageous. Like a character out of a Carry On movie, Anne's ability to relay a story has been said to be done with 'charisma and finesse', while some audiences will either adore or abhor Anne's bawdy humour she has travelled the length and breadth of Australia recounting her tales of life as a beauty therapist and how she lost her virginity.
In 2009 Anne went down to Canberra and was/is the only woman to win the prestigious Green Faces Comedy award for up-and-coming new talent in the comedy industry, taking out other comedians from all around Australia.
2012 saw Anne perform at the Melbourne International Comedy festival alongside Bev Killick in the Wild Women of Comedy.
Anne has been the tour manager for Tommy Rodonikus and Arthur Beetson in their Birth of Origin show. She also currently hosts her own chat show on Digital 44 The Very Anne Show. Anne Howe is the MC at Court House Comedy at the Court House Hotel in Mullumbimby on Thursday at 8pm. Free and freaking funny!
The Best Place to Die
We all know Byron is a great place to live, but according to the Natural Death Care Centre 'it is also a great place to die' as we have one of the most informed and empowered communities in the country when it comes to death awareness. This is the time of the year the NDCC holds several events as part of their annual Day of the Dead celebrations. The Day of the Dead Ceremony will again be held at the Crystal Castle on Sunday at 4pm, it's a free local event and all are welcome. This will be followed by the one night only showing of the documentary film Zen and the Art of Dying at Pighouse Flicks on Tuesday at 6pm.
As part of their educational services, they are offering the following workshops, the informative and enlightening Funeral Master Class is on this Thursday and Friday and the Deathwalker Training runs Tuesday to Thursday, both held in Mullum. See naturaldeathcarecentre.org for more details or contact [email protected]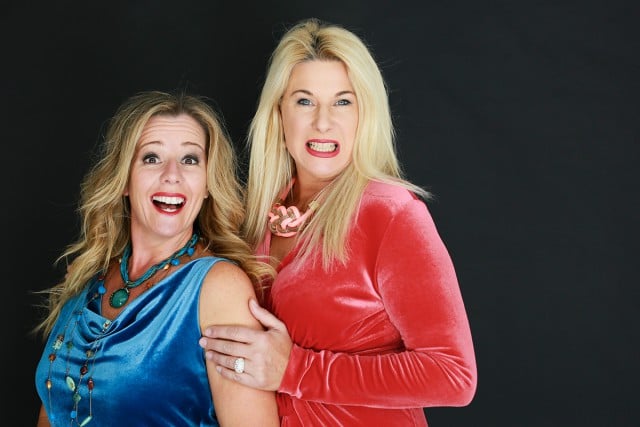 Women Like Us at Ocean Shores!
After a sellout show at the Star Court Theatre a few months back stand up comedians Mandy Nolan and Ellen Briggs join forces in Women Like Us to deliver two hours of rapid fire, sharp, honest, sometimes self-deprecating, somewhat irreverent stand up comedy at the Ocean Shores Country Club on Saturday 5 December. Tickets $25, on sale at the club now!
Now Short Films!
Yes, it's definitely shorts weather! Byron All Shorts celebrates the filmmaking talent of the Northern Rivers region and encourages audiences to experience the many amazing films & local stories that are produced here each year.
Filmmakers from across the region are invited to submit their short films of up to 30min in length and from all genres. Prizes and cash to the value of around $3k will include awards for Best Film, Best Emerging Talent, Audience Choice and more; recognising the incredible talent in this region. Byron All Shorts finalists will screen on the January 23 at Mullumbimby Civic Hall; alongside the best in the world at Flickerfest – Australia's leading Academy® accredited International short film festival. Entry deadling is Monday 14 December. Info and entry forms www.iQ.org.au, 0414 779881.
Brit Film
Returning for its third year, the BBC First British Film Festival is thrilled to announce its full line-up of films, showcasing the best and brightest in films from the British Isles. Featuring 28 titles, the program captures the magic, unique humour, romance, traditions and new age vitality of British culture. This year's retrospective, Love Actually: A Century of British Romance, captures the romanticism of British cinema with eight gems reflecting specific decades of the 20th Century. Titles from the retrospective include: A Matter of Life and Death (1946), Two for the Road (1967), Ryan's Daughter (1970), The Prime of Miss Jean Brodie (1969), Sunday Bloody Sunday (1971), My Beautiful Laundrette (1985), Four Weddings and a Funeral (1994), and A Town Like Alice (1956). The Festival is also proud to present the newly remastered Women in Love (1969), direct from its premiere screenings at the London Film Festival. Featuring Glenda Jackson's Academy Award-winning portrayal of a free-spirited artist, the film remains an explicitly powerful 1920s period piece unlike any other.
The British Film Festival screens at Palace Byron Bay Cinema until November 18.
Tickets and programs available at box office or online at www.britishfilmfestival.com.au