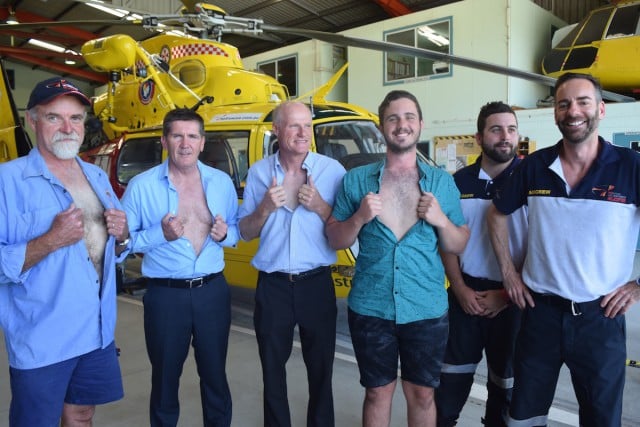 The men involved with the Westpac Life Saver Rescue Helicopter are used to being involved in close shaves … but not this kind!
A group of pilots, crew, staff and supporters, along with past patients, will be putting their chest hairs on the line in a bid to raise $10,000 for the service.
The latest fundraising initiative, called Rip It For Rescue, will see the men have their chests waxed at the Lismore Central shopping centre on 18 December if the fundraising total is reached.
Sam Ivers, a rugby player from Casino, has offered his chest hairs up for the cause after being transported by the helicopter following injuries sustained from a serious tackle during a game on 1 August.
Mr Ivers has conned a number of his mates into taking part, and they are now calling on their friends and the wider community to donate to the cause.
'We really want to give the rescue helicopter a merry Christmas but remember, it's all or nothing,' he said.
'We must reach our $10,000 target to wax'.
To make a pledge visit www.helirescue.com.au or call the helibase on 66274444.