Story & photos Dogwhistle
Round three of this year's Football Far North Coast Summer Youth League provided two exciting games of football and a few tough lessons for participants on both sides.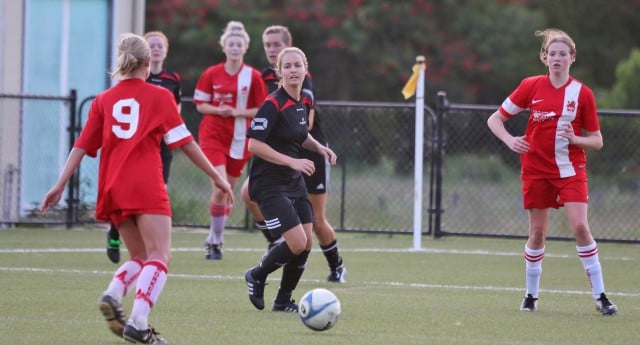 Despite copping a 9-0 hiding from the talented Lismore workers girls, the Byron Bay FC's Wildcats produced some good football and were unlucky not to finish with at least a point or two. This inaugural female youth competition has given the Wildcats an opportunity to mix it with some of the region's best and has been a steep learning curve for the girls.
The Young SAE-Qantm Rams had a very different kind of battle against the Workers Youth Squad. Workers opened proceedings with an unorthodox approach.
The Redboys kicked off with all but the keeper lined up along the half way and stormed, en-masse, into the Byron half when the whistle blew. This risky gambit was immediately punished when the Rams took possession and sent striker Sam Shepherd on an unopposed fifty-metre dash to the Workers' goal. Shepherd tapped past the hapless keeper to put the Rams in front inside the opening minute.
A gruelling battle for dominance continued for the remainder of the match with the Rams pushing hard to extend their lead and Workers equally determined to restore their pride. The relentlessly fast and physical match was locked at 1-0 right down to the wire, with Byron looking like taking the three points when, with just a minute on the clock, Workers were awarded a very controversial free-kick from 25 metres out. The kick was superbly taken, clearing the wall and the keeper and finding the top left corner of the Byron net.
It was a bitter pill for the young Rams but probably a fair outcome for a very even game.
Byron has their first home game of the competition this Friday night at the Cavanbah centre in Ewingsdale against thier closest neighbours  Mullumbimby/Brunswick Heads. The Wildcats girls kick-off at 6.30pm and the SAE-Qantm Rams at 8pm. This is sure to be a great specator sport.