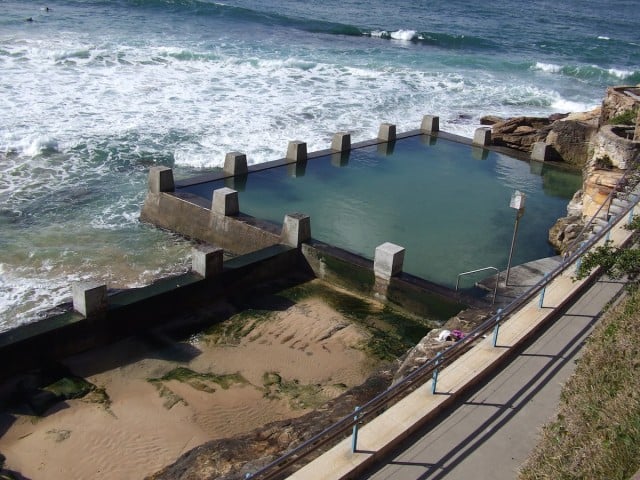 In what has been described as a politically-motivated decision, a majority of Ballina shire councillors have reversed a decision to provide $15,000 for studies into an ocean pool.
Cr Jeff Johnson, on behalf of the Ballina Ocean Pool committee, had successfully moved at a previous meeting for council to chip in the funding to pay for two outstanding studies.
However, three councillors yesterday – Paul Worth, Keith Johnson and Ben Smith – lodged a recission motion that overturned that decision.
They were supported by mayor David Wright, and retiring councillors Robyn Hordern and Sue Meehan. Cr Worth and Johnson are also retiring.
Cr Johnson described the vote as a petty political stunt.
'This decision goes against the wishes of the wider community,' he said.
'I maintain my position that i believe that the construction costs associated with the Ballina ocean pool will come from State or Federal Government grants and community sponsors,' Cr Johnson said.
'It is however, unrealistic to think that there would be no costs associated with the necessary technical reports and studies.
'While the Ballina Ocean Pool committee has been able to enlist professional services on a voluntary basis, such as the Environmental Impact Studies, planning briefs, site surveying and a preliminary pool design report.
'Besides grant funding, another possible source of funding would be for the NSW Government to re-direct funds that were previously allocated to the failed shark net at Lighthouse Beach towards the proposed Shelly Beach Ocean Pool.
'This project has been shown to have wide community support and will achieve a similar outcome in that it will provide a safe ocean swimming experience in the area.
'There are lots of different funding sources for community facilities such as the Ocean Pool.
'We have letters of support from Crown Lands, Southern Cross University, Ballina Surf club and a number of local professionals and businesses that want to assist.
'It's all there just waiting for us to complete the necessary planning reports. The Ballina Ocean Pool will be delivered.
The Ballina Ocean Pool committee will be getting on with the job of completing the necessary planning reports. If a crowd funding campaign is necessary, then that is what we'll do.
'I am determined to make the Shelly Beach Ocean Pool a reality sooner rather than later. Clearly this is now a major election issue and I'm calling on people to vote for an Ocean Pool to ensure that this project is delivered during the next term of council.
'An ocean pool will provide a safe swimming alternative for all members of our community, have very little ongoing maintenance costs, and will be open all year round at no cost to swimmers.
'There will be a shallow section for children learning to swim and a ramp access making it easy for people of all ages and abilities to access the pool.
Cr Johnson said there were 56 ocean pools in NSW, many of them up to 100 years old, they were a much loved and very popular in their communities.